These homeowners came to us with a problem to solve: remodel their main floor while leaving the kitchen cabinet layout unchanged to accommodate their recently-installed hardwood flooring. We were more than happy to take on their challenge!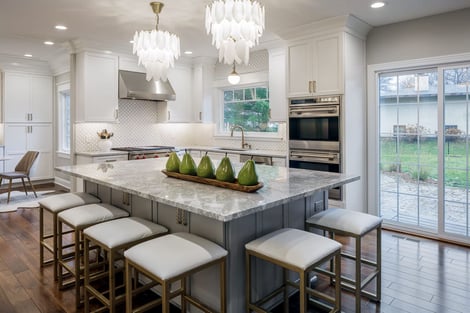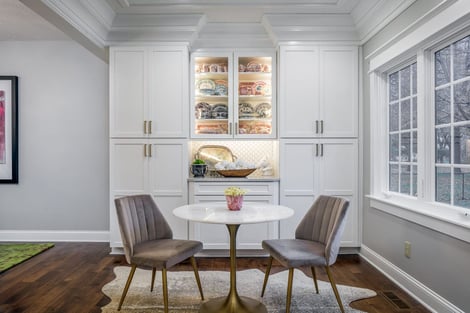 For those of you reading this who have an eye for design and are always looking for new inspiration or unique ways to express yourself throughout your home, this is the project for you.
Our team had so much fun taking on this main floor remodel project which included a powder room, kitchen, living room, and sitting room to provide the homeowners with an elegant main floor. The project was full of specific scenarios that tested us as designers and builders, and we are so pleased with the results!
Check out these features: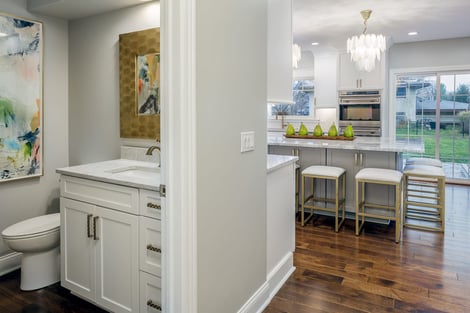 Stop and Smell the Rose Gold!
One of our favorite parts of this kitchen remodel are the unique features and accents. The homeowners' style preference gave the Compelling Homes team one of our "firsts" – rose gold fixtures! We now are now convinced that it will not be our last.
We've all seen white kitchens with black fixtures (beautiful), or darker, moody kitchens with gold fixtures (also beautiful), but something about the muted, brushed texture of this rose gold used throughout the space makes the whole room pop without drawing all of your attention to one particular area. We heard mixing metals was rumored to be faux pas, but we beg to differ!
The six top eat-in island and countertops in this kitchen are Quartzite, with a Quartz perimeter. We. Love. Quartzite. To put it simply, Quartz is like a cake. Everyone loves it, and you can go to the store, buy the ingredients, and bake one. Quartzite, on the other hand, can only be made by Mother Nature and Father Time.
Quartzite is a gorgeous, fragile rock that we're going to dub as the 'Prada of countertops', and it was fitting to use this beauty to tie together this fashionable space.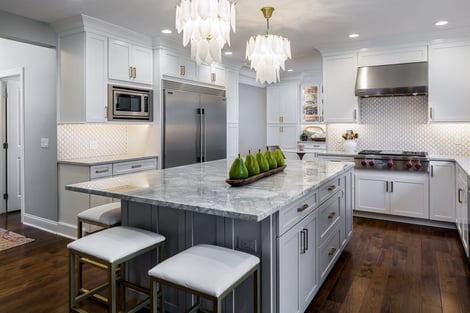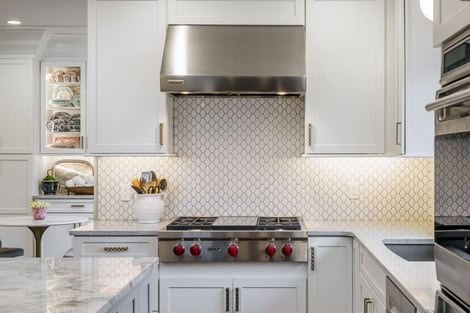 Coming in at a tie for the "We Thought This Was Insanely Cool and Had a Lot of Fun Doing It" category goes to: the backsplash. This Arabesque tile is, hands down, our favorite tile pattern. Subway tile is tried-and-true – we love it, homeowners love it, and it looks great. Yet, the case has been made by some that subway tile is just a "t-word" – trend. Like all trends, they come... but they can go.
An important factor in planning your kitchen remodel is ensuring you are still going to like it as the months and years go by. You're making an investment in your home, and you don't want to constantly Keep Up with the Pinteresters! We'd like to argue that Arabesque is the good "t-word" – timeless. The vertical pattern of this Arabesque backsplash creates a great line of vision, and it's unique curvature provides a sense of character. When seen from both near and far, this backsplash really helps tie this kitchen together.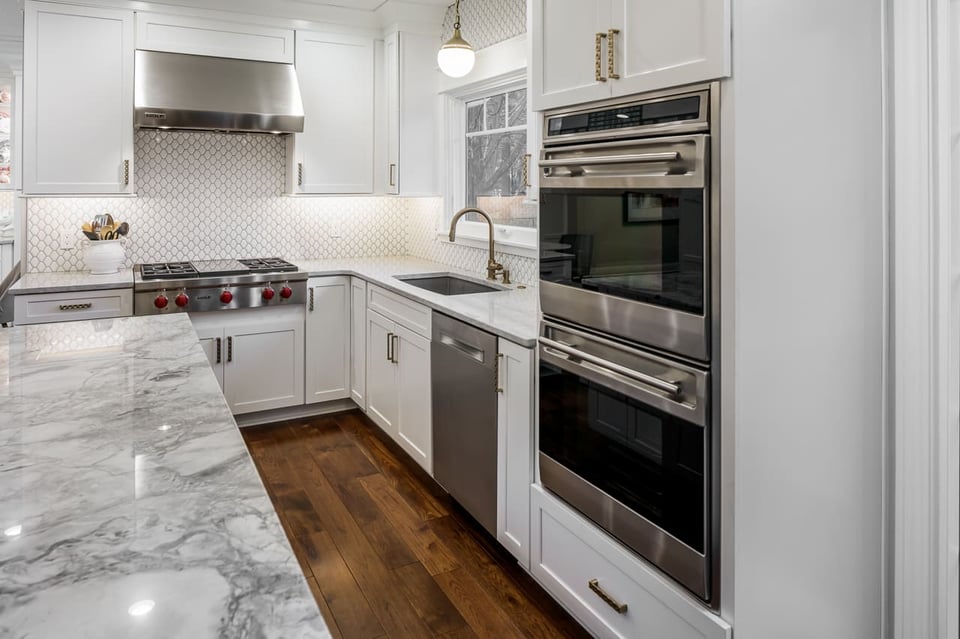 Disclaimer: At the end of the day, the biggest design trend is choosing a design that you love. It's your space, and your home – we just get really excited about these things.
In addition to the prerequisite of maintaining the original cabinet arrangement in the kitchen to accommodate the beautiful, brand new hardwood floors, remodeling this kitchen and living area also presented another challenge: a support column smack dab in between the two rooms. The column made it difficult to accommodate the size of an eat-in island and was affecting the circulation space of the room.
Circulation space is a term we use often – it's the concept of, "how do we get from this room to that room without running into each other or having to walk around something". This column was really throwing off our circulation vibes, and we knew that if we wanted to open this space up, that column needed to go.
The removal of this column wasn't originally included in our plans, but once our team and the homeowners really started to dive into the home and envision the new space, the decision was unanimous.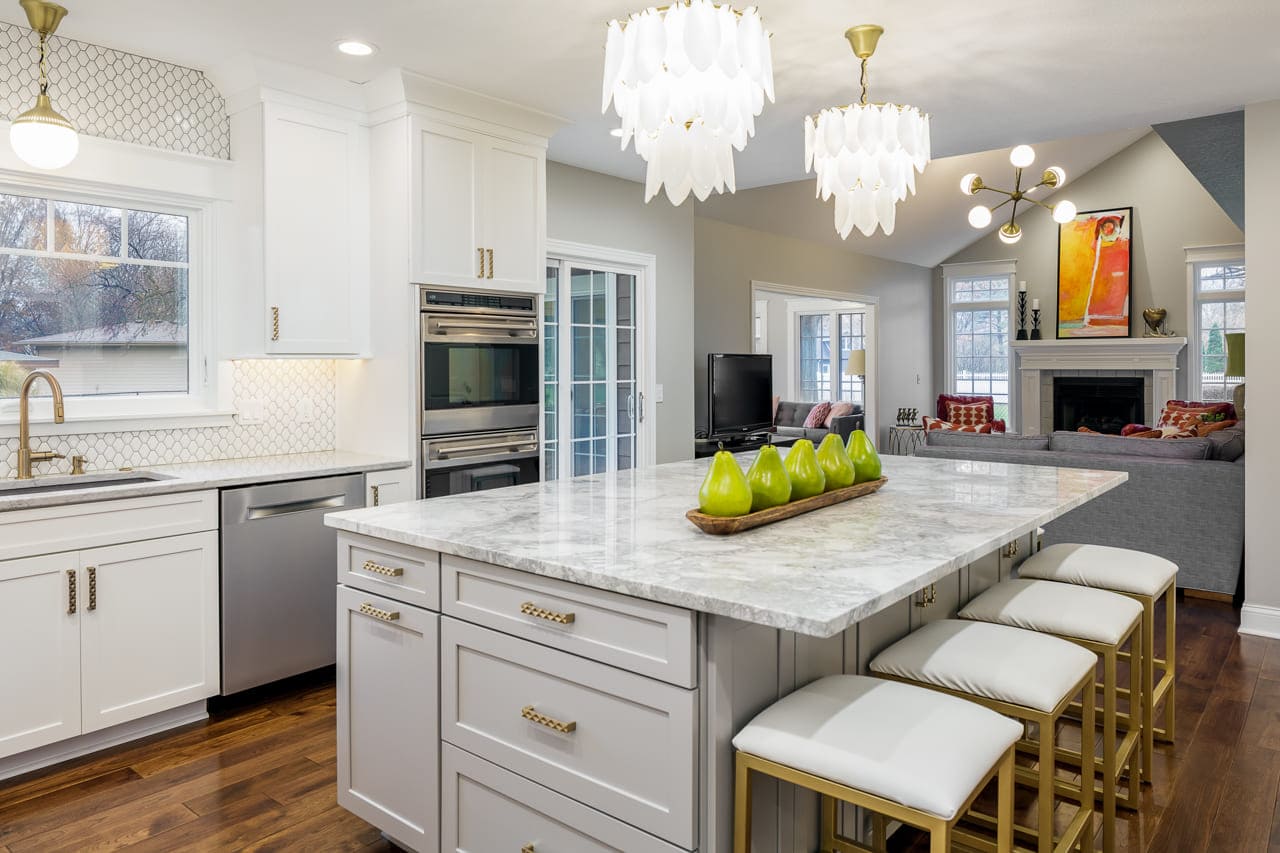 So, it went! The kitchen now opens up into the living area unobstructed, and paired with the cathedral ceilings in the living room, the space instantly became more open and bright. This kitchen is magazine-worthy; professional-grade appliances, gorgeous wood flooring, a unique backsplash, and more. Yet, at the end of this project, the homeowners couldn't stop talking about how much they love their newly-column-less space.
This is a testament to the remodeling process, and how important mutual feedback is throughout that process. Sometimes there will be changes that our team or the homeowners will creatively cook up once we all get into the space and start to get a feel for how it will come together. The lesson? It's ok! Don't panic. An experienced, trusted design-build remodeling team is well-equipped for instances such as this, and if some changes will increase the usability and overall lifestyle of the homeowner – it's worth it!
Pull Up a Seat.
The existing dining room was appx. 10'x10', and left these homeowners yearning for a more spacious, comfortable area. The caveat was that the large six-person eat-in island in the kitchen left them unneeding for a grand dining room table. We turned this space into an elegant yet efficient buffet and sitting room with plenty of natural light coming in from the window overlooking the backyard: #views!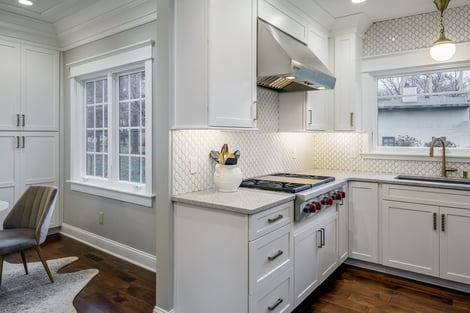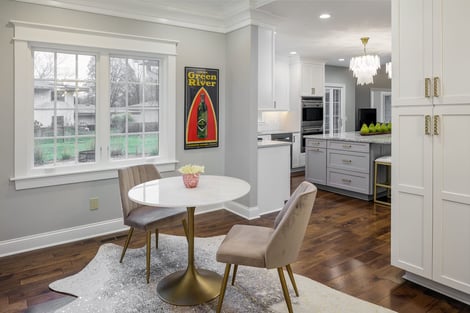 To accomplish this, R.I.P. to the kitchen wall. Opening up the area between the kitchen and the dining room created a natural flow of movement that is more efficient for both everyday living, and is aesthetically pleasing on the eyes. Doing this also gave a wide vantage point from the dining room into the living area, and vice versa, creating an "open concept living" vibe while still having designated rooms.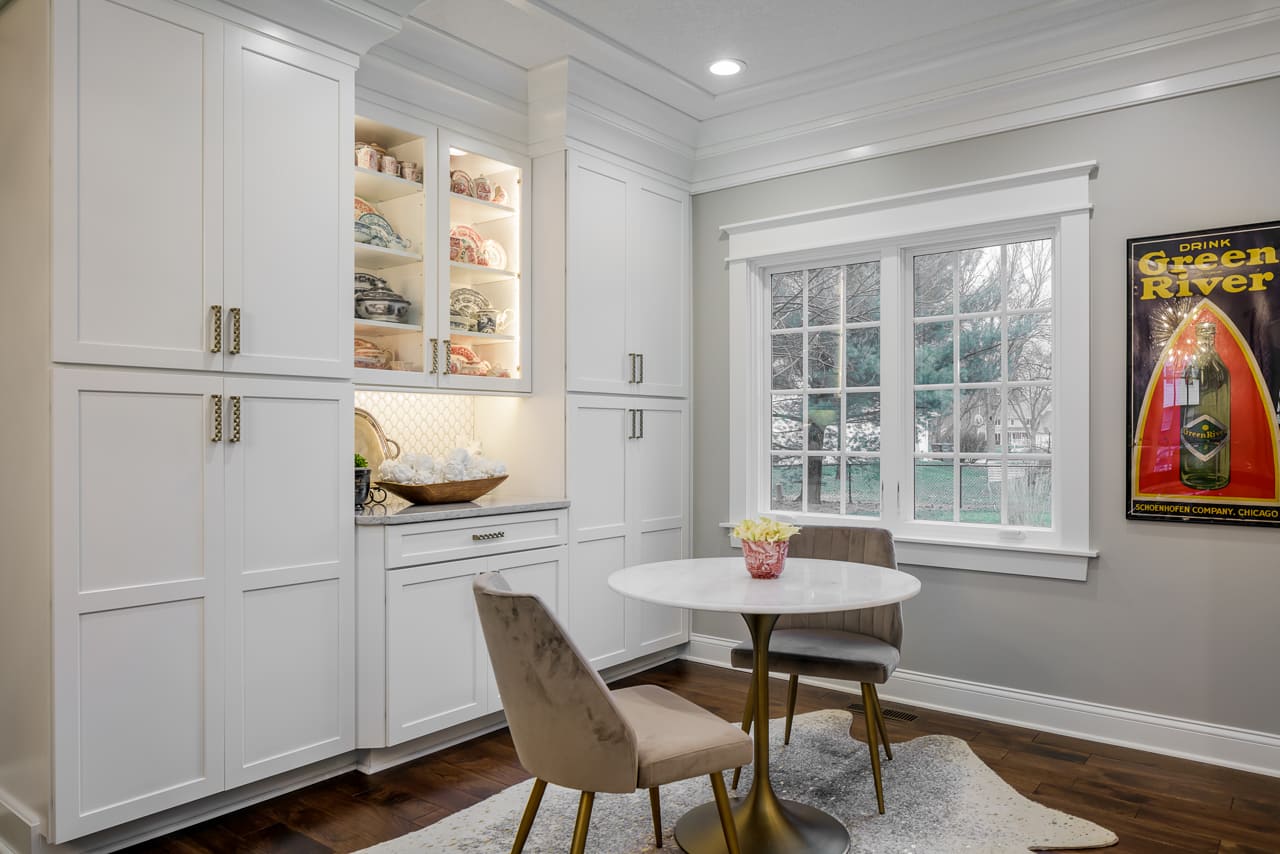 Adding even more flow and connectivity between the two rooms, we pulled the same cabinetry, finishes, and backsplash used in the kitchen to create a beautiful whole-wall buffet. This provides a seamless transition from one space to the next, while at the same time diminishing wasted space and increasing practicality for the homeowners in the form of additional storage.
It's All in The Details!
We would be remiss if we didn't shine a spotlight on the special places throughout this project that are easily overlooked to the untrained eye, but really tie the project together!
As we mentioned earlier, the beautiful hardwood flooring was installed previous to this project. The homeowners wanted to keep it, and we don't blame them! The warm grain color is phenomenal, and really pops next to the white cabinets, rose gold fixtures, and Quartzite countertops.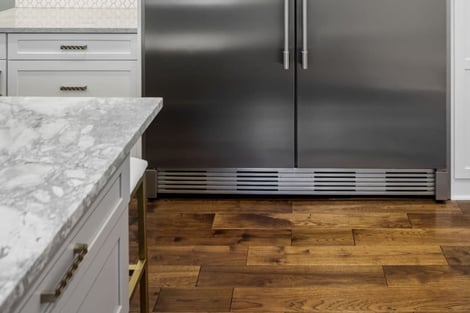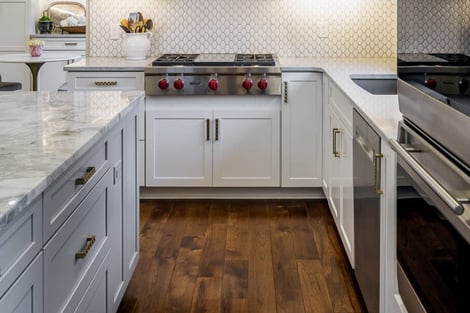 As they say, we've been saving the best for last. With so many awesome design features in the kitchen area, we wanted to recognize some serious build inspiration! When you step into the sitting room, you are greeted by a buffet cabinet that these homeowners adorned with colorful, decorative pieces. The grandeur of the buffet is enough to steal all of the attention, but we'd implore you to look up.
Check out that crown molding design leading up to the ceiling. This not one, not two or three, but four layers of crown molding and trim creates eye-catching depth that gives the room a feel of pomp and elegance.
We had SO much fun designing this, as there is no rule book on how far apart pieces of molding or trim must be in order to create a beautiful design à la five star luxury hotel. Rusty came up with this crescendo of crown through 18 drawings on the wall. That's not said to imply it was difficult, or involved extensive math equations – but rather to note how simple it can be to create unique features in your home! If there's a vision, it can be brought to life... sometimes all you need is just a magic pencil!
This main floor remodel project wasn't as much a challenge as it was an awesome brain exercise. Creative thinking is key when executing a design-build remodel project, and this home gave us a much-needed workout!
It's no secret that getting creative is one of our favorite parts of each project we complete. Rusty has been known to be seen perched atop a counter or two, pencil in hand, sketching out ideas in real-time. Helping homeowners turn their houses into homes through innovative design and ever-evolving skills is what fuels us each day. Also, coffee.
We loved watching this home transform. If you're ready for a transformation, our team includes some of the most trusted remodeling contractors in Des Moines. Don't stop at "good enough" when it comes to remodeling your home, make it Compelling!
Be sure to browse our project gallery to inspire your next remodeling project.