Kitchen Design & Kitchen Remodeling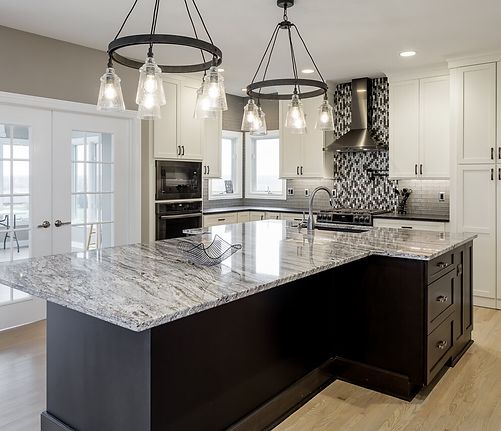 The kitchen is where life happens. It's around the kitchen table, or kitchen island that homework gets done, or Monopoly is played by the family.
This is where you start your day, and potentially it's the last light turned out at the end of the night. It's where you live, and where memories are made. This room should be a room that absolutely moves you and makes you want to stay and enjoy your home. Let our kitchen remodeling specialists show you how.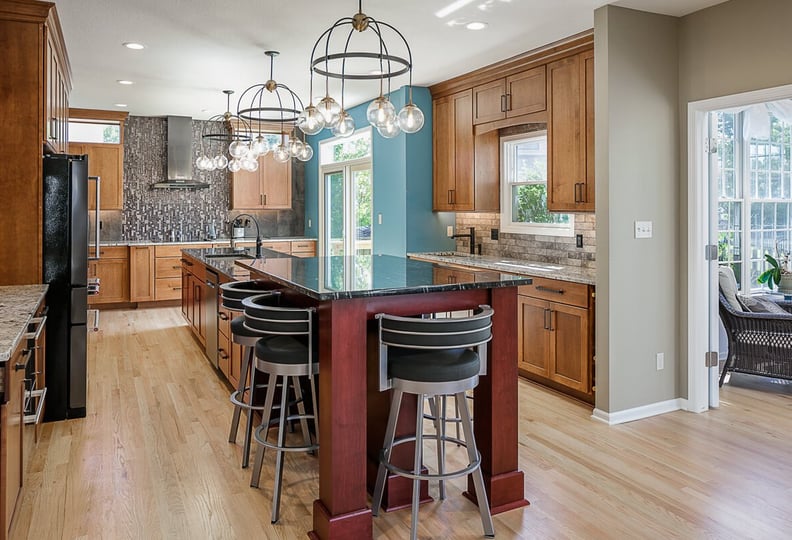 Are you considering a kitchen remodel? If so, is it confined to just the kitchen? Perhaps you wish to remove an interior wall, or relocate a set of stairs. These elements are all key in the beginning conversations to capture the intent of the project.
All of the homes that you see on our page started out as an idea or a "what if". As the projects developed through our design process the look & feel of the home starts to materialize. Our 3D software allows you to view it from different angles to ensure the final product is exactly what you had envisioned.
If you have a handle on what it is that you're attempting to complete or even if you don't, let's talk! We'll be thrilled to walk you through our 5-step process on how we can lead you from where you are to where you wish to go.
Urbandale, Johnston, Waukee, West Des Moines, Clive, Des Moines, Ankeny, Polk County, and Dallas County are just a few areas we've completed kitchen remodeling projects in this year. It's with over 10 years of continuous improvement refining processes that take the wrinkles and stress out of remodeling your home.
Are you looking for a 3D color rendition of your home? We can help! We want to eliminate as many objections to the process as early as possible, so we will have a discussion about budget.
Just another reason why we are considered Home Remodeling Experts in the Des Moines area.
What our customers are saying:
"The Compelling Homes team designed an amazing remodel for our entire first floor. The attention to detail created an awesome finished product that we absolutely love. We are not the creative types, but when the team came back with their ideas for the space we were blown away and now we have a more functional space that is worth every penny. We always recommend them to any of our friends thinking about starting a remodel project because we know the CH team will make sure that every detail is perfect. Other positives is that were open and honest with the cost and timeline so there were no surprises along the way and we felt fully informed about the entire process. Everyone on the team was excellent to work with and we would definitely use them again. "
Chad, Johnston, IA
" Rusty and the entire Compelling Homes crew were amazing! Our kitchen is better than we ever imagined and we couldn't be happier. We highly recommend Compelling Homes! … "
Tamara, Johnston, IA
" The Compelling Homes team is second to none. Many companies talk about customer service and looking at things from a customers perspective, but few follow through —the entire team from owner on down lives it. In addition, their ability to adapt and deliver is extraordinary. Add in the talented people they bring in to complete all aspects of the construction and remodel project, and we couldn't be more happy with the results. "
Ron, Urbandale, IA
" We love Rusty and the Compelling Homes team. We first worked with them to turn an unfinished basement into a family area, bar, workout room. We had some pretty complex request but they turned our unfinished basement into a fabulous rustic hangout space. Rusty has great ideas and is has an eye for details.
They just completed an addition over our garage and it turned out awesome inside and out. We can not wait to work with them again on a new master bath and kitchen. I would never go anywhere else. They deliver what they promise and more. They take time to get to know you and make sure your personality shows up in the final product. Love them!!"
Stephanie, Altoona, IA
" I cannot say enough good things about Compelling Homes. We are nearly complete with a 4th remodel job using this fine company and the service just keeps getting better. The owner (Rusty Green) will go to any length to keep his customers informed, satisfied and happy. He is a real pro at what he does! Even more, he is a man of the highest values and integrity. Use this company for your next remodel - big or small. They will not disappoint. "
Mike, Johnston, IA
" Rusty and his team managed our custom covered deck project perfectly and they knocked it out of the park! Rusty made some great suggestions to arrive at the perfect space for my family! We use it all the time and our kids and their friends gather and hang out there all the time! I wish I could post a pic here...the space is amazing!!"
Jeremy, Urbandale, IA