Summer in Iowa is full of possibilities. There are extra hours of sunlight to spend, warm weather to enjoy, and a thriving Des Moines Metro area offering fun things to do in July, August, and beyond; this begs the question: what are you going to do with your summer?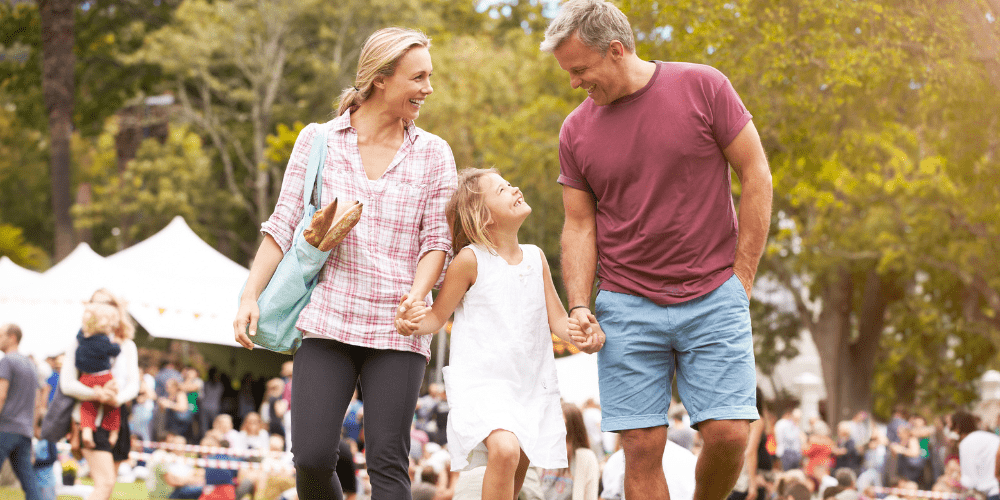 Compelling Homes' Summer To-Do List
Rusty and Denise Green here! We have gathered a list of our go-to summer activity ideas to share with you – but don't just take our word for it – ping your friends and family to see what other events they may have interest in doing! From relaxing strolls to thrill-seeking adventures, we hope you find something that sparks your interest to share with your loved ones.
Denise's List
Is it a plane? Is it a bird? No — it's a balloon. And lots of them. For nine days every summer, hot air balloons take over Iowa's skies. Over 100 balloons of all shapes and colors sway in the wind during the annual National Balloon Classic. Onlookers can listen to live music; enjoy food, fireworks, and refreshments; see the night sky light up with glow-in-the-dark balloons, or cross an item off their Iowa bucket list and view the spectacle from above with a balloon ride.
A different kind of thrill awaits you at Prairie Meadows in Altoona, Iowa. The casino, hotel and race track host horse races every Friday through Monday throughout the summer months. Bet on the races, then cool off inside and test your luck at the casino. When you get hungry, refresh yourself at AJ's Steakhouse or one of Prairie Meadows' other dining offerings.
Rusty's List
Wondering what to do on a summer night in Des Moines Metro? Look no further than the Jamie Hurd Amphitheater in West Des Moines. Nestled next to a tranquil pond, the amphitheater is a stunning location to relish a summer night. Dance barefoot in the grass, listening to your favorite band. Or bring blankets, pillows, and folding chairs to snuggle up under the stars. The venue also hosts Summer Sundaze every Sunday afternoon featuring local bands, food trucks, and lawn games. Pets are even allowed on the premises, so you don't have to leave your furry friend behind!
See the best summer has to offer at the Ledges State Park. Explore slopes, lichens, sandstone ledges, and the Des Moines River in full bloom. Hike through the park's four-mile trail system and try to keep count of the wildlife you see along the way — we'll bet you can't! Keep an eye out for 1930s structures throughout the park, such as the Peas Creek bridge. Set up a scenic picnic when you're ready for a break (just don't lose your lunch to the ants). Once you arrive at Ledges State Park, you might be reluctant to leave. Luckily, that's no problem. Rent a campground, pitch a tent, spend the night, and continue your adventures in the morning!
Things to Do in the Summer From Rusty and Denise
Turns out (no surprise here) that our lists share more than a few similarities. So we've combined the overlap. Here are three recommendations the couple has in common:
Of all the places to visit in Des Moines this summer, the Iowa State Fair is a must! The fair is the largest event in the state and a cultural staple dating back to 1854. Over a million people come from across the world to visit. Celebrate Iowa's agriculture and entertainment industry and stop by this year between August 11 and 21 for corn dogs, carnival rides, and more.
Wake up to breakfast burritos, live music, and the sounds of commerce at the downtown Des Moines Farmers' Market. Taste the summer season by picking up fresh eggs, vegetables, meats, and more while supporting local businesses. Don't limit yourself to just one market! Farmers' markets exist across the Des Moines Metro Area, including the Uptown Ankeny, Johnston, or Valley Junction Farmers' Market; mix it up and go to a new one each week.
Listen to more live music at the Jasper Winery Summer Concert Series. The winery hosts free family-friendly outdoor concerts every Thursday from 6:00 to 9:00. Bring a blanket and sit down among the trees or wander the winery. Bring your own food, or enjoy burgers, brats, and other food truck options. Of course, wine, beer, and sangria are also available. Imagine a cool drink in your hand, delicious food in your belly, a beautiful summer day, and great music. What could be better?
Stay On Track This Summer
With so much Des Moines fun to be had, summer goes by in a blur. Soon it's time to settle indoors for another winter. Before that happens, make sure your home is in tip-top shape. Now is the time to do the home maintenance, improvements, and remodeling you are planning. But don't sacrifice your summer to accomplish your to-do list. Let us help you out.
The Compelling Homes team optimizes your home for your life. Whether you need a new kitchen, an addition, or a complete home remodel, you can count on Compelling Homes. Home remodeling is simple when you work with us. Our comprehensive process keeps you involved in your home project without tying you down. Because at Compelling Homes, we don't stop at "good enough"... we make it Compelling!