You're not happy in your current home. You know you need a change, but you keep asking yourself: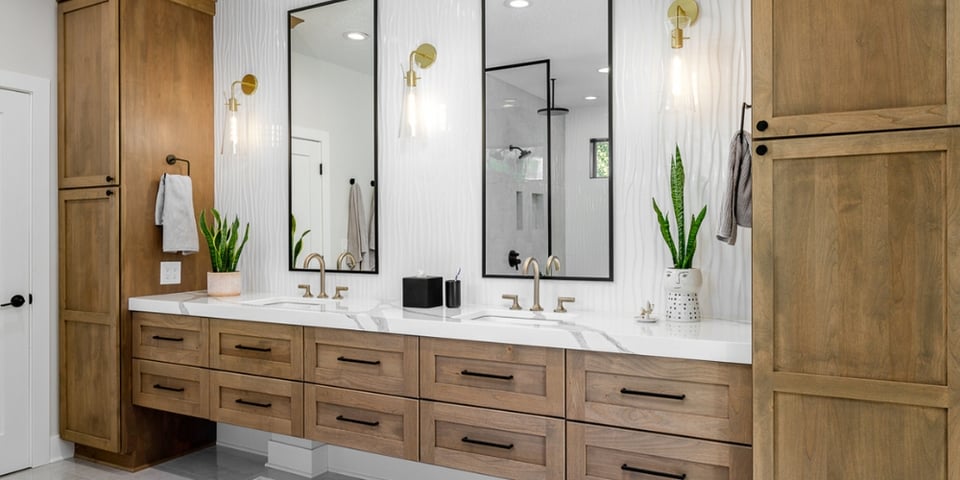 Should I buy a new house and move or remodel my current home?
It's a difficult decision, particularly if you don't know much about what it takes to remodel or move. You may be so frustrated with your current home that you feel tempted to throw in the towel on your home and move. However, that's not always the best decision.
Homeowners often get better results for less energy and money with home remodeling. Remodeling also offers other benefits by allowing you to preserve the best of your current home while bringing the rest up to standard.
1. Moving is Challenging
Moving isn't a simple process. You may have to make upgrades to your current home to improve value, put your home on the market, as well as find and purchase a new home. That doesn't even count the move itself, which entails packing up your entire life and figuring out how to set it up in a completely new space.
Remodeling instead of moving simplifies this process immensely. The steps to remodeling a house are generally much smaller and fewer than moving. You're adjusting your home to meet current and future needs, not finding a new home altogether. Additionally, a new home means a new neighborhood, school district, city, etc. Having to navigate all those new aspects of life at the same time can be tricky for you and your family. Remodeling offers a reduced-stress option — if you're lucky, you'll never even have to leave your home during the remodel for construction! This lessens complications in your life and helps you get to the results you want faster.
2. Remodeling Can Be More Affordable
Cost is one of the main considerations to take into account when deciding between remodeling vs buying a new home. So, is it cheaper to remodel or build new? Remodeling is generally more bang for your buck, and here's why.
When buying a home, you might be paying more for extraneous features or rooms you don't need. Think about why you want to move. Maybe you're sick of your home's look, need a new kitchen, or have run out of bedrooms with another baby on the way. Then, in reality, you don't really need to move; you can achieve all that by remodeling your current home. Because remodeling focuses on updating and personalizing your home for your life, you don't have to include anything you don't want or need. Moving, on the other hand, might have you paying for extra living spaces or bedrooms that don't add meaningful value to your life. If you only require a few major and minor additions, that's all you need to pay for with remodeling.
Even the cost of completely remodeling your home is generally more affordable than moving. The cost of a main-floor home remodel with Compelling Homes starts at a range of $100,000 to $150,000 in areas of Des Moines Metro like Johnston, West Des Moines, Clive, Waukee, or Ankeny. Meanwhile, according to Zillow, the average cost of a home in Johnston, for example, is about $362,863.
Tack on the other fees associated with moving — agent commissions, home appraisals, closing costs, mover fees, homeowner's association dues — and you're looking at a higher cost for more hassle and less value.
3. Improve Home Value
Remodeling improves your home value. That way when you decide to sell in the future, you can get more for your home. But not all remodeling projects add value equally. Kitchen remodeling, room additions, exterior improvements, and creating an open layout boost your home value more so than other projects, according to the Des Moines Realty Group. Kitchen remodeling in Des Moines offers one of the highest returns at 75.7% for a minor remodel and 65.2% for upscale, according to the 2022 Remodeling Magazine's Cost vs. Value report. Exterior projects like deck additions and siding and door replacements also have high returns. When you read those return figures, please know that these are based on 'same year sell'. I would LOVE to chat with anyone reading this about the year-over-year increase in remodeling expenses and how that relates to your ROI on your home remodel. 😊
4. You Can Customize Your Home
Here's the thing about moving: even if you manage to find a home in a location and price range that suits you, it still won't be customized to your exact needs. Before you move in, you may have to finish, remodel, or make other adjustments to your new home. That lengthens your timeline and taxes your budget. With remodeling, you can get the personalized results you're looking for without the extra cost, effort, resources, and time of selling, buying, and moving into a new home.
5. You Love Where You Live
We can't speak for everyone, but many clients who seek out our services love where they live. They love the surrounding community, environment, commute time, or school district — even if they aren't necessarily in love with their homes. Moving would mean leaving all that and starting over again, hoping to find a place where you can replicate similar conditions. Furthermore, your home may be where some of your fondest memories happened. Preserve old memories and enable the formation of new ones through home remodeling.
Get the Results You Want Without Moving
Still on the fence about whether to renovate or buy a new house? Compelling Homes' innovative design-build remodeling process can make your decision easy!