In many ways, remodeling your current residence can be as rewarding as purchasing a new home in the Des Moines area.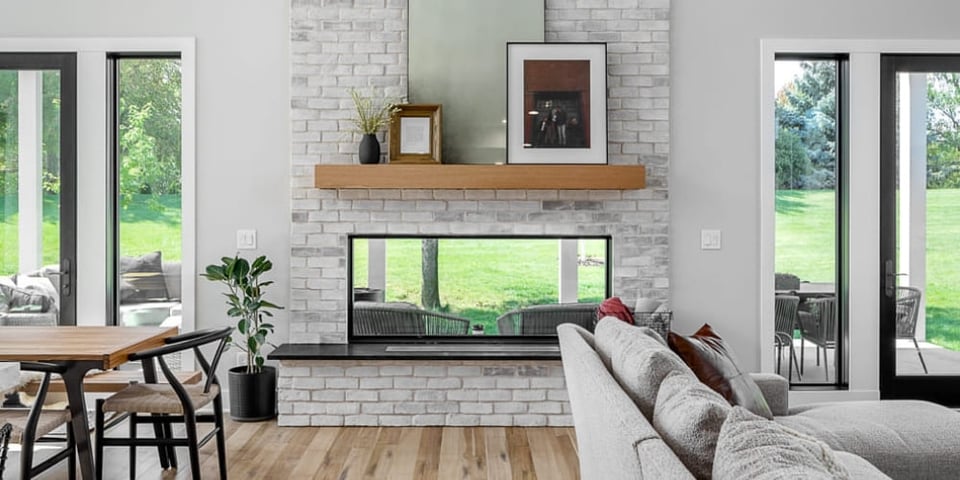 If you've lived in your home for a couple of decades, it gives you the opportunity to refresh the layout and style to match your current lifestyle needs without having to uproot your routine or deal with the hassle of moving. Even after living in your home for just a few years, it's common to have a list of things you wish were different or ways your house could be improved upon structurally and cosmetically.
Additionally, remodeling your home in Des Moines, Iowa, enables you to remain in the community, neighborhood or school district you prefer without sacrificing the comfort of your family.
How Much Does a Full Home Remodel Cost?
As you consider a whole home remodel, one of the main concerns is cost, and how to make the most of the money you're investing into your project.
There are several factors that impact the cost to completely renovate a house in Des Moines, including the size of your residence; the age and current condition of the property; the scope of the project; and the quality of materials and appliances. There are also several ways to calculate home renovation costs: by square foot, by the size of the house, and by type of house.
For an entire basic whole home renovation that mostly involves small repairs, cosmetic work and updating a few elements with economy grade materials and fixtures costs between $25,000 to $45,000. A midrange whole home remodel typically runs between $90,000 and $150,000, which covers a full bathroom and kitchen remodel, new flooring and light fixtures, and exterior siding. An upscale remodel is between $100,000 to $200,000 and includes structural and layout changes, HVAC work, custom cabinetry, converting a basement or attic into living space, and high-end materials and appliances.
The average cost for whole house renovation also varies by square footage of the residence. For example, the typical range for remodeling a 1,500-square-foot house, such as those commonly found in Clive, is about $80,000 to $100,000. A 2,000-square-foot home remodel generally falls between $90,000 and $150,000 while remodeling a 4,000-square-foot home in Urbandale can easily reach upward of $300,000. Remodeling a home in Norwalk, where the median number of rooms per home is six, is likely to cost you closer to $200,000.
Another variable to keep in mind is the type of home you live in, which refers not only to age and condition but also style. Renovating a townhouse can be accomplished for less than a project involving your Victorian home or farmhouse. If you're upgrading a historic property, the cost is much higher as you work to preserve the character of the house.
Whole Home Remodeling Costs by Project
As you're budgeting for home remodeling in Des Moines, it can be helpful to break down the project into parts and evaluate the price for each of those individually to decide what you want to include. For example, your kitchen and bathroom are likely to be the costliest rooms to renovate because of the appliances, cabinetry, and electrical and plumbing work. Remodeling your kitchen typically costs between $30,000 for minor upgrades to $100,000 for a full gut and remodel. Some homeowners even spend upward of $100,000 to renovate just their kitchen if they're doing a major, upscale project.
Here is a look at what you can expect to pay for each portion of a remodel on an average-sized home of about 2,500 square feet:
Bathroom: Each bathroom remodel typically costs about $15,000 to $25,000, although renovating a master bath with lavish, spa-like features can run closer to $65,000.

New Roof: If your roofing system is due for a replacement, that adds another $10,000 to $20,000 onto your overall project cost. You may be able to get by with a few roof repairs just to ensure the system is in good shape for the safety of your home and the possessions within.

Flooring: Installing new floors throughout your house is an effective way to update the appearance or contribute to a fresh design style. Carpet, laminate and linoleum are at the low end of the spectrum at roughly $3 to $10 per square foot. Hardwood, tile and natural stone flooring generally run $6 to $20 per square foot.
Exterior Work: While your interior may get most of the focus, fully renovating your Des Moines home should include exterior work as well. Installing new exterior siding costs an average of $6 per square foot—or between $8,000 and $20,000 depending on the size of your Des Moines home—while replacing your windows runs between $15,000 and $40,000 depending on whether you choose vinyl or wood.
General Contractor: For a whole home remodel, you undoubtedly want professional help with the design and construction to make the most of your investment. You also will pay a professional to design your home improvement.
Benefits of Design-Build Remodeling in Des Moines
Working with a design-build remodeler, such as Compelling Homes, for your whole home remodel in Des Moines can help you control costs by creating an efficient, streamlined process. With all your key players involved from the get-go and available in one spot, you have the ability to incorporate cost-saving measures during the design phase while still achieving your overall vision for the project.
Check out this full home remodel as you think about re-imagining your space!