Are you tired of feeling like you're living in someone else's home? Do you find yourself daydreaming about a space that truly reflects your personality and more modern touches? If you're getting the icks from every angle, a few strategic upgrades simply won't do. Remodeling your entire home is the perfect opportunity to start fresh and create a space that is uniquely yours – and we're the team to do it.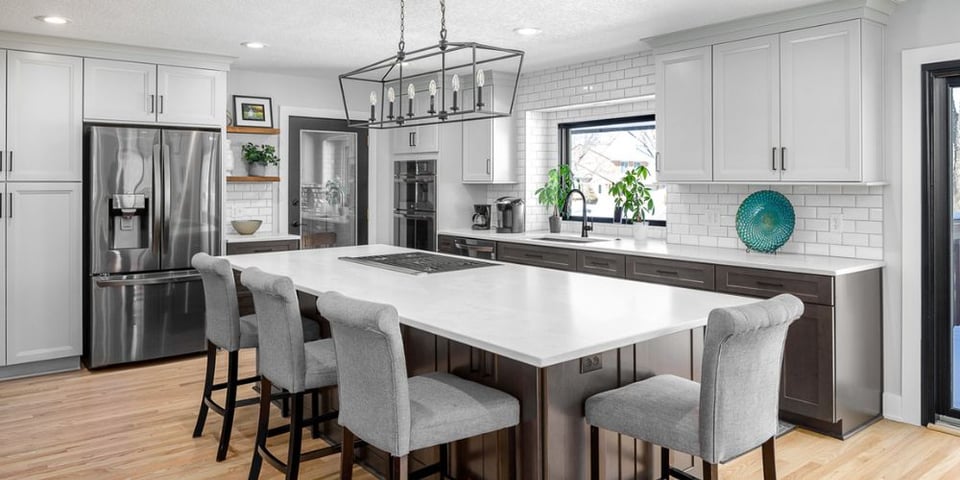 Complete home remodeling is a solution that gets all your repairs, updates, and changes wrapped up with an all-in-one renovation. However, not every homeowner who wants home improvements ends up taking the most aggressive and comprehensive approach. Some home owners are more interested in a laser-focused kitchen or bathroom refresh, which is a smaller remodel that targets just the elements that you want to be changed and preserves the features that are working. This might mean you paint your cabinets and keep your floors, for example.
If you'd rather handle it all at once instead of chipping away at the features, you're in the market for one of our favorite remodeling endeavors, what we call the "main floor scramble". Often, main floor scrambles are full gut jobs, meaning we remove every finish down to drywall and create something brand new inside. "Whole home" or "entire floor" remodeling allows us a blank slate to create something completely brand new. We can move walls, remove floors, add rooms, and change just about everything, leaving you with a home designed to work for you and delight your senses.

At first, the idea of a full home remodel might seem overwhelming, but trust us, it's worth it! Not only will it improve your daily life, but it can also increase the value of your home. Plus, think of all the fun you'll have picking out new materials, colors, and furniture.


Benefits of Whole-Home or Entire Floor Remodeling
Don't pass up the opportunity whole-home remodeling presents to better your lifestyle and home value for less cost, time, and work than moving into a new home. Check out these whole-home remodeling benefits for the inspiration you need to commit to your home improvement journey!
Stay in Your Home
In many ways, remodeling your current residence with an all-in-one home improvement overhaul can be as — if not more — rewarding as purchasing a new home.
If you've lived in your home for a couple of decades, a main floor scramble gives you the opportunity to refresh the layout and style to match your current lifestyle needs without having to uproot your routine or deal with the hassle of moving. Even after living in your home for just a few years, it's common to have a list of things you wish were different or ideas of how you could improve your home structurally and cosmetically.
Additionally, remodeling your current home enables you to remain in the community, neighborhood, or school district you prefer without continuing to compromise about your space daily.
Remodeling Allows Customization
If you're considering whole-home remodeling, you're likely also considering moving to a new home altogether. But remodeling gives you something a new home doesn't necessarily: customization. With whole-home remodeling, you personalize your entire home to your specific desires. You may get some customization if you buy a new home. However, there's no guarantee that you'll get your first choice for every feature unless you purchase a custom-built home.
If you decide to buy a new home and personalize it, you're essentially paying for a remodel in addition to everything else you had to pay for your new place. Those expenses add up quickly. Opting for a remodel gives you an out. Avoid the extra costs of buying a new home, get the same amount of customization (if not more), and ultimately better results — right where you're already living!
It's Faster & Less Work in the Long Run
Some homeowners choose to remodel their homes bit by bit. They move from one room to another, saving up money in between. However, this approach extends the amount of time, energy, and money you have to expend in the long run and leaves exciting options off the table. Doing total home construction remodeling all at once means you get the results you're looking for faster and allows you to completely re-imagine your space as a cohesive unit. Ready to get rid of some walls for open-concept main-floor living? Need to add another bedroom or bathroom for main-floor living accessibility? Committing to remodeling an entire home gives you many more options that don't confine you to a single room. Plus, all-in-one home improvement projects empower your construction team to work on renovations in whatever order is most efficient, saving you money.
Get More For Your Money
As you consider a whole home remodel, one of the main concerns is cost, and how to make the most of the money you're investing into your project. Whole-home remodels are generally more affordable than the average cost of a home in the Des Moines Metro area. To give you an idea of local housing prices, according to Zillow, a home in Ankeny averages $318,735. Prices are similar in Johnston, where the average home costs $369,875, and throughout the Des Moines Metro area. Add on the costs of hiring movers, real estate professionals, closing costs, home upgrades, travel, etc., and buying a new home can end up costing significantly more than remodeling.
Home remodeling adds to both your quality of home and home value. This means two things when you decide to sell:
First, you'll be able to get more money for your home than you would have before remodeling.

Second, homebuyers love a recently remodeled home. It's a great selling point to help find a buyer fast! You also get to enjoy the benefits of your remodel for a few years before selling your home.
Of course, the amount of home value you get back depends on the type of home remodeling projects you include. Exterior improvements and kitchen remodeling projects, in particular, tend to give your home a lot of value for your investment.
According to the Cost vs Value report, some of the home remodeling projects that offer the highest return on investment (increase in home value for your investment) are a garage door replacement at 85.1%, a minor kitchen remodel at 73.1%, midrange major kitchen remodel at 41.3%, and window replacements at around 65.5%. These figures, as presented by the Cost vs. Value report are all based on the value determined the same year as completed.
Each year the cost of construction rises by approximately 4%. So, each year your value increases based on how long you live in the home. We recommend staying in the home for a minimum of 7 years after you complete your renovation.
How Much Does a Main Floor Remodel Cost?
At Compelling Homes, a typical main floor renovation starts at $120,000. This tier of home remodeling uses a combination of both economic and luxury materials. This range and scope of work are reminiscent of a 1200- 1400 sq. ft. main floor, where we update the kitchen, powder room, and flooring throughout.
Portions that can bring the project up from there, would be changing out the trim throughout the main floor. Or relocating the powder room, knocking down 1+ walls, or changing out the stair system finishes.
For example, in Johnston, we've been in many homes where we're requested to renovate the entire floor. So, we knock the wall down between the kitchen & the dining room, change all of the floorings out, update the stair system, relocate the powder room, and completely face-lift the entire fireplace wall. Projects like that can push $200K, but they are DRAMATIC (in a fun way).
Remember – if you're choosing our team to bring your dream home to life, we are here to make your home fit you. We care about getting to know you, your family's lifestyle, habits, routines – the whole kit and caboodle. Then, we shape your space to fit your habits, not the other way around.
Remodel Budgeting 101: Class is in Session
As you're budgeting, it can be helpful to break down the project into parts and evaluate the price individually. Say, for example, you're wondering how much it costs to completely remove all finishes, and remodel your home.
We could begin with the base price by considering all of the removals & demolition the home may need. We would need to factor in labor, dumpsters, plastic + protection, and air cleaning in the home, which ranges from a couple of thousand dollars for a low or midrange remodel to $10,000+ for a higher-end remodel. The reconstruction cost is figured into the entire project, but here are some current 2022 examples of budget ranges you can expect when you begin the renovation journey:
Here is a look at the average cost of common home remodeling projects in the Des Moines Metro area, according to our historic prices for completed projects. Understand that these are averages. Your contractor is your best resource for understanding the cost of the work you've got in mind.

Kitchen Remodel Costs

Your kitchen is likely to be one of the costliest rooms to renovate, because of appliances, cabinetry, electrical, and plumbing work. Remodeling your kitchen typically costs $46,331 for minor upgrades laser-focused to remedy your biggest concerns and preserve elements that work, $78,524 for a mid-range remodel, and $155,529 for a major, upscale project.



Bathroom Remodel Costs

A bathroom remodel costs about $35,302, although renovating a primary bathroom suite with lavish, spa-like features can run closer to $87,468.



New Roof Costs

If your roofing system is due for a replacement, that adds another $29,6336 for asphalt shingles, or $48,253 for metal. You may be able to get by with a few roof repairs just to ensure the system is in good shape for the safety of your home and the possessions within.



Exterior Work Costs:

While your interior may get most of the focus, fully renovating your home should include exterior work, too. Installing new exterior fiber cement siding costs, on average, $23,659, while vinyl siding replacement costs $19,294. Window replacements cost between $20,273 for vinyl and $39,122 for wood.
Another cost variable to keep in mind is the type of home you live in, which refers not only to age and condition but also style. Renovating a townhouse can be accomplished for less than a project involving your Victorian home or farmhouse. Similarly, upgrading a historic property is more costly because you must bring the property up to date, repair age-related damage, and work to preserve the character of the house.
Compelling Homes is a high-end home remodeling company in Des Moines. We're here to guide you through every step of the process, from brainstorming ideas to the final walk-through. Let's turn your home into the ultimate reflection of your style and personality. Are you ready to take the plunge of a main floor scramble? You won't be sorry.
Your Des Moines Whole-Home Remodel: Where to Start
We want you to have all of the information you need to feel empowered during and by your home remodeling experience. We hope you'll draw some inspiration from our completed projects and make great use of the information we've shared to help you dream and plan. We can't wait to have a more personalized conversation and hear more about what you've got in mind. We know you'll love the work we do together. Remember, don't stop at "good enough" — make it Compelling!