Once you've selected a remodeling team, there is plenty to look forward to as you begin designing the plans for your home improvement project in Northern Iowa.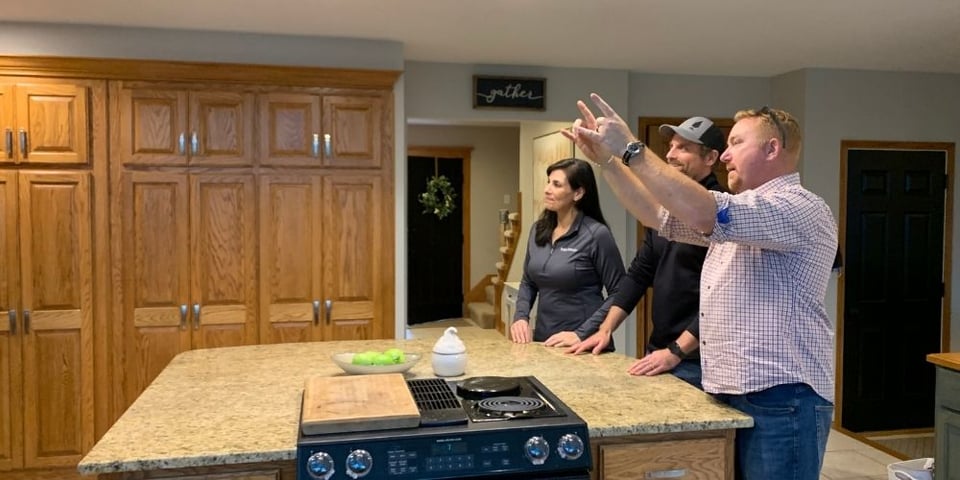 While the design phase should be a fun, positive experience, it's also a time for due diligence as the decisions you make at this point will affect the rest of the experience and the outcome of the project. The more better informed you are, the more effectively you can lay the foundation for a successful home remodeling project.
Questions for Home Remodel Design Team
Near the beginning of the home remodel design process, you will meet with your team to discuss your project goals, your existing space and options for transforming it into what you envision. While you'll hear from the designers about their ideas and insight, this is also an opportunity for you to ask questions, gain confidence about the direction of your project and develop a plan for an efficient construction process (and avoid mistakes throughout the project). To help you develop a house design checklist for your project, here are some of the questions you should discuss with your remodeling team:
1. Are we on the same page with the budget?
You don't want to get to the end of (or even the middle of) your home remodel or addition only to find out it is costing significantly more than you expected.
Discussions about budget need to happen early so you and your design-build remodeler can work together to prevent scope creep and implement cost-saving measures. Even if you're still working with rough estimates at this point, a clear understanding of your maximum price can help you stay on budget in the coming weeks. During your initial meeting, you should also confirm the design fee and payment schedule.
2. Are we clear on my priorities for the home improvement project?
Before you start designing your remodel and making selections for materials, you want to make sure you and your team are on the same page about your project priorities.
Are you remodeling your home in Northern Iowa to increase its value or improve its condition before a sale?

Has your family's size or lifestyle changed?

Are you creating a space to satisfy a future need or goal?

Have your personal tastes evolved, leading to the desire for a new style?
A home remodel is much more than the materials and layout chosen and constructed; a home remodel is about re-orienting the form and function of your space so that you can become the best version of yourself.
Your priorities influence the direction of your project, so it's important you are able to communicate them to your remodeling team.
3. How does your remodeling team operate?
Others topics to address include the logistics of the design process, who is responsible for what and who you will be interacting with and when.
Will you be working with a single project manager from start to finish?

Are there different people designated to each portion of the project?

Who should you contact with questions and concerns and what is the preferred method of communication?

Is your project manager or primary point of contact available via phone, text and email?

Who should you contact if they are unavailable or out of town?

What aspects of the project are handled in-house versus by subcontractors?
If you want to delve deeper into the company structure, find out who are their primary vendors, subcontractor and/or trade partners.
4. Do you have suggestions for optimizing the space?
After seeing your home and the room(s) you want to remodel, your design team should be able to give some insight and ideas for reconfiguring or upgrading the space to fit your project goals. They may also have concerns about mechanical, electrical or structural issues that they can share to help you with informed decision-making.
5. What architectural and design elements are trending?
Although you may have a specific taste and preferred design style, it's worth finding out if there are any colors, features or materials trending in Central Iowa or the industry in general. Incorporating trends into your project is worth considering, especially if you are planning to sell your house within a few years. On the other hand, your design team can also share what upgrades or features are unlikely to go out of style, therefore providing long-lasting value to your home. Plus, we always have ideas for your designs!
6. What happens if I don't like the design?
Although this is unlikely to happen if you've taken time selecting a qualified remodeling team, it's a topic worth discussing during your design meeting. Find out what the process is for altering and refining the design until it meets your expectations. Is there a deadline for making selections and finishing the drawings? What is the process for communicating desired changes and how quickly will those be made?
Designing Your Home Remodel in the Des Moines Area
The first step to conducting a remodel that effectively enhances the value, function and appearance of your home is developing a good plan. During the design phase, you make decisions and take actions that will impact the efficiency, cost and timeliness of the entire project. At Compelling Homes Remodeling + Design, we have a refined five-step process to help you through every stage of upgrading your home in Central Iowa. Our team can provide valuable industry knowledge and insight to guide you through designing your home remodel and selecting the right materials, features and finishes to achieve your vision.