Over time, your family evolves. Your children may start having their friends over more often, or your house becomes the one that hosts extended family, friends and neighbors for holiday get-togethers.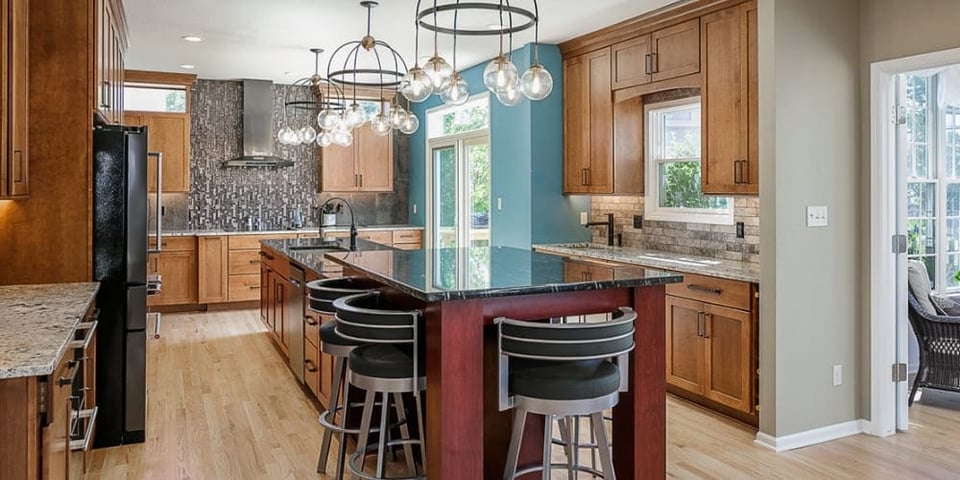 As you experience lifestyle changes, it's important to occasionally stop and evaluate if your home still meets your needs as it used to. If the answer is "no," it may be time to plan a home improvement project. This is especially true for your kitchen, which gets plenty of use through years and is often considered the heart of the home.
How Much Does It Cost to Remodel a Kitchen?
Remodeling your kitchen is a significant undertaking, both in terms of time and money, but worth the investment as the process adds value to your home in Des Moines, Iowa, and supports new facets of your family's daily routine.
The cost to remodel your kitchen depends on several factors, including the size and scope of the project and whether you significantly change the layout and placement of various kitchen components. The type and quality of materials you select for the remodel also significantly impacts cost. For example, if you choose economy grade materials and fixtures instead of customized or imported products, you can lower the overall project price. Along with labor and materials, other common kitchen renovation costs include planning, designing and permitting the project.
To help you start developing a preliminary budget for your Des Moines kitchen remodel, here is an overview of average costs based on different sizes and levels of upgrades:
Minor Mid-Range Kitchen Remodel
The average cost of a small kitchen remodel in Iowa is about $35,000 to $45,000, with an estimated return on investment (ROI) of about 74%, according to Remodeling's 2020 Cost vs. Value Report. This type of project involves updating a functional but dated space and sprucing it up with new energy-efficient models for your refrigerator and cooktop/oven range. Your kitchen layout remains and includes all new cabinetry and countertops. Additionally, your project can include installing a new mid-priced sink and faucet; tile backsplash; and adding new resilient flooring. Finish off your kitchen remodel with a fresh coat of paint and new trim.
Within this price range, you won't be able to adjust your floor plan or make significant changes to your electrical and mechanical systems, including plumbing and heating ventilation and air conditioning (HVAC). However, you can create a beautiful space that looks and feels refreshed.
Major Mid-Range Kitchen Remodel
If you want more latitude to make major improvements and select semi-custom products, you can develop a kitchen remodel with a broader scope and price range around $60,000 to $70,000. At this level, you can adjust the layout of your kitchen to be more functional and convenient in order to meet your family's evolving needs.
Additionally, a major remodel typically includes installing 30 linear feet of new semi-custom wood cabinets, including a standard 3'-by-5' island. As with a minor kitchen remodel, your countertops get replaced and you can install a new double-tub stainless steel sink with a single-lever faucet.
You also have the ability to change out several of your main kitchen appliances or add news ones, including a build-in microwave, vented range hood, energy efficient range, dishwasher, and garbage disposal. Along with fresh wall and ceiling treatments, you also can add new flooring and custom lighting to enhance the ambience and function of your kitchen.
Major Upscale Kitchen Remodel
Depending on how much your household has grown or your lifestyle has changed in the past few years, you may be ready to redo your kitchen with a new layout and variety of upscale finishes, fixtures and features. The cost of a major upscale kitchen remodel in Des Moines is typically upward of $85,000 and may even close in around $105,000.
At that price, you can completely update your cabinetry with top-notch, custom wood cabinets featuring built-in sliding shelves and other interior accessories. You can also incorporate higher-end materials for your countertops, tile backsplash, and flooring to create a more aesthetically pleasing and lavish environment. Your may also want to add new general and task lighting, such as under-cabinet lights, and a high-end under-mount sink with designer faucets and a water filtration center. Your appliances can also be top of the line, including a built-in refrigerator, built-in microwave unit, wall oven, and commercial-grade cooktop and vent hood.
Upgrading Your Kitchen in Des Moines
Remodeling your kitchen can be a rewarding experience, along with adding significant value to your home in Des Moines. However, for such a large investment, you want to make sure the project is done right, from design to construction. As a design-build remodeler, Compelling Homes has a team of remodeling experts to assist you every step of the way in constructing a kitchen remodel that maximizes this major investment into your family's future.