Dreaming of a brand-new kitchen in 2022? Want to transform some outdated features with state-of-the-art designs, kitchen innovations, and features that optimize your use of space? If so, there's never been a better time to start planning your kitchen remodel than right now. We're here to help walk you through the biggest 'trends' in kitchen remodeling this year – keeping in mind that the only trend you should be yearning to keep up with is the trend that best suits your personal style. That's where we come in – let's dive in.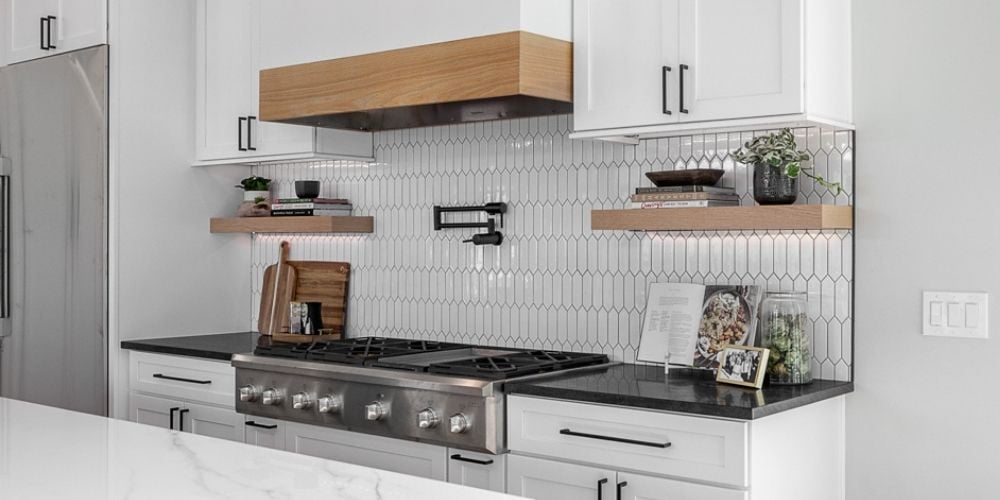 Every year, there are new "trends" — things the Jones' decided we needed to keep up with and rush to buy. YAWN! What's always trending is what makes your home unique: the people living in it and their tastes.
However, you may not always know what you want. Sometimes you get inspiration burnout – your thumb is tired from scrolling through Pinterest and you feel like you know what you like, but can't quite figure out how to put it all together.
Our design-build remodeling team is one of the best in the Des Moines Metro area, and we help you every step of the way. We have in-house designers that listen to your wants and needs and, yes, even scroll through your Pinterest board with you to come up with a space that is even better than you dreamed.
Until you're ready to schedule a consultation with us, here are some kitchen design features you may find intriguing. Save this post to your mood boards, and let's get the ideas flowing!
First, Dissect Your Current Kitchen
Before listing off the latest kitchen remodel trends, it's essential to consider your current kitchen. There are likely all kinds of features you've thought would make life easier — maybe an island for family food preparation. Or perhaps you have an island and would love a second prep sink installed. Maybe the floors are cold in the mornings, and you'd like to add some radiant heat underneath your beautiful, brand-new hardwood flooring.
Over the next few weeks, leave a pad of paper out on the kitchen counter, and when you find yourself thinking, "man, I wish I had ___________ in my kitchen," write it down! It can be tough to remember everything on the spot, so having a notepad of ideas is always a great idea.
2022 Kitchen Trends
Now, let's get into the hottest kitchen trends in 2022. If you're more of a visual person, see our project spotlights for an inside look at our most inspired, awesome kitchens — like this elegant remodel with a secret room!
Pot Filler
Pot fillers are an example of small kitchen ideas that make a significant impact. It's a special faucet installed above the stove, allowing you to fill up pots on the stovetop instead of lugging that heavy pan from the sink to the other side of the room. Pot fillers are particularly apt if you do a lot of cooking.
Dream kitchen ideas should combine both fashion and function, and pot fillers have the potential to check each box; it gives another opportunity to install a fixture that matches the other materials featured in your new space. Plus, the next time it's your turn to host those holiday dinners, this little tool can make life so much easier.

Column Refrigeration
Think of the kitchen photos you have saved on your Pinterest board. Do they have a beautiful, sleek, french-door-type stainless steel refrigerator? It's likely – and there's a reason for that.
Column refrigeration brings a certain je ne sais quoi to your kitchen space; a feeling that can't quite be described, but you know it when you see it. Companies like SubZero have dominated the market with their sleek, restaurant-grade refrigeration, freezing, and yes – even wine cooling designs. Choosing to place column refrigeration in your home is a subtle way to let people know, "Hey, I'm serious about the things I do in here" while at the same time eliminating the bulkier refrigeration units of the past.
Another perk? Depending on your personal budget, these units can be customized to fit your space. That means no more browsing the internet to find a unit that squeezes into your space. Instead, our designers can build your cabinetry, countertops, and more around the unit.

Double the Islands
Nowadays, designers are seeing double. Kitchen islands are beloved for the extra storage, seating, and preparation space. But all those features happening at once is a lot for any island to handle. Today homeowners are tackling this problem by making space for not one but two islands in their kitchen. Having double the islands means double the storage; it also makes one island available for food preparation or dirty dishes while your guests sit and chat at the other.
Pet Stations
Your pet is an important part of your life. So shouldn't they be an important part of your home? Now, they can be. Traditional pet feeding and watering stations consist of just two metal bowls on the floor. In this model, the bowls can move around, tipping over water and kibble onto the flooring you try so hard to keep clean. Today, more and more homeowners are opting for pet stations built into the bottom of their kitchen cabinetry, island, and even drawers. Built-in stations keep your floors clean and kitchen looking snazzy. And while we can't speak for your four-legged friend, we're pretty sure they'll like it too!

Geometric Backsplashes
Lately, a lot of the homeowners we work with are requesting geometric backsplashes in their kitchens. The dynamic shapes and patterns in the tiles inspire movement in our designs. In some homes, we continue these designs up to the ceiling, coating the room in style and shine. Our clients love the standout look, and so do we!

Triple the Sinks
Islands aren't the only things homeowners want more of in 2022. It's become increasingly popular to have multiple sinks in your kitchen. You might have one on your counter, one on your island, or two sinks right next to each other on your countertop; a third may hide away in a butler's closet or pantry. Having multiple sinks lets you stack dirty dishes in one while soaking potatoes and washing vegetables in another.
Smart Lighting
While automated heated floors keep the ground warm underfoot, smart lighting allows you to walk into your kitchen without even having to flip a light switch. As more homeowners have requested this addition, our designers have become fond of Caséta smart lighting by Lutron. This system uses smart dimmers and switches rather than bulbs; it lets you schedule your lights and set mood lighting for various occasions. Another feature turns on lights randomly to make it look like you're home even when you're away.

Designing Your Perfect Des Moines Kitchen Remodel
If you're looking for the perfect dream kitchen, we are here to help. Whether these ideas are features you love, or there are other upgrades you want to make, give our team a call, and we'll help you realize your dream kitchen.
Our remodeling specialists have proven track records of designing and building beautiful, timeless kitchens to match your family's unique needs and sense of style. We will walk you through the entire design-build process so you know just what to expect and when to expect it.
As always, remember: don't stop at "good enough", make it Compelling.
A note from Rusty Green:
A common reaction from homeowners when we're out shopping for selections is "it's fine," or "it's pretty good." When I hear that, I stop them, and pull whatever product is away from them and say, "the name of the company is not "okay homes" or "it's fine homes" (or my personal favorite: "it's not bad homes.")
The name is Compelling Homes. Choose accordingly.