Remodeling a kitchen takes up a lot of your time, energy, and money. In the back of your mind, there may be the terrifying possibility that, after all that work, you might not end up liking the end result. We're here to nip that in the bud – because our team knows a thing or two about kitchen remodeling – and we're here to share our knowledge with you.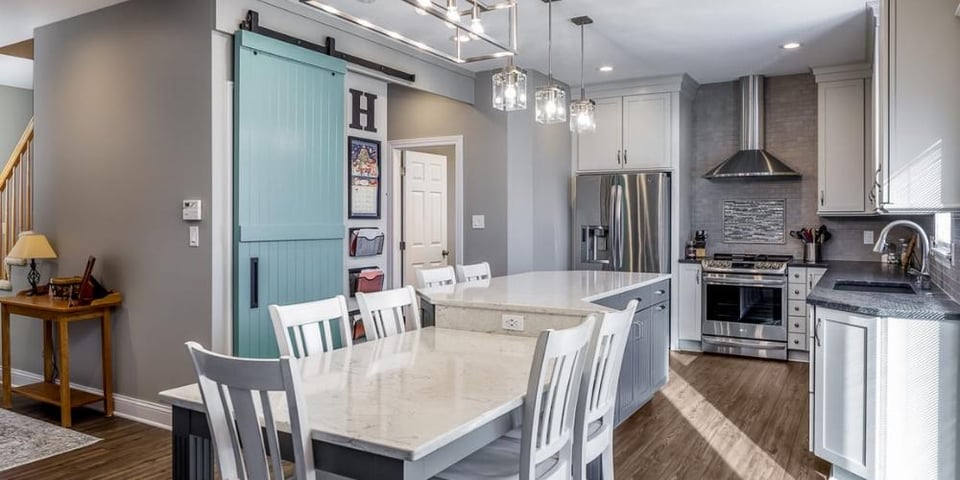 Mistakes to Avoid
1. Inadequate Storage
Kitchens need a lot of storage - enough to hold all your pots, pans, dishware, food, spices, recipes, and then some. Not having enough storage is one of the worst kitchen design mistakes you can make; it'll turn your kitchen into a cluttered, disorganized disaster. It's better to have too much storage than not enough and, personally, we don't believe there's any such thing as too much storage! You can create more storage in your remodel by adding extra cabinets or an island, installing open shelves, or utilizing open storage.
2. Forgetting Function
Your kitchen is the place where you do all your cooking; so, it's imperative that it's designed with a function in mind, otherwise you'll end up on a list of kitchen remodeling fails. But how do you accomplish that? By following one of the best kitchen design layout tips around: the kitchen triangle rule. According to the rule, the sink, fridge, and oven should be laid out to form a triangle that is four to nine feet long on each side. The concept was developed in the 1940s and has since been touted as one of the most efficient kitchen layouts. While you're looking at function, take into consideration the size and direction of your appliances, cabinet doors, and drawers, and be sure to add plenty of lighting so you can see while you cook.
3. Going Too Big…
You've waited for this kitchen remodel forever. You've been dreaming about it, itching to get started. We understand, and while that's all well and good, sometimes too much enthusiasm can get remodeling homeowners into trouble. That's why Compelling Homes is here to keep you on track! Though you might be tempted to go big for your remodel by adding a huge island and an obscene amount of storage, you don't want to risk overwhelming your space, especially if your kitchen isn't that big to begin with. As a general rule, islands should be no longer than 10 feet (otherwise they're hard to walk around) and no deeper than four feet (otherwise it's difficult to reach the center). You should also leave at least 42 inches of space between your island or peninsula and any other counters, according to the National Kitchen and Bath Association.
4. Or Not Big Enough
Though they're mainly for cooking and cleaning, kitchens can be used for far more than just that. They can be a centerpiece of your home: a place to eat meals, prepare for the day, or finish homework. Plus, the kitchen is a natural gathering point where you can spend time with your family or guests. So, while you're planning out how much of your kitchen you'll dedicate to storage, appliances, etc., you should also be thinking about how much space you can leave open for people to congregate. Consider adding barstools near a seldom-used countertop or island to create a designated seating area where people can relax and chat while the food is cooking.
5. Leaving Unutilized Space
If it isn't obvious by now, space is a limited resource, especially in your kitchen. That's why you should try to utilize as much of it as you possibly can. You know the space between your cabinets and the floor? You could leave it empty to collect crumbs and dirt, but why not get some use out of it instead? Toe-kick drawers are a great way to make use of empty space, and they're also the perfect place to hold the extra kitchen knick-knacks that normally clutter up your cabinets. You can also add pull-out racks between your appliances and cabinets or even add an extendable kitchen countertop for when you need extra counter space.
6. Getting Ahead of Yourself
It's easy to get caught up in the design aspect of your remodel. After all, in our opinion, that's the most fun part of the remodeling process. But there's much more than design you need to take into consideration; you need to think about how the remodel will impact your life, from your finances to your home life and everything in between. Here are a few things you don't want to forget:
Timing: A kitchen remodel is no joke, so be prepared for there to be some disruptions to your everyday life. That's why it's best to look at the schedules of everyone in your household and plan your remodel for a time when there's not much going on. With school being out and the warm weather, summer is one of the best times of the year to remodel your kitchen.
Stick to Your Budget: You want a kitchen remodel, but it shouldn't come at the detriment of your financial wellbeing. Start by assessing your finances to see what you can afford, then check out our kitchen remodeling cost guide for estimates on what a remodel will cost you. Once you've created your budget, be sure to stick to it, working with your designer and builder to allocate funds according to what's most important to your remodel.
Rushing into Things: Don't make hasty decisions for your remodel. Materials can look much different in a showroom than they do in your home. So, before you choose any materials for major elements, such as your flooring or countertop, make sure you bring it home to see what the materials look like in your space.
Remodeling Your Des Moines Metro Area Kitchen

Keeping these tips in mind will help, but the absolute best way to make sure you love the end result of your remodel is to hire the right designer and the right builder. At Compelling Homes, our five-step process makes remodeling easy and our team will be there for you to ensure that your Des Moines arearemodel turns out exactly as you dreamed it would. Learn more about what sets Compelling Homes apart from our competition or check our free Homeowner's Remodeling Guide.
When it comes to remodeling your kitchen, always remember: don't stop at "good enough"... make it Compelling!