At Compelling Homes, we know how important picking the right cabinetry is — we believe nailing down the cabinet design is the first step in building your kitchen palette! But, we also know you have a ton of different cabinet styles to choose from.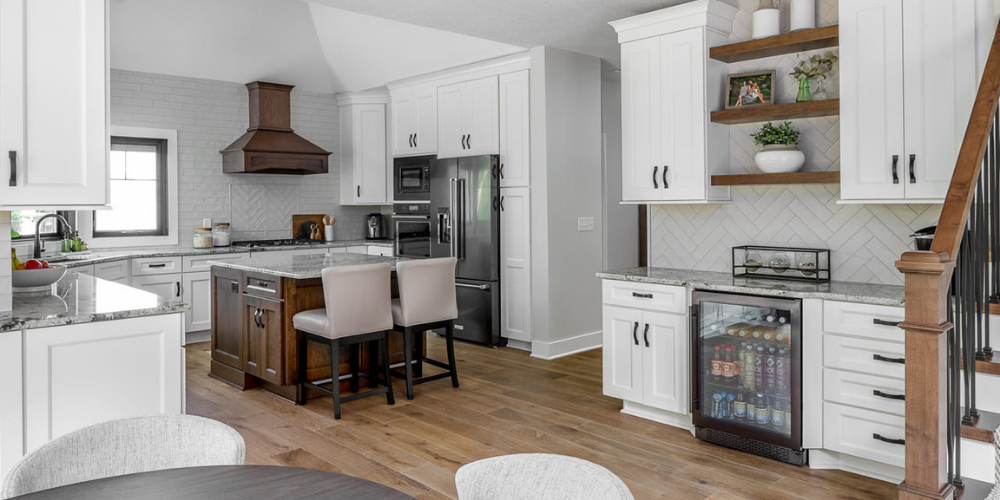 Maybe you want something modern and functional that retains an air of classical elegance, or perhaps you're looking for show-stopping cabinets that make a statement. Either way, it's a difficult decision, so here's our advice for how to choose kitchen cabinets you'll love! You can also check our blog for more kitchen remodeling ideas.
Match Your Home
Kitchens are often one of the most used rooms in your house. It's where you make your morning coffee, cook meals, eat, entertain guests, and much more. For this reason, functionality is of the utmost importance — and sometimes that means style takes a backseat in a remodel. But not with Compelling Homes!
We believe your kitchen should feel just as homey and pleasant as the rest of your house. So, when you design your remodel, try to match the style of your kitchen to the rest of the home by using the same materials, colors, textures, or other design motifs.
For example, if you have white accents in the living room, consider matching them with white kitchen cabinet doors. Or you can hop on a 2021 cabinet trend and get kitchen cabinets that look like furniture. Try disguising your cabinet drawers as dresser drawers, adding turned legs to islands or sinks, incorporating open cabinets, or a built-in bookcase to give your cabinetry an elevated look. You can even hide bulky appliances by enclosing them with furniture-style shutters.
Know Your Options & What's In Style
Figuring out the right kitchen cabinets can be overwhelming and the internet is full of articles telling you what to choose. You may be wondering, "Where do I even start?" We recommend narrowing down your search by focusing on current cabinet trends. So, let's take a look at 2021's most popular trends. These trends include new design ideas as well as crowd-pleasing classics. That way if you ever decide to sell your home, buyers will love your cabinets too!

Black or White Cabinetry
Despite being on opposite sides of the color spectrum, both black and white cabinetry is in. White kitchens have been popular for a long time. They are clean and neat, evoking minimalism, and reflect natural light to automatically brighten your space. For this reason, white cabinets are a great choice if you want to sell your home sometime soon.
White cabinets, however, have been somewhat usurped by black cabinets. Dark or all-black kitchens have yet to prove themselves to be as enduringly popular as white kitchens, but they are currently capturing the attention of the interior design world. Black cabinets when mixed with natural materials like stone become softer while still providing a sense of drama and luxury.
Some designers are mixing light and dark together by installing white cabinets above the kitchen countertop and dark wood cabinets below. This is just one of many ways that designers have mixed different types of cabinetry in 2021 — but more on that down below!



Open Shelving
Also trending in 2021 is an altogether alternative to cabinets: open shelving. Kitchens are often brimming with pots, pans, utensils, fruit baskets — you name it! To keep your kitchen from getting too cluttered, opt for open shelves that float against your backsplash. Open shelving keeps your most used items easily accessible, spotlights decor, and creates a clean, natural look. Plus, with cabinets below the countertop, you won't lose too much storage space. The items on your shelves will, however, be exposed to dust and airborne particles, which is a drawback.

Mix & Match Your Cabinets
Mixing the styles of your cabinetry is a modern way to create contrast and interest. You can mix colors, materials, cabinet type, and metals. Just don't mix more than two — maybe three — styles, otherwise you risk your design being overstimulating.
The mixing of light and dark cabinet colors, as mentioned earlier, has been popular in 2021. Similarly, using two different door types for your upper and lower cabinets has also been in style. Mixing shaker and flat-panel cabinets, for example, creates visual interest because they have different textures. Flat-panel cabinets are sleek and modern, while the more traditional shaker cabinets are composed of a flat panel in the middle with a raised exterior band. You can also mix and match with louvered kitchen cabinets, which have a truly unique texture.
A more subtle way to mix and match is with your metals. Sterile metals like steel have dropped in popularity while warm, earthy metals like gold, copper, or brass are all the rage. You can elevate steel by mixing it with cooper for visual diversity that will give your kitchen a timeless look. Be careful how you mix your metals though. If you put two different metal knobs on your cabinets, it might look messy. But, if you make your appliances steel, knobs brass, and utensils gold, for instance, you can achieve an eclectic yet cohesive style. Some homeowners are even opting to give their various metal knobs and appliances a black or white finish to help them blend into cabinetry.

Expanded Cabinetry in Parlors & Pantries
We're also seeing more interest in functional pantries or larders that provide extra storage and tuck away the clutter of everyday life. More and more often people are also adding countertops into their pantries to serve an extra prep space that's hidden from the main areas of the home. You can modernize the design of your pantry by using open shelving, installing good lighting, and adding colorful elements like wallpaper or art. Or, if you prefer something a little less obvious, enclose your pantry with bi-fold doors that blend in with your cabinetry.


If you're picking out kitchen cabinets, you should also be aware of the cabinet shortage the home-building industry is facing. Due to supply chain disruptions caused by inclement weather, port congestion, and labor shortages, builders have experienced shortages on many items in 2021.
According to statistics from the May 2021 National Association of Home Builders and Wells Fargo Housing Market Index Survey, builders are experiencing shortages of framing lumber, plywood, windows, doors, appliances, and many more items. Also in the survey, 63% of builders reported cabinet shortages this year.
As you embark on your remodel, be sure to consult with your builder on how shortages could impact your project. You deserve to work with a builder who will be transparent with you about these challenges.

If you've gathered enough inspiration and are ready to update your kitchen, check out our kitchen remodeling services! Working with a design-build remodeler, like Compelling Homes, means a simplified process that will make achieving your dream kitchen easy.
We pride ourselves on providing excellent customer service that prioritizes your budget, time, and desires. Contact us to take the next step, or learn more about remodeling costs and trends at our blog. And remember... don't stop at "good enough" – make it Compelling!