This modern farmhouse home remodel & addition won three awards in the 2020 Des Moines Tour of Remodeled Homes. Take a look around!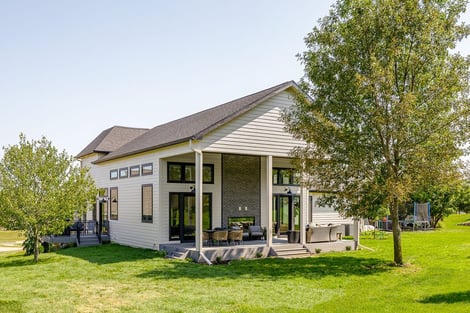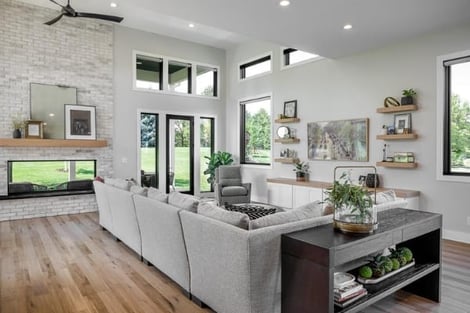 Popularity of remodeling in Des Moines is on the rise. This homeowner knew they needed more usable space to accommodate a growing family, and they had a fun request in mind for the kiddos, too...
Nearly the entire main level was touched during this Des Moines home remodel and 1,000 SqFt added.
The homeowner wanted their home to feel entirely custom to suit each family member's design tastes and lifestyle needs - right down to their dog.
The final remodel and addition updated or added: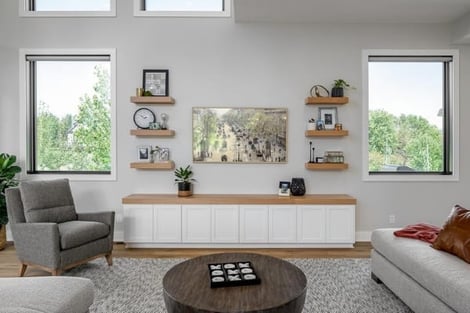 The K

itchen

Living Room

An Office

A Powder Room

A Stair System

A Lower Level Bar

A Pinball Arcade (oh yeah!)

An Exterior Deck

A Two Story Covered Patio

An Indoor/Outdoor Fireplace
A unique and awesome feature of this home is the use of oak throughout- yes, oak! Oak floating shelves, oak handrails, and oak countertops in the living area. Oak doesn't get enough credit!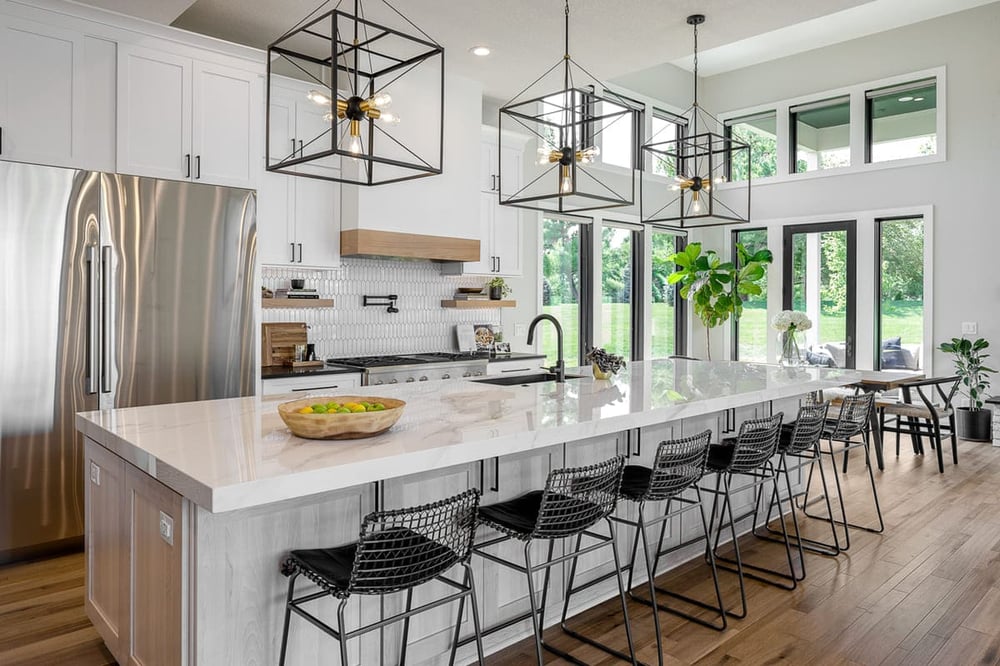 The Main Level Remodel
The living room was largely outdated and the cramped kitchen needed a full-scale remodel to improve its layout and design. Now both spaces are ideal for hosting gatherings from special events like PTA meetings, to Christmas brunch, or weekly needs such as teen study groups and family game night.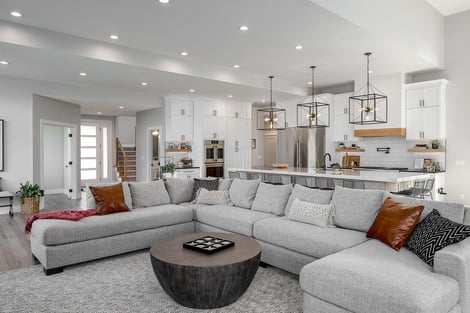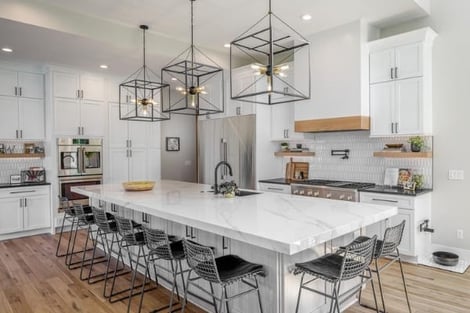 The result of this main level remodel and two-story addition included an open concept layout with multiple hosting spaces. This spacious, modern farmhouse kitchen remodel boasts:
Vaulted ceilings
Custom cabinetry
An extended island for increased storage and functionality
Industrial farmhouse lighting
A double-sided, indoor/outdoor fireplace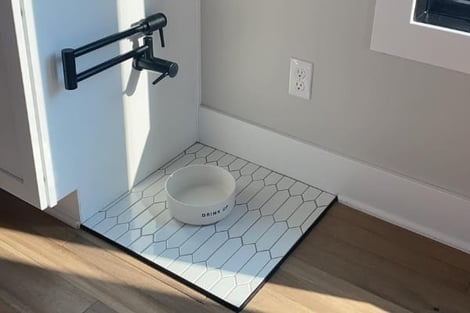 Remember the dog we mentioned earlier? Though lots of people have dogs, and a few people have large dogs, fewer people have Great Danes.
Those that have Great Danes, like this family, would love to have a pot filler on the end of their kitchen cabinetry to fill the many gallons of water their four-legged family member absorbs.


We live in Iowa, and we love fireplaces. In this home, we wanted a two-sided fireplace that could be enjoyed from the patio and the living room. That said, the Iowa-weather-worthy fireplace options were a bit drab for this modern remodel, so we installed a bio-ethanol-burning fireplace with a monstrous window to view the flames from inside, and from the outside.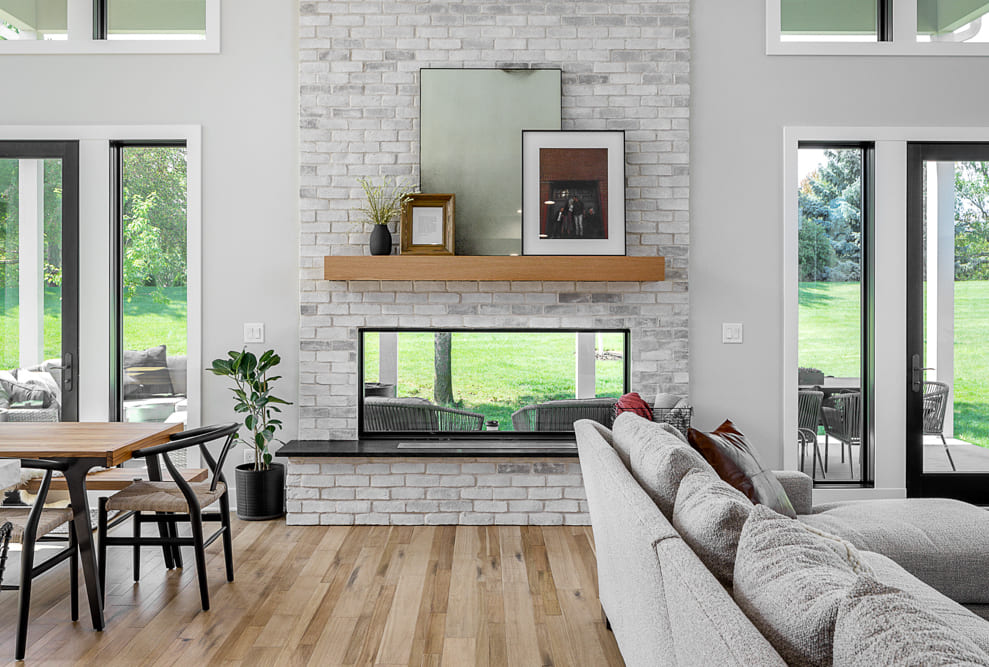 The fireplace feature, coupled with a raised ceiling and custom large windows, enhances the airiness of the entire main level. East-facing windows allows for the space to be filled with natural light the majority of the afternoon and evening.
Our Compelling Homes team created the illusion of separate hosting spaces with varying ceiling heights, a rug to identify the cozy living room, and custom windows to distinguish the dining room.
But that's not all....check out the new and improved basement! 👇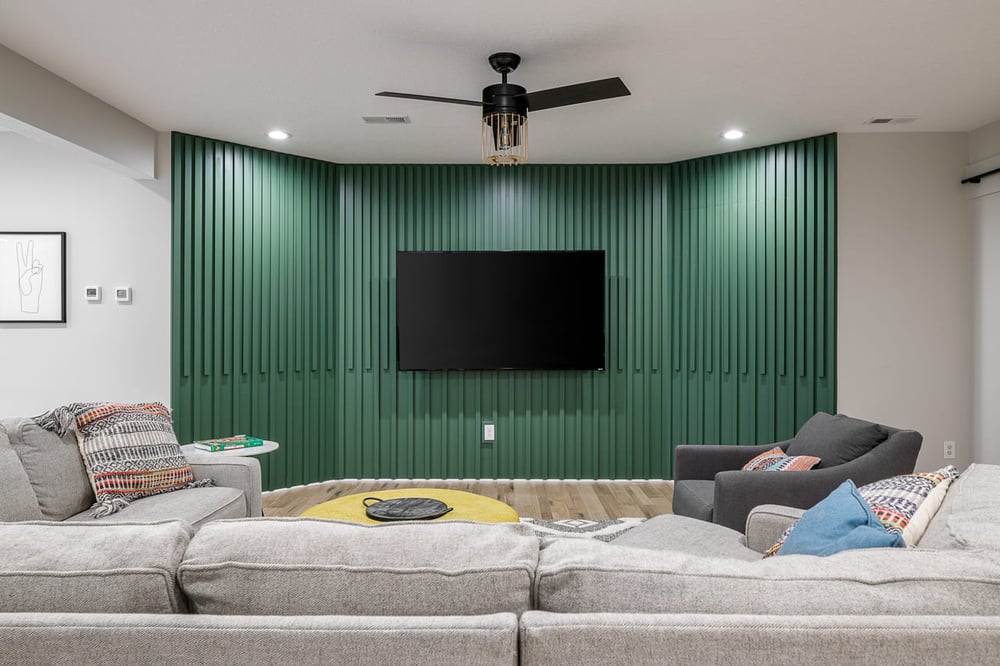 A Basement Remodel + A Secret Room
Onto the basement of this home, which passes the "coolest house on the block" test with flying colors:
Large bar to share stories with friends? ✔️ Check.
Large TV to watch the game or Netflix? ✔️ Check.
Exercise room, bedroom, feature wall that acts as a piece of art but functions as a TV stand? ✔️ Check, check, and check- with a special twist on that last check...
Have you ever asked yourself, "How do I build a secret room in my basement?" (or any room really). Well, during our 5 Step Remodeling Process, we learned this family had a growing pinball game collection that they wanted to incorporate into their home, without losing space in the other room remodels. The solution? We crafted a hidden arcade in the basement living area!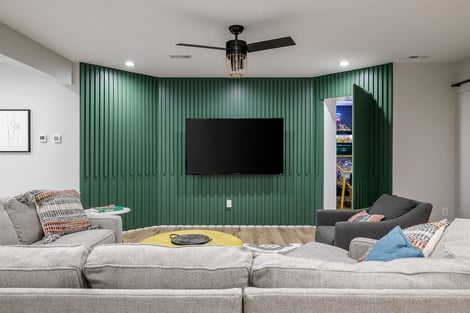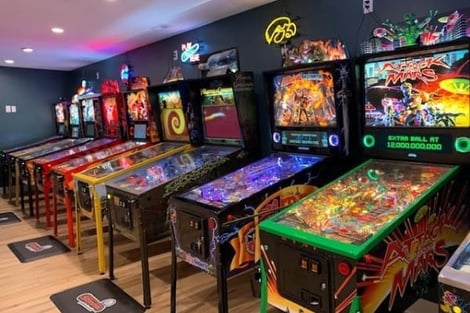 Our team at Compelling Homes includes some of the most trusted remodeling contractors in Des Moines. Don't stop at "good enough" when it comes to remodeling your home, make it Compelling!

Be sure to browse our project gallery to inspire your next remodeling project.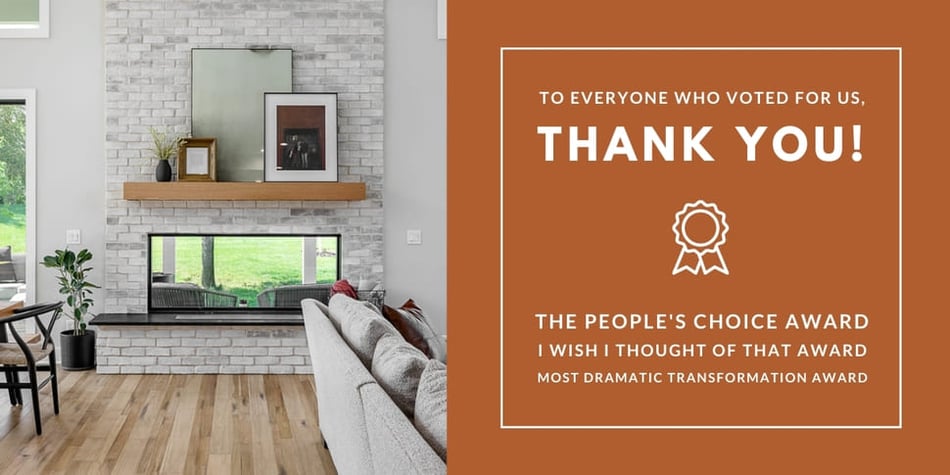 Award Winning Home Remodel in Des Moines
We were honored to be awarded with three awards on this particular project in the 2020 Des Moines Tour of Remodeled Homes.
"The People's Choice" Award. This award is quite an honor because we were voted as the best remodel project in the 2020 tour by the people who walked through. Thank you!
"I Wish I Thought of That" Award. This award was given to us for the unique alcohol burning fireplace idea that is now "the first time" the other remodelers have seen it.
"Most Dramatic Transformation" Award. This award was given to us because of the crazy before/after on the project.
Thank you to each and every one of our fellow Des Moines community for awarding us with these honors!