Compelling Homes came on board to transform this walkout lot basement into a "chill" space that the entire family- big and small- can enjoy.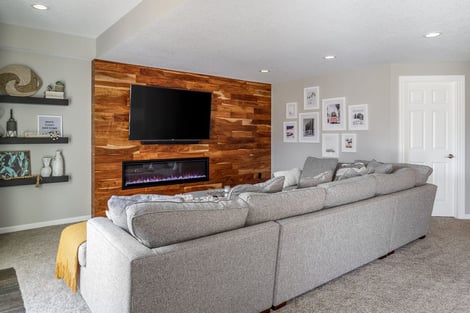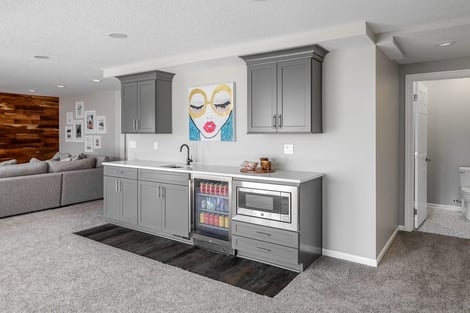 This four bedroom home wasn't lacking any personal space for the family, but it was in need of a space that could be enjoyed by all with the perk of additional privacy.
The basement of this walkout lot home overlooks a public pond, so we knew we needed to keep it light, bright, and maximize the beauty outside of the walls.
Check out these features: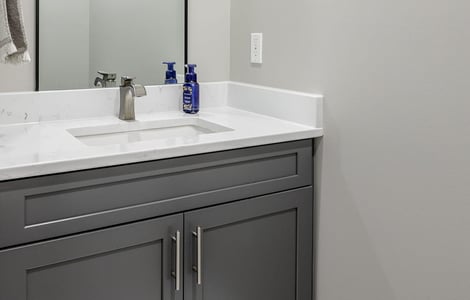 Walk-out level overlooking backyard
Oversized windows
Walk-up snack bar
Private basement bathroom
Electric fireplace
Wooden accent wall
Hobby room, used for hunting gear
Intro: Teenagers, Am I Right?
If you have kids, you get it. If you are someone's kid, you also get it. Our kids get to the age where they want to have friends over, watch movies or the big game, and laugh until all hours of the night -- they also want their privacy.
That's where a basement remodel like this one comes in; with great features that can accommodate a few friends, a few sodas, and a long Netflix queue.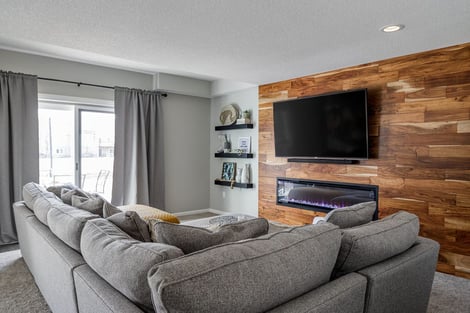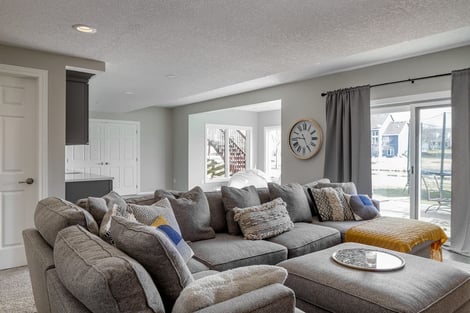 This large, comfortable sectional couch with oversized ottoman nestles perfectly into the designated den within the basement space. From this angle, you see the large windows and sliding glass doors we installed to bust the myth that all basements have to be dark and dreary.
Recessed lighting provides ample illumination once the sun goes down, without sacrificing overhead space or running the risk of hanging lights getting knocked down when Timmy-from-next-door wants to show you his front flip.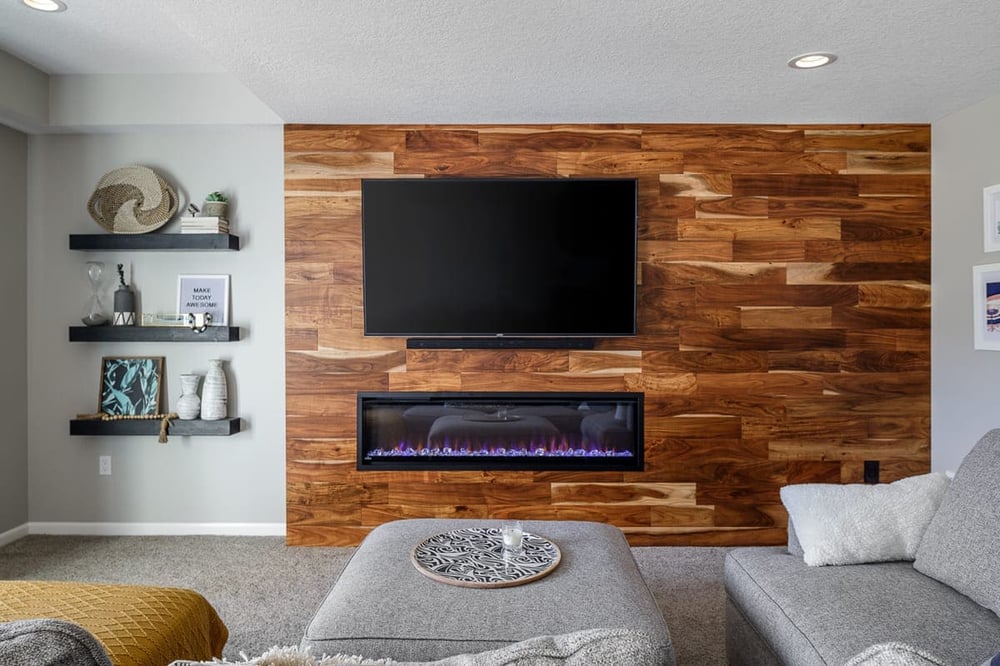 One of the great things about working so closely with our clients is getting to know them, their family, and their expectations of the space. We thrive on blending their creative ideas with our passion for delivering a "wow factor", and when we heard the room was going to be utilized for hanging out and relaxing, we wanted to bring in some cozy vibes.
This brings us to our favorite feature of this project: the accent wall. This feature is made of hardwood flooring (yep!). Warm tones in the flooring breaks up the soft, neutral pallet incorporated throughout the space, adding a hint of rustic charm.
Pair that with the built-in electric fireplace (again, probably safer to also not have open flames when Front Flip Timmy is over), and you've got the perfect TV wall.
For The Little Ones, Too!
This bump-out feature created the perfect play nook for anyone at any age, but found itself being the ideal place for a teepee and an oversized bean bag. Away from the main living area- but still part of the space.
Maximizing every square inch of your space to suit the needs of your household is key. This bump-out is the perfect way to banish- I mean kindly ask- the kids to the basement after they've cracked a couple Mountain Dews and the caffeine-driven energy burst is slowly but surely rearing its head.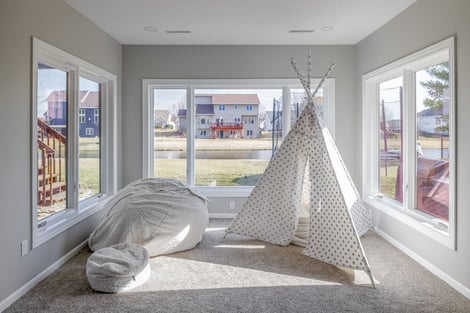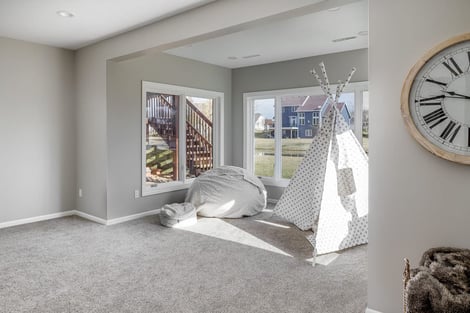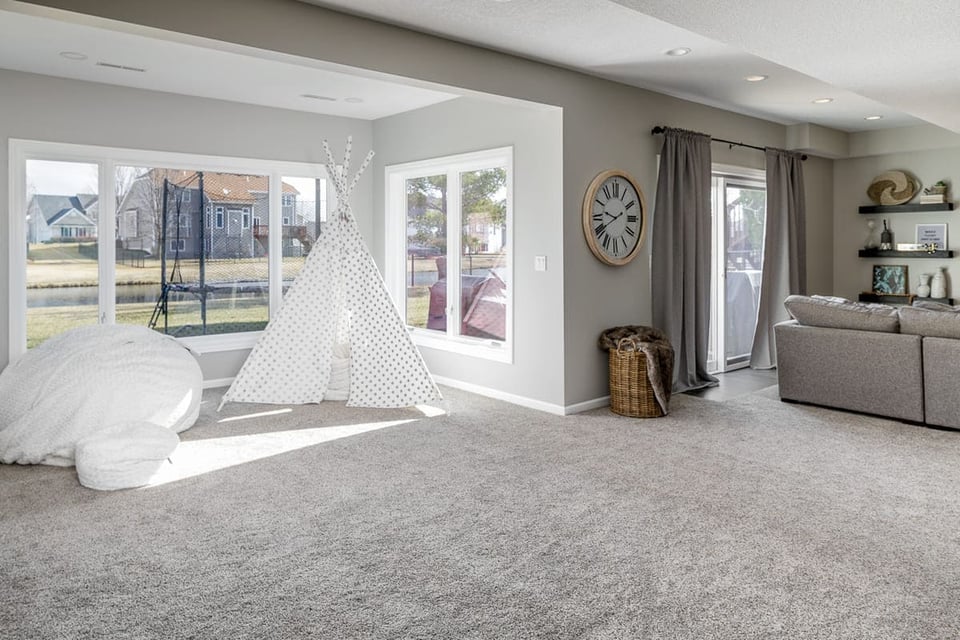 Drumroll, Please... Bar Area.
Three words: Walk. Up. Bar. The difference between a walk-up bar and a walk-behind bar is simply explained by its namesake; one you walk up to, and one you walk behind. Design-wise, walk-up bars offer a way to entertain, store cold beverages, snacks, and appliances, without becoming a domineering piece in the room.
Walk-up bars like this snack bar also give you an advantage in the overall look and feel of the space by customizing the countertops and cabinetry to match the color pallet of the room; we opted for a stone-top for the counters in this project, to match the balance of the finishes.
Having this feature in your basement will make you the coolest parent on the block; though we haven't forgotten about you, adults!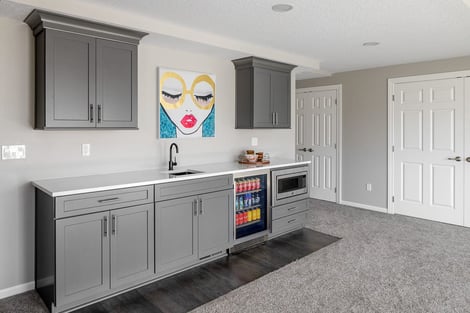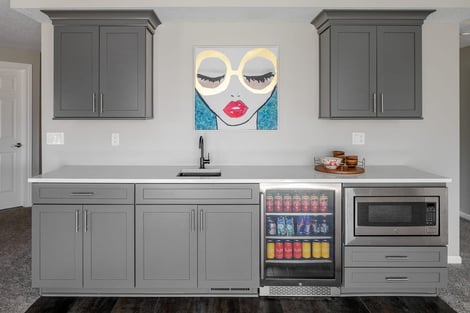 For the of-age household members, this walk-up bar automatically turned their basement from just a "playroom" into a place where they can entertain their friends or family or watch the big game without having to run upstairs to refill beverages and popcorn.
Other benefits to a walk-up bar are the options for which you can lay them out. Designing custom cabinetry on the wall which the bar is placed gives you an extra advantage to create overhead storage for anything else you may need to have in your basement hangout area; whereas walk-behind bars are generally limited to the space underneath the bar. Common add-ins are "bar-back" like amenities such as liquor cabinets or display wine racks. The options are endless.
With seemingly limitless options and customizations for in-home bar areas, nailing down what's right for your space's needs may feel overwhelming.
When homeowners approach us with the desire for a custom bar area in their project, one of the first things to determine is how many people they can envision using the space, to determine if- and how many- it may be required to sit. Will it be utilized mainly by the family, will it be used to host a few neighbors for the big game, or is the plan to create a bar area that can entertain (and quench the thirst) of larger parties?
Our approach to that problem is solved right out of the gate with a simple question: "How many glasses of wine do you want to pour?"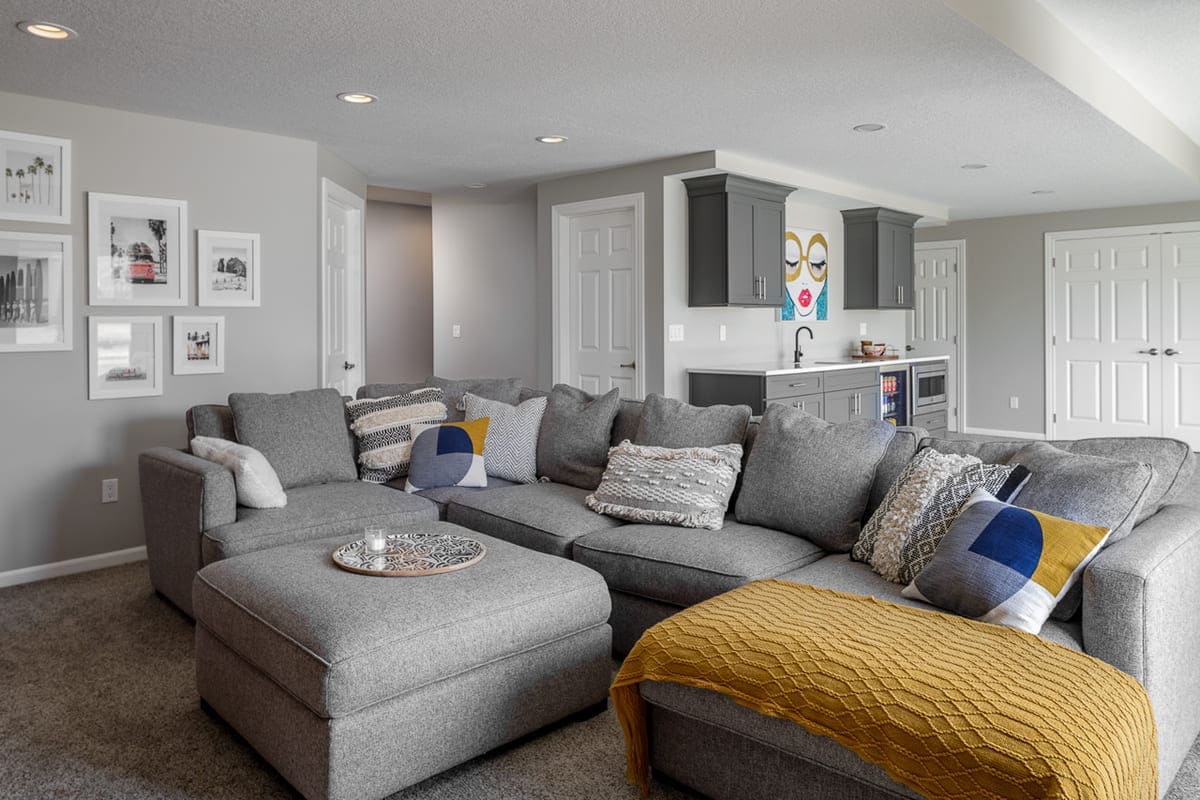 The best part of our jobs here at Compelling Homes is transforming houses into homes; incorporating each individual family member into the space to make it more than just a place to eat and sleep.
We loved turning this basement into a place the entire family can enjoy. If you're considering a remodel, our team includes some of the most trusted remodeling contractors in Des Moines. Don't stop at "good enough" when it comes to remodeling your home, make it Compelling!
Be sure to browse our project gallery to inspire your next remodeling project.