Finishing your basement is an effective way to make new livable space in an area of your home that is often underused or uninhabitable.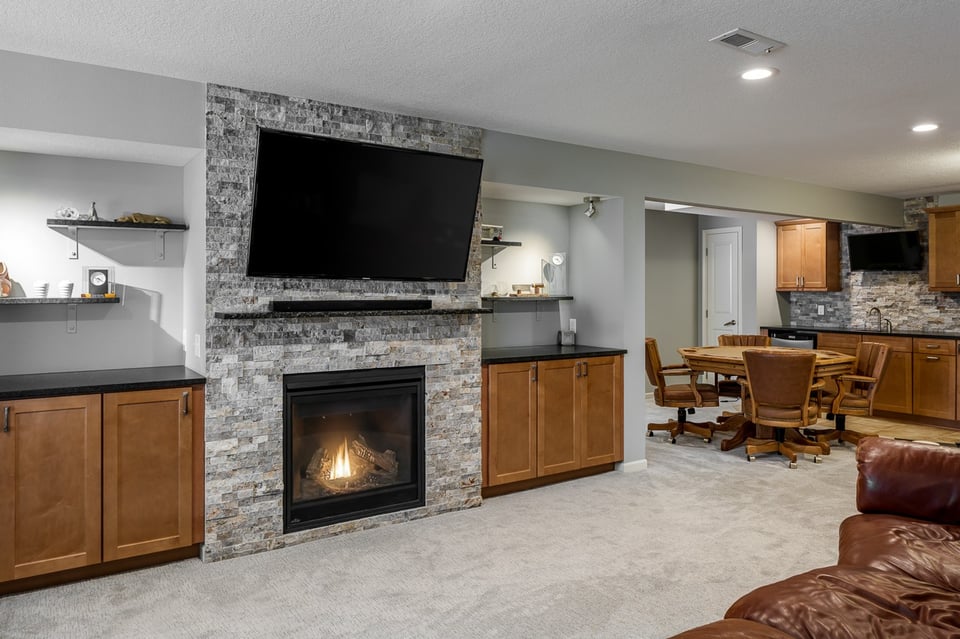 With the right renovation plan, you can turn your basement into a bedroom, home office, media room or multipurpose area. Additionally, the project enhances the value of your home in Northern Iowa.
The first step is evaluating both your family's current needs, as well as your future goals. From there, you can develop a plan for your basement that fits into your vision. You may also have specific hobbies or family activities that help guide what purpose to give your newly renovated space.
Ideas for Your Finished Basement in Iowa
Although it might not look like it right now, your basement has plenty of potential. For the most part, finishing a basement begins with a few basic steps, such as insulating the walls, adding a ceiling and installing new flooring. From there, the scope of your project will likely differ depending on your specific vision for the space. Here are a few ideas for modernizing your basement and using it in a new way:
1. New Bedroom
As your family grows or your children get older, you may be looking for a way for household members to spread out and have more personal space. You can turn your remodeled basement into a new bedroom for an older child. Design the layout so there is space for them to work on school projects with friends or have sleepovers. Add a small gas stove or fireplace to help keep them warm during the cold Northern Iowa winters.
2. An In-Law Unit
If you want to take a basement bedroom a step further and design a full accessory dwelling unit (ADU) or in-law suite, you'll need to consider a more extensive scope of work that includes adding bathroom facilities and even a small kitchenette. While this type of project is a bigger investment, you wind up with a fully outfitted studio apartment that could be used by an aging parent, live-in caretaker or adult child. You also could rent out the unit for extra income. One of the most important considerations is finding a way to bring in natural light, such as with egress windows or a solar tube.
3. Modern Basement Bar
Rather than using your finished basement as a bedroom, you could take it in another direction by creating a space more suited for a mature audience. Install a modern- or vintage-style bar with seating where you can enjoy a drink with your friends and host as many gatherings as your calendar allows. Add comfortable sofas for a lounge-like environment or a large table for playing cards and board games. The lighting you select will play an important role in creating the right ambience in your new in-home bar.
4. Home Office
With remote work becoming more pervasive across the business landscape, now is a good time to consider building a home office. Your basement provides the ideal area to do so as it inherently gives you the privacy and quiet you need for a focused, productive workday. You can install a built-in desk and storage for a clean, cohesive look or use standalone furniture. Other architectural and design elements may depend on the nature of your work and what type of equipment you require on a daily basis. Make sure you include adequate power outlets for plugging in your devices and office appliances.
Another idea is to include an area with a mini fridge and coffee maker. You'll also want to sufficiently soundproof your home office to not get distracted by the noise and activity of other household members. A few soundproofing solutions include adding a solid door, sealing wall holes, installing acoustic panels, adding rugs or carpeting, and updating older windows with double- or triple-pane units.
5. Basement Kitchen
Another option is to build a secondary full-size kitchen in your remodeled basement or even just a kitchenette for a lower-level apartment unit. Think about creating a design that works with the darker, contained space rather than against it. To help a basement kitchen feel more spacious and airy, consider adding open shelving, clear cabinet doors and lots of tilework to capture the light. As you are developing a layout, you also need to take into consideration how to ventilate cooking fumes, putting in adequate fire exits and designing the best route for connecting appliances.
6. Home Gym
A home gym is another practical use for a basement because it doesn't require too much finishing for the space to be functional. It also means you don't have to take up another livable space in your Northern Iowa home for this purpose. The main tasks involved in creating a home gym in your basement are improving ventilation and air quality and installing appropriate gym flooring, especially if you are a weight-lifter or practice yoga. Besides that, you can set up or install the exercise equipment you need for your particular workout routine.
7. Theater or Media Room
If your family is big into movie nights or playing video games, a home theater or multi-functional game room may be the perfect fit when remodeling your basement. In this instance, the limited natural light works in your favor to help you create the appropriate atmosphere. Add a top-notch speaker system, built-in entertainment center and storage for games, movies, CDs and equipment. For this type of space, choose carpet or a durable vinyl floor that is easy to clean and maintain. The best part of a building a basement game room or home theater is that the mess and noise are contained so you can focus more on fun and less on stress.
Remodeling Your Basement in Des Moines, Iowa
As you explore finishing or remodeling your basement, your desired budget and the current and future needs of your family can help you select a suitable purpose for the space. Whatever vision you have for your basement, Compelling Homes Remodeling & Design can help bring it to fruition. We listen to your ideas and how your household functions to assist you in designing and constructing a basement remodel that suits your needs and enhances the value of your home in Northern Iowa.