Remodeling your basement is an effective way to create new livable space in your home and increase its overall value.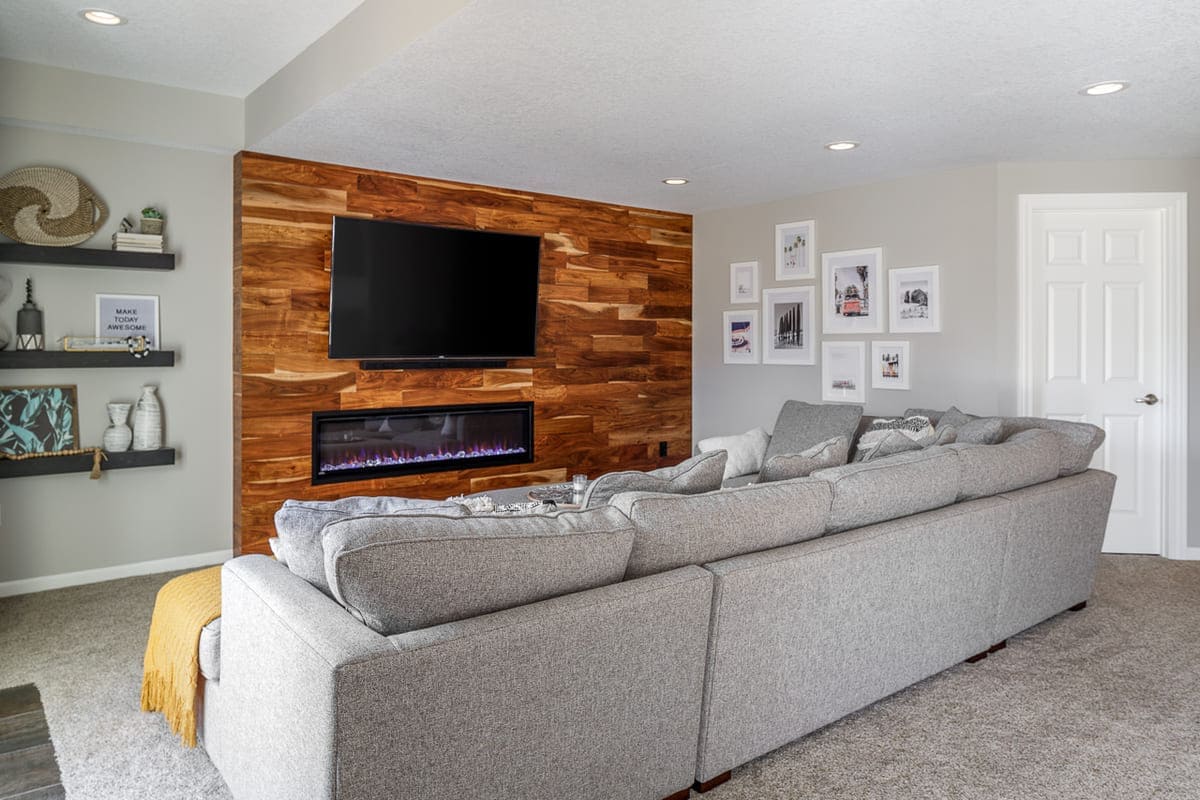 Whether you're in need of better storage, an extra bathroom or a home office, your basement can be upgraded to make life easier and more enjoyable for you and other household members. Getting to that point, however, requires a time commitment and a meticulous process of planning and execution to get the project done correctly and on time.
How Long Does It Take to Finish a Basement?
As with most home improvement projects, the duration of your basement remodel depends on several factors, such as the size of the space, its current condition and your anticipated scope of work. You can make your basement functional for certain uses quicker and easier than others—for example, a home gym compared to a full-size kitchen or in-law suite. There are some tasks, such as adding insulation and electrical work, that you will likely need to include in your project, no matter how you intend to transform your basement in Northern Iowa.
On average, finishing a standard 1,000- to 1,500-square-foot basement takes about four to six weeks for construction. Designing your remodeling plan, selecting various features and fixtures for the project, and acquiring the proper permits will take a few more weeks up front, so in general, you should plan for the entire project to take eight to 12 weeks from the moment you hire your Design-Build Remodeling team.
The construction phase is when your builder, the crew and various trade partners will be in and out of your home. Knowing the duration of that portion of the project and a rough timeline can help you know what to expect and plan your family logistics accordingly. Here is closer look at the typical steps to finishing a basement once construction is underway and how long each one takes on average:
1. Framing the Wall
When finishing your basement or cellar, the first step is framing, which typically takes five days to a week. This project involves reshaping the room and adding extra bulkheads, gas and water lines, and ductwork for your heating, ventilation and air conditioning (HVAC) system.
2. Electricity and Plumbing
After the framing is complete, your home remodeling team will work with their trade partners on electrical and plumbing rough-ins, which may include adding switches, outlet boxes and water lines. Generally, this step takes about three to five days. However, if you're adding various kitchen appliances, building an in-home bar or creating a lower-level bathroom, there will be more electrical and plumbing work required to get your space up to code and functioning properly.
3. Installing Drywall
Next, your team will spend the next three to five days hanging sheetrock and installing drywall. Then comes mudding and taping to prepare the walls for texturing.
4. Trimming and Cabinetry
At this point, your basement will start taking shape and resembling its finished form. Over the next two to three days, the team will work on trimming and fixing or installing doors and window casings. They also can bring in the cabinetry and complete any built-in units for your finished basement. That may include a built-in desk or entertainment center, bathroom vanity or a kitchen bar.
5. Painting, Flooring and Touch-ups
The next step of remodeling your basement in Northern Iowa involves sealing, evening out and painting the walls, windows and doors. This process may take two to three days. After that, the team will install your flooring. The duration of that project depends on the size of your space and the type of flooring material you choose, but generally it can be completed in another two to three days. From there, your remodelers can work on installing shelves, switch plates, lighting fixtures, electrical outlets and other miscellaneous fixtures based on the new purpose you've designated for your finished basement.
6. Cleanup and Walk-through
Finally, your remodeling team will clean the jobsite and complete the final inspection. They'll also conduct a final walk-through and familiarize you with your new space.
Another part of the construction closeout process is creating a punch list with any work that isn't completed correctly so your team can do touch ups and repairs before you sign off on the project.
What Can Delay a Basement Remodeling Project?
In Northern Iowa, you need permits for a basement remodel, and unresolved zoning, subdivision and floodplain issues can delay the issuance of any permit. Additionally, electrical, mechanical, plumbing, framing and gas piping must be inspected and approved by Polk County officials prior to concealing any installation. You must also schedule a final inspection to get a certificate of occupancy before you can use the space.
Another factor that can delay a basement renovation is making changes to your plan once the design is confirmed, materials are ordered and construction is underway. In many cases, change orders require new materials to be purchased or the schedule to be altered, resulting in additional expenses and a lengthier project.
One benefit of working with a design-build firm in Northern Iowa is that they have plenty of prior experience working with the local government to acquire the necessary permits for each type of basement remodeling project. The builder who will actually be overseeing the construction is also involved in the project from the start to provide valuable insight and information during the design phase. This create a more cohesive, collaborative and effective process.
Finding a Team for Your Basement Remodel
Now, the very first step in the basement finishing timeline is selecting a Northern Iowa general contractor to complete the work. It's important to find an experienced team that understands your vision, as that can influence each aspect of your project, including budget and timeline. At Compelling Homes Remodeling & Design, we have a team of professionals to handle each aspect of your basement remodel, from refining your vision to managing each step of construction. We even provide you access to an online construction software where you can see the schedule and track the progress of your project until it's complete.