Throughout two separate remodels, Compelling Homes helped bring these homeowners' colorful personalities to light-- literally!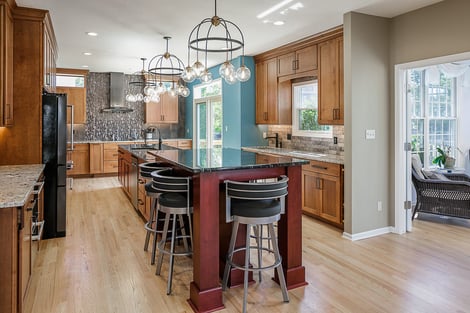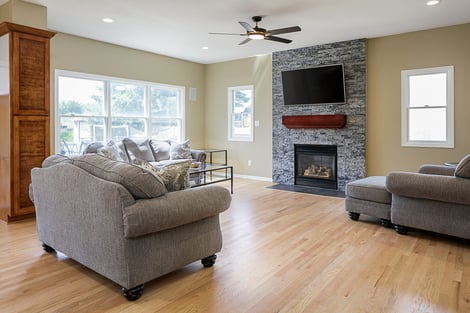 This two-phase remodeling project included phase one - the main floor - and phase two - the master suite- which was requested by the homeowners after an unsatisfactory experience with a past contractor who had completed their work just three years ago. We couldn't wait to give these homeowners the remodel they desired and deserved!
Something unique about this remodel was the use of color. The homeowners firmly believe their house is their castle, and they want their home to reflect their personal sense of style; surrounding themselves with personal touches that inspire them to be the best versions of themselves.
The bright and bold pops of color throughout this home certainly spark joy!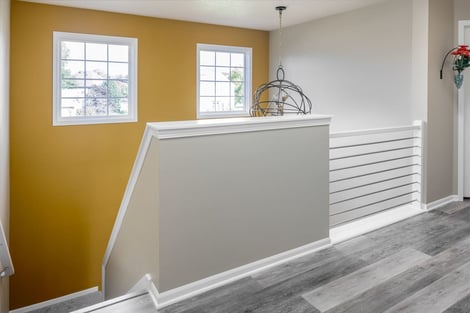 In total, the two phases included:
Main floor living area
Fireplace, with custom stained mantle to match the cabinets & stone from floor to ceiling.

Award-winning windows inside the kitchen cabinets

Main floor office

Master bathroom

Walk-in master closet

Hall bathroom for two children

Workspace for two children

Updated stair railing
Phase I: Main Level Remodel
This living room and kitchen remodel, completed first, created a warm and comforting atmosphere for the family. One of our favorite things about the kitchen, specifically, is the mixed wood used between the cabinetry and the island. Another look at the use of color in this home can be found at the far end of the kitchen, adjacent to a prep counter using a beautiful, warm-toned backsplash and granite countertop.
Tie it all together with beautiful black granite countertops and industrial farmhouse light fixtures and you've got yourself a unique space that's easy on the eyes.
Transitioning into the living room, a comfortable space for relaxing and reconnecting as a family is made with warm wood tones in the cabinetry and mantel piece, along with a stone accent wall and fireplace.
The kitchen "cabinets" next to the built-in appliances are actually a faux cabinet that acts as a doorway into the connecting office.
This is a great idea for those who want to provide easier access to a space, but also want the ability to close the space off for a more cohesive and "clean" look. Check it out!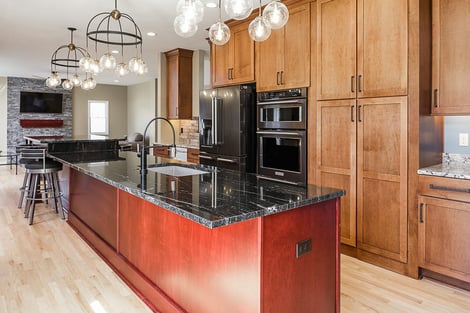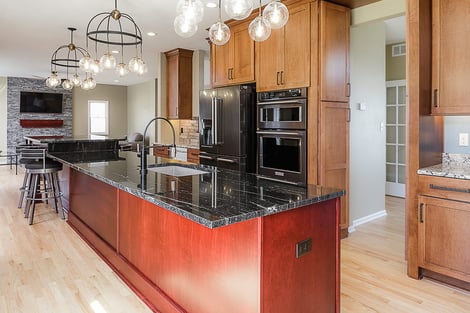 This hidden doorway was not the only unique feature in this kitchen, however. We also designed and installed inset windows into the cabinetry. For this, we were honored to receive the "I Wish I Thought of That" award in the Tour of Remodeled Homes. This feature is much more functional than more ceiling height cabinetry for the "fun-sized" among us.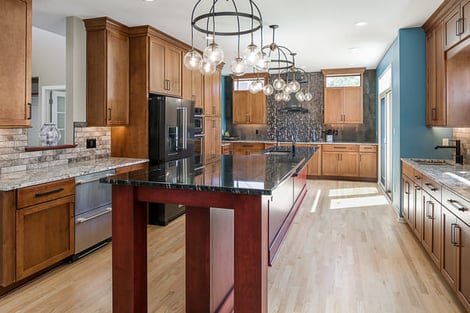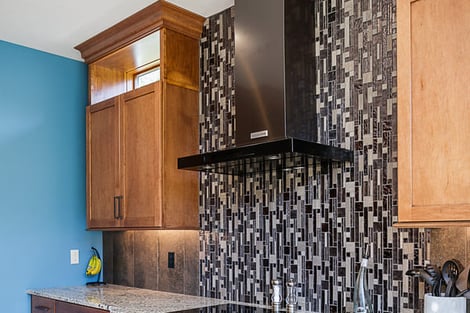 Phase II: Upper Level Remodel
The upper level displays great features that make the space more personal to the homeowners, showcasing their personal style and love of color. We love when homeowners understand that it's all in the details, and we think this upper level incorporates some great features:
Hex pattern flooring through the master bathroom and walk-in closet

✔️

Sliding barn door leading into the master shower, in turquoise, of course

✔️

Vertical tile design inside both the master walk-in glass door shower and hall shower for two children

✔️
The homeowners also wanted to create a walk-in closet "for her", which included manipulating the entire second floor. We made it happen and were even able to include a window!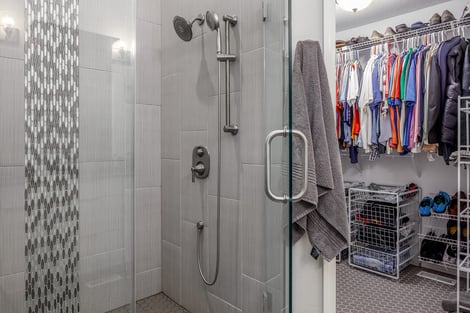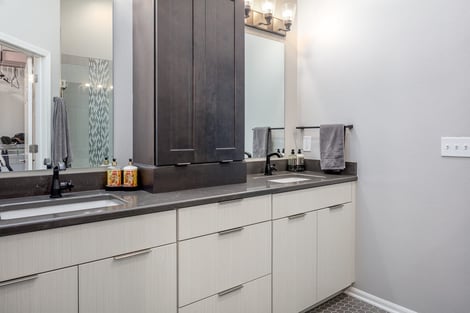 In addition to the master bath and closet, creating a dedicated workspace for the two children in the home was extremely important to the homeowners for this project (as are the children of ALL the wonderful clients we have the opportunity to work with!)
We often hear quite a bit about "wars among children". With that in mind, for this particular home, we wanted to give the children a place where they could do their homework in the same area, but with their own space. Custom cabinetry was installed with ample storage both above and below, and plenty of electrical outlets.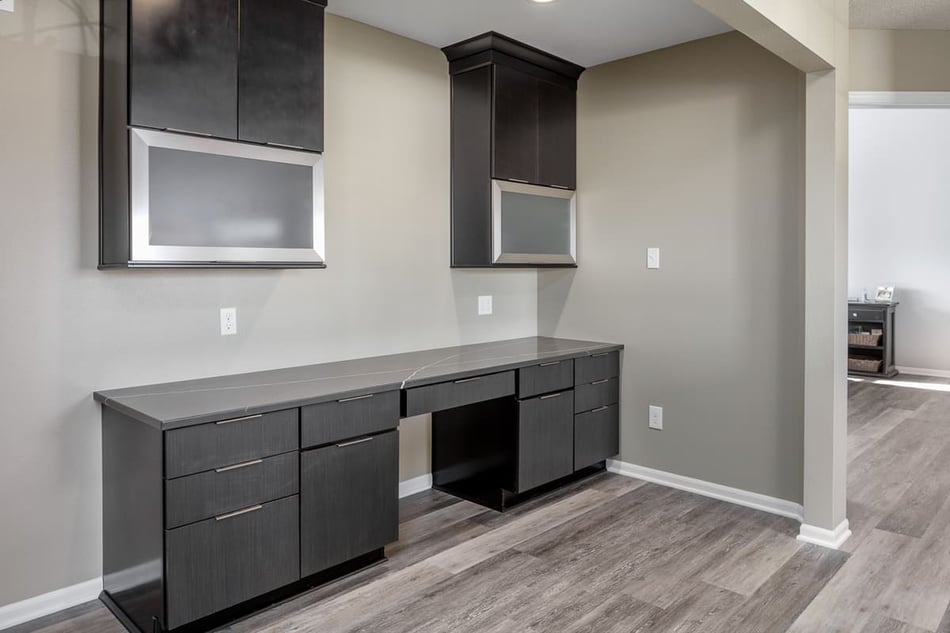 Spotlight: Pops of Color
Some of the color usage throughout this home is subtle, and some is- quite literally- the first thing you see when you walk into the home.
We had a great time working with these upbeat homeowners who wanted to make their space positive, upbeat, and inspiring.
If you're looking for inspiration on incorporating color into your remodeling project, be sure to check out some of these spots you may have missed, and some you definitely couldn't have:
Blue walls on the far end of the kitchen

Contrasting wood colors used in the kitchen cabinetry and the eat-in island area

Yellow wall leading to the second floor

Turquoise barn door leading to master bath and walk-in closet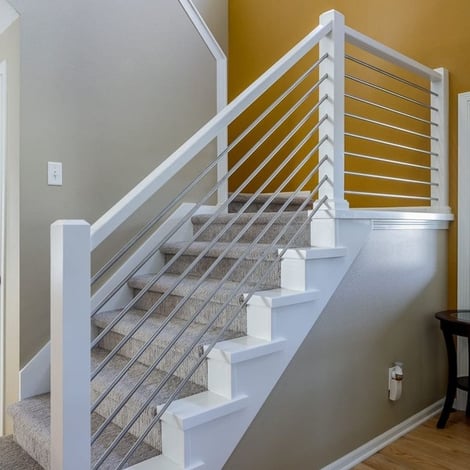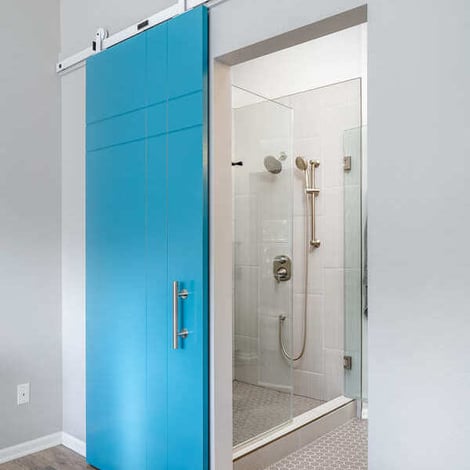 We love when homeowners have a vision, and it was so much fun to be able to turn this family's colorful dream to reality.
Our team at Compelling Homes includes some of the most trusted remodeling contractors in Des Moines. Don't stop at "good enough" when it comes to remodeling your home, make it Compelling!
Be sure to browse our project gallery to inspire your next remodeling project.