Telecommuting, or working from home, has several associated benefits—and in 2020, it's become the status quo for professionals across Iowa.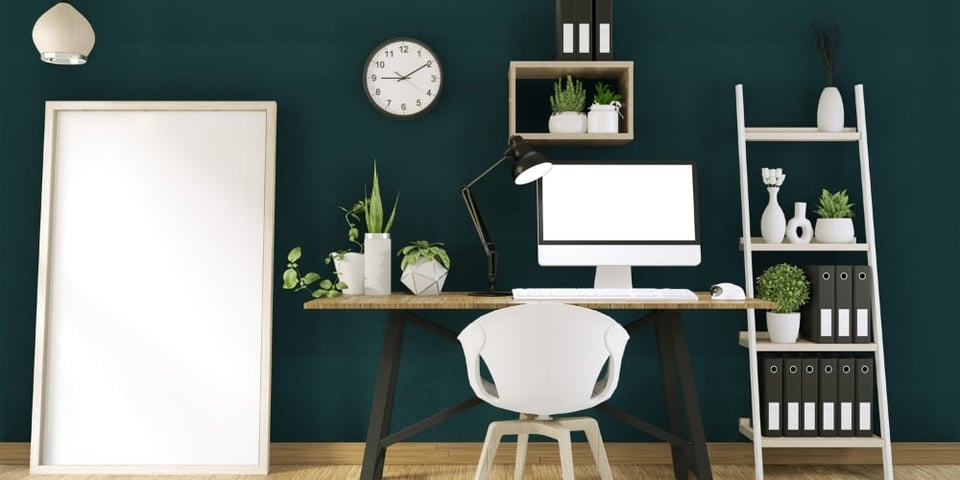 However, in order to work remotely and maintain the same level of productivity and engagement in your professional responsibilities, it's imperative to establish a routine and habits to help you maintain a healthy work-life balance. However, your environment also plays a big role in your ability to work remotely.
Home Office Layout Ideas
Your home office in Des Moines, Iowa, can be as simple or lavish as you would like. Your budget, the nature of your job, and the space available in your house are likely to factor into the size and scope of your home office setup. Personal tastes aside, the ideal workspace is comfortable, convenient, and at least marginally private. Here are a few ideas to consider for your home office:
1. Creating a Sense of Privacy
The best place to set up shop in your home is within an empty room. If you have a basement, garage, sunroom, or attic that is currently unused for the most part, that space can easily be converted into a home office or classroom. Even a large closet is suitable for housing your desk, chair, and supplies in a spot that can be closed off when not in use.
Setting up a room to be your home office enables you to get away from the hustle and bustle of activity created by other household members and focus on your work. If you don't have space to designate to constructing a separate home office, your next best option is to commandeer a corner of your living room or bedroom. In such a situation, it's still important to create a sense of privacy using dividers or setting up your desk, bookshelves and other furniture so you are physically and mentally removed when you're trying to work. Another idea is to use a "barn door" to separate the office space from the rest of the room. Barn doors are a type of door that can be modern, farm style or anything in between.

2. Soundproofing Your Space
Noise can cause a major distraction, both when you're working on your own and when trying to video conference with your colleagues and clients. Try to soundproof your home office as best you can to mitigate noise and disruption. Some ideas for office soundproofing as part of your home remodel include:
Adding plush furniture and an area rug or thick carpeting

Setting up acoustic panels and wall art

Using door snakes during working hours

Sealing air leaks and weather-stripping windows and exterior doors

Adding window inserts
3. Setting Up a Desk and Chair
Another critical element for a home office is a suitable desk that is large enough to accommodate your computer or laptop and other equipment, such as a printer, scanner, telephone, and second monitor. If you're the type of person who likes to drink coffee or eat meals while working, make sure there's also space to do so without putting your expensive electronics at risk.
Your desk can be as simple as a low-profile corner desk or metal gaming desk, or you may want to splurge on a large, built-in desk comprised of wood or glass-topped to make the room more stylish. Adjustable desks that enable you to choose between sitting and standing as you want are also popular for health reasons.
Whatever model you choose, make sure you have an ergonomic chair to go along with it. Sitting for extended periods of time without proper support can wreak havoc on your neck and back, not to mention make you uncomfortable and steal your attention.
4. Decorating Appropriately
Even in a corporate office, employees decorate their cubicles, desks, and offices according to individual tastes. The same applies to your home office. Choose color palettes that keep you calm and focused, even when the stress of work accumulates.
Greens and blues are commonly associated with tranquility, while yellows, creams, and beiges make a space feel bright and cheery. You may even paint one wall with black chalk paint for a touch of whimsy and to use for writing notes and creating mind maps. One of our customers painted the office closet door with dry erase paint as a way to stay organized and on task.

Finish off your home office with your favorite décor, such as a calendar, photos of your family and other knickknacks. A couple plants also assist in creating a peaceful environment. Just keep in mind that whatever is behind you is what people will see when video conferencing with you, and you don't want that background to be too cluttered or distracting.
5. Lighting Your Space
Last but not least, make sure your home office in Des Moines has an adequate light to enhance your productivity while also protecting your mental and physical health. Natural light is preferable so think about adding windows or expanding your existing ones when you build your home office. If that's not feasible, you can get by with enough general and task lighting fixtures, especially if you use daylight bulbs that stimulate the colors of natural light on a sunny day.
Working from Home in Comfort and Style
Telecommuting and working remotely are trends that don't appear to be declining any time soon. Even if your professional work doesn't require a home office, it can be nice to have a convenient spot in your house for using your computer, making copies, doing your taxes and filing important documents. If you'd like to explore remodeling your Des Moines home to create a home office, Compelling Homes Remodeling & Design can help. As a design-build firm, we have professionals to provide guidance and expertise every step of the way to ensure what's in your mind is what comes to fruition.