Design trends are always changing, and kitchen trends can feel as though they are the most fleeting. The best part about remodeling is that you can (and should!) remodel to suit your personal style. If you hope to increase the resale value of your home, however, let's discuss some ideas that we foresee being popular for quite some time.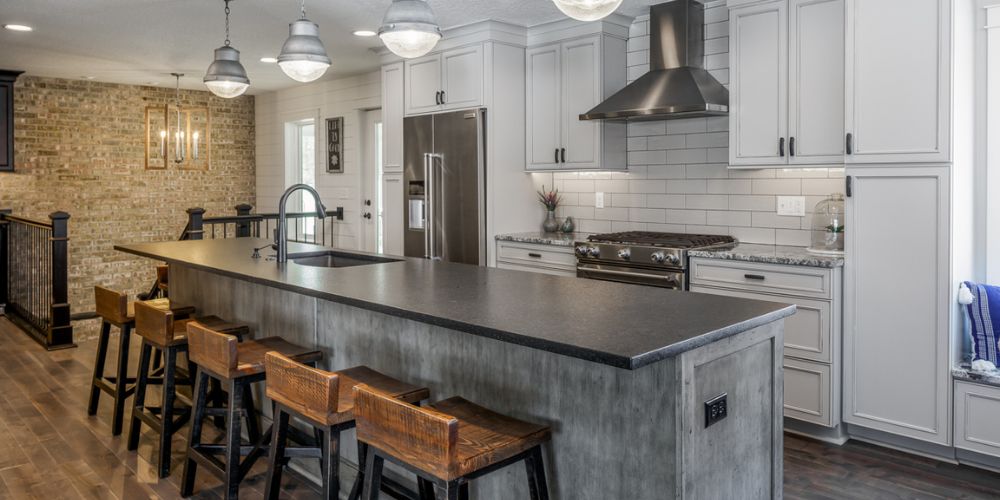 Even if you don't plan on selling anytime soon, following perennial decorating trends is a good way to build equity into any property. Like a good pair of jeans, the best decorating fashions never lose utility and they always come back into style sooner or later.
We, of course, have to add the disclaimer that Compelling Homes firmly believes in making your homework for you, not the other way around. We are fueled by your ideas, your inspiration, and your needs. We take everything into consideration – your family's schedule, hobbies, likes, dislikes, whether you prefer eating at the island or in the formal dining area – all of it.
Though there is nothing wrong with following these trends (we pull from them, too!), working with a design-build remodeling team is the best way to ensure your space isn't just fashion, it's also function. For now, let's take a look at some ideas:
Timeless Kitchen Design Ideas for Your 2022 Remodel
First, a note on current trends. The events of 2020 and 2021 have, at times, left a bad taste in our collective mouth. People have been kept from their accustomed places of work and had their activities restricted – the effect this has had on interior decorating trends has not gone unnoticed! It has generated an interest in colorful and cheery themes, motifs, and design elements that are traditional and simple, yet at the same time, toned-down modernism has also come to the forefront. Time to dive in!
Minimalism
Smooth surfaces, understated design elements, and features
that seem to fade into the background are minimalist. This motif can be soothing and offer a pleasant sense of cleanliness. Achieve this motif using the following design flourishes:
Leveled Cabinetry

Metallic Textures

Neutral Color Palates

Eco-Friendly Style
An Eco-friendly motif isn't just about creating a naturalistic or nature-themed atmosphere. It's about minimalism with a penchant for design elements that suggest a naturalistic environment. Achieve this motif using the following design flourishes:
Natural Materials

Glass Baseboards

Island Domination

Cutting Edge
Suggestive of advanced and technologically sophisticated environs, the Cutting Edge motif includes modern kitchen ideas that are about reassuring residents and guests with the presence and convenience of modern technology. Softened with the soothing presence of decorative stone, Cutting Edge can be a calming, yet captivating step into the coming trends of 2022. Achieve this motif using the following design flourishes:
Metallic and Stone Textures

Smart Feature Integration

Handle-Free Cupboards & Drawers

Design Flourishes to look for in 2022
These are design flourishes that can make the above-mentioned themes come together nicely, or create your own.
Natural Materials

Wood and marble will never go out of style. These represent the two divergent paths decorative trends are likely to go in, but they are far from mutually exclusive. A modern kitchen with rich red oak cabinets makes a nice and reliable mix of what's in with what always comes back into fashion.


Glass Backsplash for Cabinets
A glass backsplash is a good way to grab attention without being
too disruptive. It's clean, calm, simple, and can come in any color or pattern. However, monotone colors are recommended for any kitchen cabinet trends at this time. Grey kitchen cabinets with white countertops might make an understated but intriguing way to compliment these.


Metallic Textures
Some metal textures are easy to overdo, but copper, brass, and steel highlights are always welcome. Use sparingly for now, with the most liberal use on work areas. Dark cabinet kitchen ideas may be out of favor for the moment, but keep an eye out for them next spring and summer.


Handle-Free Cupboards & Drawers
Neat, clean, and modern, handle-free cupboards and drawers can have a calming effect. They also tend to come with hardware that is especially well machined, to extend the feeling of minimalism into the function of doors and drawers. Check out our kitchen/bath design blog for more kitchen hardware trends.


Island Domination
Allowing a kitchen island to dominate a kitchen/dining room space is a nice way to generate a more egalitarian atmosphere. This flourish works well with open kitchen ideas. Kitchen islands are also highly functional and have been in style for at least 20 years.


Leveled Cabinetry
This newer flourish is innovative and incorporates a recessed row of cabinets into an overarching, upper row. It adds a lot of extra storage without seeming bulky, and it can turn up your minimalist approach several notches.


Smart Feature Integration
Incorporating information tech into your kitchen may be a mere convenience, but when paired with clean, minimalist motifs and stone or metal surfaces, it exudes the confidence that comes with the feeling of total control.
Anticipate Des Moines, IA Kitchen and Bathroom Trends With us
Taking the time to understand the process and what people are looking for in-home interiors can enhance your enjoyment of your home as well as your guest's. But it's also an important way to build equity and get the most out of your remodeling ROI.
Get in touch with the full-service design-build experts at Compelling Homes to learn more. Remember: don't stop at "Good enough"... make it Compelling!