If you've been bitten by the kitchen remodeling bug recently, you've probably been roaming around Pinterest and other kitchen design sites. In the process, you may have encountered the term "kitchen triangle rule" and wondered, "What the heck is that?"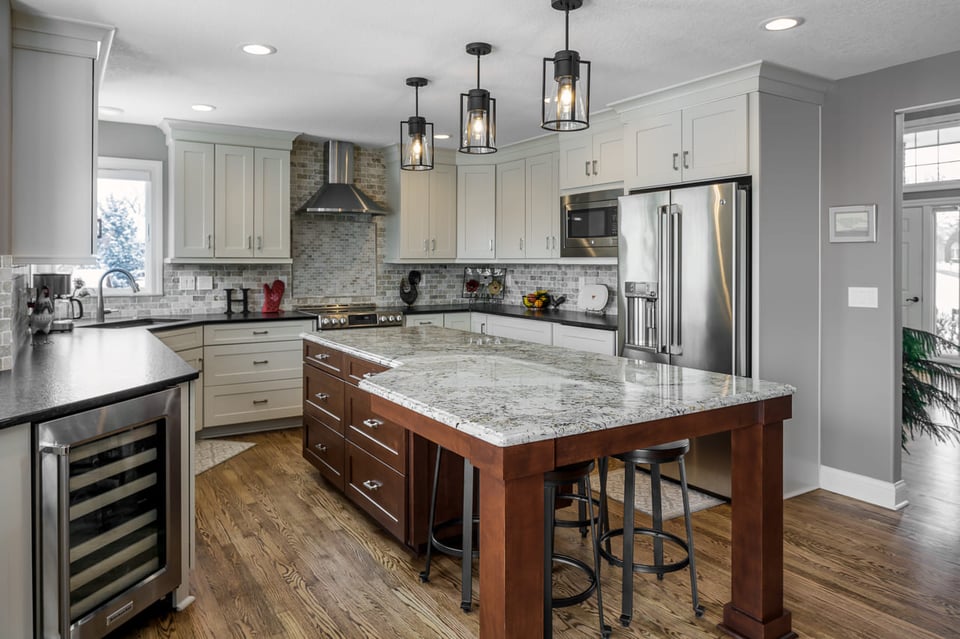 Like any other design rule, it's fine to understand where it came from and why someone came up with it, but then to ask yourself… Should it apply to my kitchen? Or is there a better way? Here at Compelling Homes, we feel the need to clear out some fog surrounding this idea so that you can start thinking outside this little rule box.
Made to Break: The Kitchen Design Triangle Rule
First, here's a bit of a kitchen remodeling history deep dive to uncover the origins of the kitchen triangle "rule". Back in the 1940s, most kitchens were small, utilitarian affairs; designed so one person (usually mom) could do all the meal prep and cleanup alone. Kitchen designers back in the day came up with this kitchen design triangle "rule" to help by putting the refrigerator, stove, and sink all within easy reach in a few steps.
This triangle design stated that each line of the triangle must fall somewhere between 4-9 feet in length and that none of the triangle's sides could cut through an island by more than a foot. This triangle was made for one person; little, if any other traffic was factored into the equation.
Is the Kitchen Triangle Rule Concept Completely Outdated?
We think it is. Families want to cook together. Kids want to get into the kitchen and do science experiments. For some people, the kitchen is the home office and major family gathering point to begin or end the day. The kitchen has become far more than just a food-prep and storage space. For a lot of the families we work with, it's a central nerve hub of the home.
A lot goes on in the kitchen, and in many ways, the kitchen work triangle no longer fits the needs of today's family. Instead, consider open floor plans and galley kitchens where "kitchen zones" work better in terms of "circulation space". Breaking out of the triangle gives you the freedom to consider kitchen design features that will work better for your family.
Of course, there are some situations where the kitchen work triangle may still resonate. Depending on your space and your needs, this concept still has value, but as far as kitchen design goes today, it's important to build a space that works for your family. If a "design rule" doesn't make sense, we'll happily break it with you! Consider these ways to re-imagine your kitchen space, so you can get the best kitchen for you and your family:
Kitchen Work Zones
For today's big-idea kitchens, taking some extra time to reimagine your kitchen space will make space for what you and your family really get up to in the kitchen. Whether it's family cooking parties, science experiments, or dance move demos, consider "work zones" instead of triangles.
As you begin to consider what you want in your kitchen, make sure to take a look at our Des Moines kitchen remodeling gallery to get pumped with some ideas that might work, or give you more ideas. Our expert kitchen designers absolutely love to get right in there and make your kitchen dreams a reality!
Kitchen work zones help boost the activities and people who will be using those zones. Flexibility, style and convenience are all equally important here. Typically, you can think of a basic four zones that focus on a specific activity. Let's dig in:
1. The Pantry Zone
All the food goes here. Your refrigerator and freezer go here to keep the cold stuff. With all kinds of pull-outs and hideaways, or a walk-in pantry to keep your non-perishables in neat, easy-to-access order. There's a place for the produce and perishables, so they last as long as possible. Close by there could be dedicated, cleverly designed storage for all the tableware and cookware you want to store, including small appliances.
2. The Prep Zone
Ideally, the prep zone is near the pantry zone so that all the tools for prepping food are within easy reach. This should include a big, gracious countertop area enough for all kinds of activity as well. If you want, some of your most go-to prep items like baking sheets, bowls, pots, pans, and cooking utensils can be in roll-out cabinets and base drawers here. A space for cookbooks isn't a bad idea here either.
3. The Clean-Up Zone
This is where the sink goes, as well as the dishwasher and storage for clean-up items like towels, soap, broom, mop, recycling, and garbage cans, all of which can have specially-designed cabinets to hide them in!
4. The Cooking Zone
This is the place for your oven, range, and microwave, not to mention a warming oven to keep things hot and space for things you need while stirring and pulling stuff out of the oven. By all means, watch your favorite cooking shows and see how they have this area set up, and also think of how you cook. Do you need a spot for measuring bowls or cups? Drippy spoons and spatulas? A towel to wipe down spills? Built-in space for these items can keep your cooking zone tidy and convenient.
But Wait! There's More Kitchen Work Zones!
While these 4 kitchen zones are important, we've worked with families who've added zones like these as well:
Basically, you can create any zone that you need for your kitchen so that it works for you and your family!
Call on Compelling Homes Kitchen Designers Des Moines
If you are itching to break your kitchen out of the design triangle, contact Compelling Homes, and let's talk. Be sure to download our kitchen remodeling guide to learn more about the process and let's get your family the best kitchen for your best life!
Remember, don't settle for "good enough" – make it Compelling.