When you're remodeling your kitchen, it's easy to get a bit daunted by all the options available for each structural and design element, from the floor plan and cabinet style down to each light fixture and piece of hardware.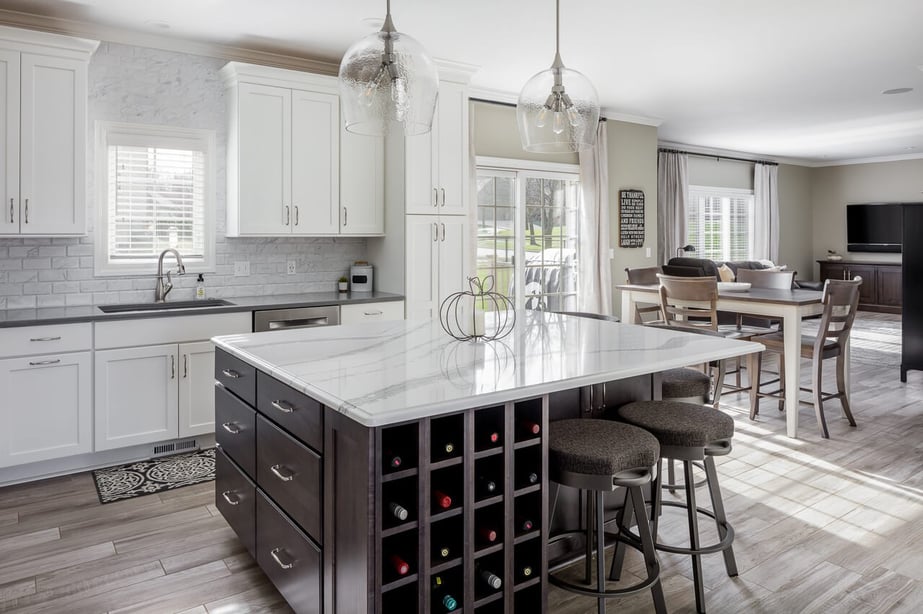 A common concern is that you'll grow bored with various aspects of your kitchen makeover within a few years or that they might detract from the appeal of your home to potential buyers in Des Moines, Iowa. One of the best ways to ensure your soon-to-be remodeled kitchen stands the test of time is to incorporate a few classic, tried-and-true elements into the design.
Developing a Timeless Kitchen Design
While your kitchen remodel should be tailored to your specific tastes and needs in terms of function and aesthetic, it doesn't hurt to draw from the inspiration of decades past. Here are several timeless kitchen design ideas to consider for your remodeling project:
1. Shaker-Style Cabinets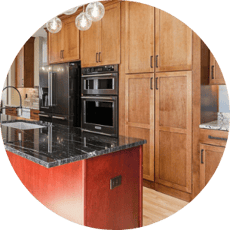 As such a major part of your kitchen, the color and style of cabinetry you choose sets the tone for the rest of the aesthetic. While there are certain cabinet styles that lend themselves well to a distinct design style, you can't go wrong with Shaker cabinetry in most kitchens. This style is wildly popular, featuring five-piece doors with recessed center panels. Five-piece drawer fronts fit well into transitional and farmhouse kitchen designs, while slab drawer fronts are commonly selected for modern designs. However, the simplicity of Shaker cabinets makes them suitable for nearly any style.
2. Neutral Color Tones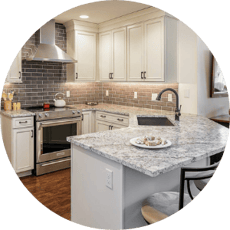 Homeowners are becoming bolder with color choices for their kitchens and, when executed properly, a rich, vibrant palette adds an undeniable sense of personality to your space. However, if you're going for timeless appeal, it's best to stick to neutral tones, including various shades of white, beige, and gray. Blue also is a popular choice. From navy blue to light chalky blue, this color almost masquerades as a neutral. Additionally, it pairs well with a wide variety of cabinet hardware, countertop materials and flooring styles.
3. Subway Tile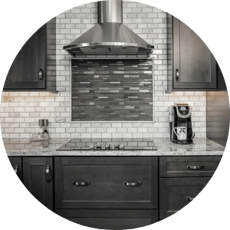 There's a reason subway tile is pervasive in the kitchen design industry. Subway tiles are easy to install and they are versatile enough to work with a range of kitchen décor. While subway tiles may not be as flashy or individualistic as metallic tiles and sea glass for a backsplash, their simplicity is appealing to most homeowners. Additionally, you can still have some fun with subway tiles by customizing the color, choosing a larger size or arranging them in a unique pattern to match your kitchen's sense of fashion.
4. Drawer Organizers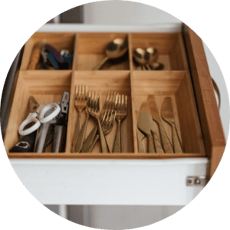 Adequate storage space and organization will always be in style, so it's worth considering how you might maximize those characteristics in your Des Moines kitchen. Extra-deep drawers with organizers, baking sheet dividers and pegboards for separating dish-ware are a few functional features that can help. You can integrate cabinet drawers seamlessly into your kitchen design for a timeless appeal.
5. Kitchen Islands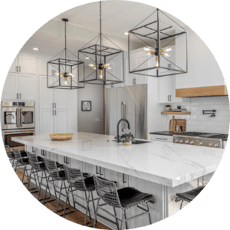 With open kitchen concepts being all the rage, single-level islands are not going anywhere any time soon. They help you maximize use of the square footage in your kitchen, giving you extra storage and countertop space while still allowing traffic and light to flow seamlessly throughout the room. If you select a design with a waterfall edge, there is also space to tuck stools underneath, adding useful seating to your kitchen.
6. Marble Countertops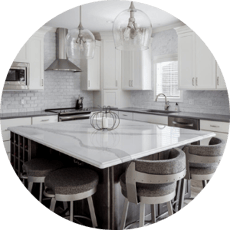 Speaking of timeless elegance, marble countertops are a top choice for both modern and more traditional kitchens. It is durable, yet also adds a touch of luxury that complements wood, tile, stainless steel and other materials you might incorporate into your design. The only two drawbacks to marble are the high maintenance and expense. If you are deterred by those characteristics, consider remodeling your kitchen with a butcher block countertop—especially fitting for farmhouse, Mediterranean and French cottage styles.
7. Farmhouse Style Sink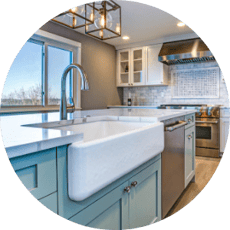 Sure, you want your sink to look good amid your overarching kitchen design scheme, but function is the most important factor, and big, farmhouse-style sinks excel in that department. They can accommodate large cooking pots, pans and other kitchen supplies that require hand washing plus they give you plenty of room for food preparation and disposal.
8. Less Top-Cabinetry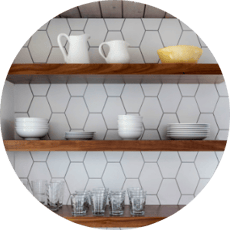 Another minimalist technique that is especially popular for smaller kitchens is doing away with a majority of your top cabinets. Since they're hard to access anyway, they don't offer much in terms of providing convenient storage space. Instead, they can make your kitchen feel tight and crowded. Without top cabinetry, your countertops become more versatile. Plus, you can decorate the wall with tile or add some open shelving.
Developing a Design for Your Des Moines Kitchen Remodel
It's possible when designing your kitchen remodel to be both trendy and timeless. Certain colors schemes, materials and features have stood the test of time, which is why they remain universally appealing and popular to this day. At Compelling Homes Remodeling & Design, we know the important role your kitchen plays in family life. Our kitchen remodeling specialists can walk you through the process of designing a makeover that adds value to your home and enhances the day-to-day use of your kitchen.