Your bathroom is likely one of the most used rooms in your house; it's where you get ready every morning and wash the day off every night. So, your bathroom remodel needs a design that makes you feel good, both in the way that it looks and the way it functions.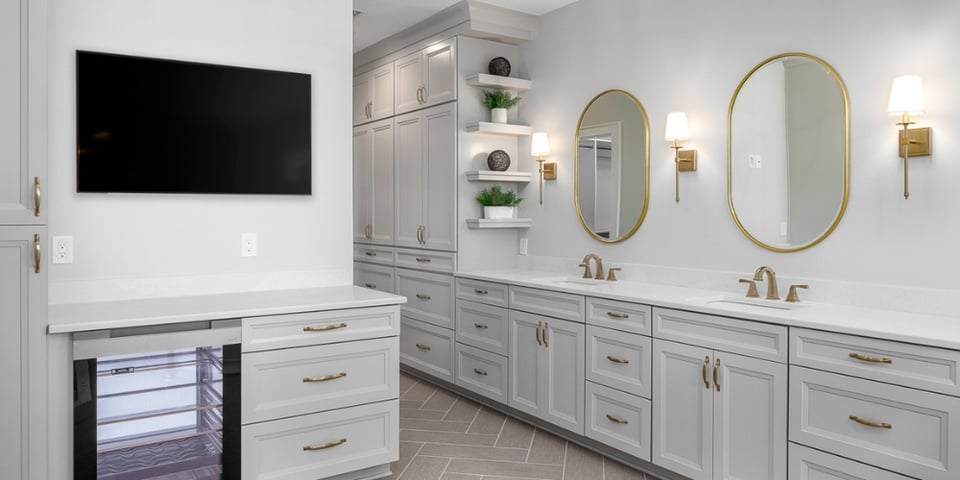 Even more importantly, you need to make sure you'll be satisfied with the end result for years to come; otherwise, it won't be worth your investment. The best way to do that is to give your bathroom a timeless design that can be easily updated to suit your life and aesthetic better. Not sure how to do that? We've got you covered with these seven timeless bathroom design ideas! Traditional bathroom design has come a long way, and we're here to show you some of the standouts for 2023.
1. Install a Standalone Bathtub
Freestanding tubs are the epitome of luxury. After all, there's nothing better than soaking in the tub after a long day. But who wants to soak in a shower-tub combo when you could have a standalone tub dedicated solely to your bathtub relaxation time? A staple of human hygiene for centuries, freestanding tubs carry an air of elegance whether you opt for a traditional claw-foot tub, a hammered Copper tub, or a sleek, modern fixture. They also serve as a centerpiece of your bathroom and provide a structural element to your design. Since standalone tubs are unlikely to decline in popularity, they are a good investment for your bathroom remodel.
2. Create a Seamless Shower Experience
But what happens if you take the idea of a freestanding tub just a step further? Cue the wet room. The next step in the trend evolution of the modern shower, wet rooms, are extra-large shower rooms that usually contain a freestanding tub or other water-proof elements; and they can be sealed off from the rest of the bathroom with glass doors or left open for ease of use. Having a wet room allows you to go directly from your tub to a warm shower without worrying about leaving a trail of water that you'll have to clean up later.
Because of this convenience, wet rooms have gained popularity in recent years as one of many spa bathroom ideas that homeowners are adopting. If you don't want something quite as large and extensive as a wet room, you can achieve a similar look by choosing a frameless glass shower. Minimizing the metal strips around the edge of your shower and go for a seamless, streamlined look instead. Plus, it's easier to clean!
3. Stick With Subway Tile
Subway tile is the OG of classic bathroom floor tile. It's been around forever (since it was designed for the New York subway in 1904, to be exact), and it mixes seamlessly with a wide variety of aesthetics from modern and traditional to French country and retro chic. That makes it one of the best classic tile designs for a timeless look. You can play it safe by choosing to lay white subway tiles in a horizontal brick pattern, but don't be afraid to change things up a bit!
Though there's nothing like a pristine white tile bathroom, they're not the only game in town. Give your bathroom more personality and style by choosing a different offset, laying your tiles in a nontraditional pattern, such as stacked or vertical, choosing a playful color, or using an irregular glaze. Browse for images of modern tile shapes, colors, and layouts to be sure you don't miss out on a look you love.

4. Incorporating Natural Stone
Nothing is truly timeless, but stone comes pretty close. It's been a critical resource for our species since early humans began making tools out of it 2.6 million years ago. Because of its longevity, stone has been used to construct some of humanity's greatest marvels: pyramids, the Great Wall of China, Michelangelo's David, and the Acropolis of Athens. For this reason, stone has come to represent resilience, elegance, and even eternity.
So it's the perfect fit for your timeless bathroom — plus, it'll never go out of style! You can use stone in a large capacity for your tiling, countertop, and other main features or use it as an accent. For example, a gray tile walk-in shower would look great with small details of marble, granite, or even an engineered stone like quartz. Pebble rock flooring creates a spa-like atmosphere while reverently highlighting natural stone.
5. Accenting to Trendy Textures
Creating a timeless look doesn't mean that your bathroom should be devoid of personality or 2023 bathroom trends. You need a little bit of both! While it's best to go classic for the large semi-permanent features of your bathroom, you have an opportunity to add a little bit of spice when it comes to your bathroom's smaller elements. Towel racks, light fixtures, hardware, and decor are affordable and easy to swap out, which makes them the best avenue for you to express your personal style and experiment with new trends without a big commitment.
6. Prioritizing Quality Where it Counts
There's a reason high-end fixtures cost more. The quality and durability of these components give them a longer lifespan and superior performance. This is perfect for a timeless bathroom that is meant to be comfortable, functional, and attractive for years to come. When allocating your bathroom remodeling budget during the design phase, prioritize quality and longevity to maximize your return on investment.
7. A Perfect Vanity
Your morning and evening may include routines that plant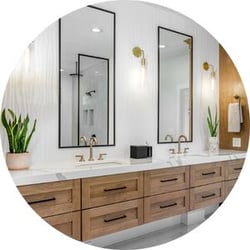 you firmly in front of your vanity daily. Incorporating natural wood or a hint of chic color (Sherwin William's 2023 color of the year, Redend Point, is an excellent blush-infused neutral.) is an excellent way to ensure that you're never bored or dissatisfied when you're prepping or winding down. Ensure your vanity has plenty of storage and impeccable lighting to keep your workspace functional. Home-spa design and natural elements are popular for every area of the bathroom. A nod to natural wood elements like teak, or better yet, durable sub-wood products that provide the same look.

Des Moines Bathroom Design: Covered
A major bathroom remodel is a very personal space, custom to you. That's why Compelling Homes is dedicated to building you a bathroom that will last you in both style and functionality for years to come.
As a full-service design-build company, Compelling Homes has experienced designers to guide you through selecting colors, textures, lighting, and so much more. We are here to make your dreams come true – to create that in-home oasis you deserve. Remember... don't stop at "good enough"; make it Compelling!