One of the first steps when designing a bathroom remodel is establishing your project priorities- or what you deem most important in terms of the space- and figuring out how to achieve those goals in the most efficient and rewarding way. The fun part of that step? Designing your bathroom remodel to reflect your personality and sense of style!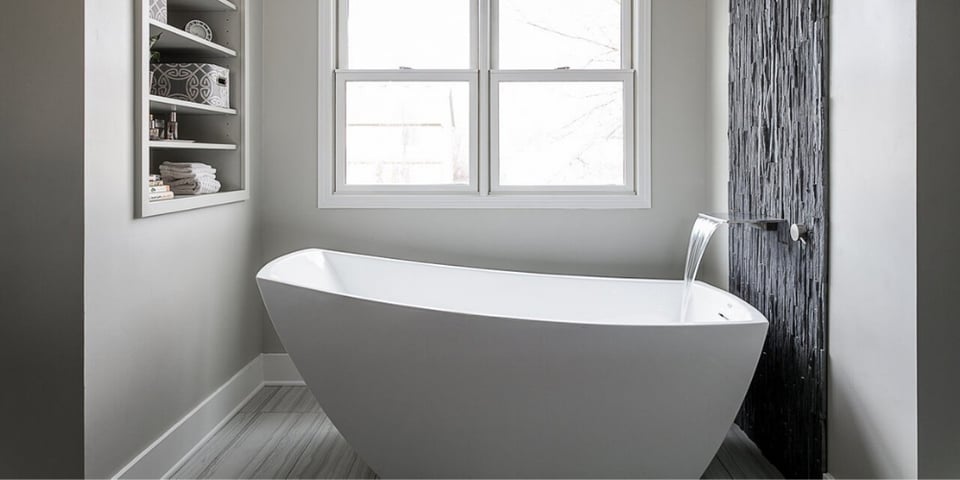 To decide what features, functions, and flair your new bathroom will need, you should explore your family's lifestyle and daily routine to figure out what upgrades could make your bathroom a better fit. Though the most important factor to consider is making your bathroom the bathroom of your dreams, another aspect of remodeling is determining how to use the investment to effectively increase the value of your home in Central Iowa. In the back of your mind, remember that selecting elements that possess a timeless appeal and are unlikely to go out of style any time soon will augment the long-term value of your home.
Remodeling Ideas for a Timeless Bathroom
If you want your upgrade investments to stand the test of time, it's important to design a bathroom that captures your personality but doesn't get too crazy or eclectic with colors, patterns and architecture. Here is a look at some of the best trendy yet timeless ideas for your 2021 bathroom remodel:
1. Installing a Standalone Bathtub
Nothing says luxury like a freestanding tub. It's one of the simplest ways to elevate the design of your bathroom while also contributing to its function. After all, who doesn't enjoy soaking in a tub after a long, stressful day? You can find freestanding bathtubs in a variety of materials, colors and styles – from your traditional brass claw-foot tub to sleek, modern structures that double as a sculptural element in your bathroom. Since standalone tubs are unlikely to decline in popularity, they are a good investment for your bathroom remodel.
2. Going Frameless for Your Shower
For your shower enclosure, consider doing away with the outdated version that features clunky metal strips around the edges. Instead, choose a frameless shower for a cleaner and streamlined look that passes attention to other design elements, like your tile work. A frameless shower enclosure is a modern touch that doesn't limit your other styles choices for the bathroom. Plus, it's easier to clean and prevents bacteria and mold from building up between the glass and metal strip!
3. Using Subway Tile
For years, subway tile has been used for showers, bathtub surrounds and bathroom walls. That's because this type of tile is classic and timeless, seamlessly integrating into a wide range of bathroom styles, from modern and traditional to French country and retro chic. Just because subway tile is a safe bet, however, doesn't make it boring! You can get creative with the color you choose or how you lay the rectangular tiles. Instead of a horizontal brick pattern, try laying the subway tiles vertically or in a stacked pattern.
4. Picking Neutral Colors for Fixtures
In general, you want to play it fairly safe with your color palette when designing a universally appealing bathroom in Central Iowa. This especially applies to the components that are challenging to change up or replace, such as your flooring, tile work and main fixtures. For example, you can find dark-colored toilets and brass bathtubs, but unless you fully embrace a dramatic design, they will look out of place. It's better to go with classic or creamy white. If you want to get creative with colors, consider painting the walls or selecting vibrant curtains and linens. These elements are easy for you or a future homebuyer to replace in order to modify the bathroom style.
5. Incorporating Natural Stone
Certain materials fall in and out of favor, yet natural stone has maintained its status for centuries. Incorporating features made from marble, granite or even an engineered stone like quartz can endow your bathroom with a simple yet long-lasting elegance. For a small bathroom, you may consider stone for the floor. If you're remodeling a large master bath or you're on a tight budget, you can simply use it as an accent in the shower or for your countertops.
6. Accenting with Trendy Textures
Hardware, towel racks and light fixtures are all fairly easy to swap out if need be, so use those elements as an opportunity to incorporate trendy metals and textures. If the copper, gold or matte black that you select now ends up going out of style in a couple years, or you decide to alter your overall design aesthetic, these features can be replaced on a small budget. You can also add visual texture and depth to your bathroom with stenciled walls. When your tastes change, there's always paint!
7. Prioritizing Quality Where it Counts
There's a reason high-end fixtures cost more. The quality and durability of these components gives them a longer lifespan and superior performance, which is ultimately what you want in a timeless bathroom that is meant to be comfortable, functional and attractive for years to come. When allocating your bathroom remodeling budget during the design phase, prioritize quality and longevity to maximize your return on investment.
Designing a Timeless Bathroom in Des Moines, IA
When you invest time and money into a major bathroom remodel, you want to create an atmosphere with long-lasting appeal that you won't feel compelled to redo in a few years. This approach also ensures you're adding the best value to your home in Central Iowa. Fortunately, you don't have to make all these decisions alone. As a full-service design-build company, Compelling Homes has an experienced designer on staff to guide you through selecting the colors, textures and lighting to create a fashionably timeless bathroom.