Ready to give your home a makeover? Are you wondering what's next after farmhouse decor? Whether you're eager to adopt a new style or consciously trying to purge your home of out-of-style trends, let's dig into the looks that will dominate the coming year.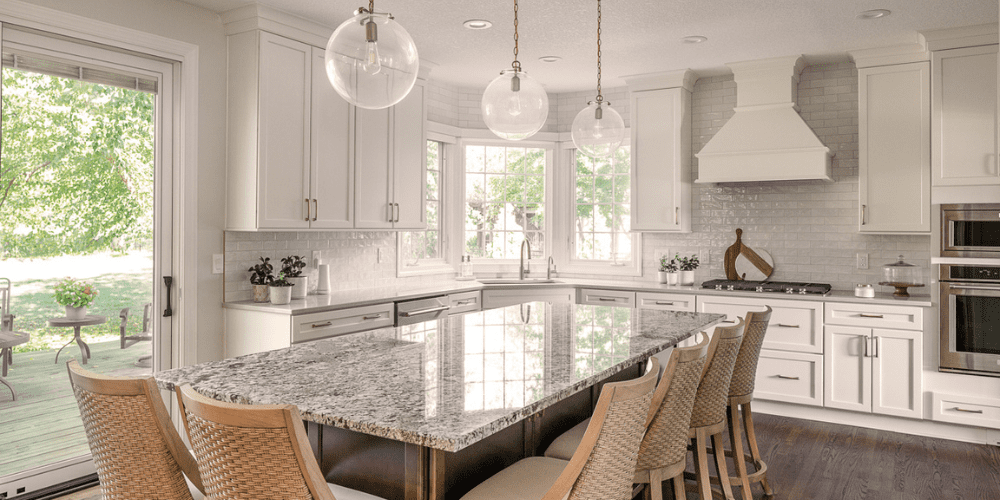 What is Trending in Interior Design?
The interior design trends of 2023 are a juxtaposition. Its modern digital-age maximalism meets health-oriented naturalism, with a tinge of old-world reverence thrown into the mix for good measure.
As always, we'd be remiss without saying our favorite line: "the most timeless trend of all is the trend of designing your home to fit your unique style." At Compelling Homes, we stay on top of the trends, of course. But at the end of the day, what makes our team so successful is our passion and dedication to getting to know our customers; spending time together, talking about your habits, patterns, schedules. Learning how your family lives in your home. Then, we create a space that works for you.
As a design-build remodeler, we have the capability, know-how, and passion for handling your entire project from beginning to end. Concept to final product. Dream to reality.
Now, enough of the small talk. If you're gathering inspiration for your 2023 home remodel, let's take a look at what you can expect to see on your Pinterest feed in the next few months.
Wellness
The future of interior design is wellness for you, your family, your home, and the planet.
The wellness revolution encompasses everything from environmentally conscious building practices to the impact a home can have on your psyche, mood, and ability to engage in meaningful activities. It's about designing home environments that encourage you to live a healthy, mindful, and value-driven lifestyle.
How wellness fits into your home ultimately depends on your lifestyle and what you want to cultivate. Luxury design trends point towards in-home spas as one of the most prominent manifestations of wellness design, but there are plenty of other options.
Here's what wellness design can look like in practice:
Maximizing natural light to improve light quality

Improving airflow and ventilation to remove toxins, dust, and allergens

Filtering water

Adding an outdoor living area to promote spending more time outside

Paying attention to a room's acoustics and minimizing echo with sound-absorbing materials (such as wood)

Creating a sanctuary room or space for meditation, relaxation, and introspection

Investing in a home gym to encourage regular exercise

Pro tip: The amount of natural light radiating through this home is an instant mood-booster. The white-washed Brick and the oak accents are accentuated when natural light bounces off of them as opposed to only relying on artificial light.
Nature in the Home
Biophilia was one of 2022's biggest buzzwords, and it's not going anywhere in 2023. Like wellness design, biophilic design promotes healthy living. It seeks to capture the innate comfort that comes from connecting to nature and recreate that feeling in your home.
The key to biophilia is using nature-inspired everything: from natural materials like stone, linen, and wood to plants as decor and so much more.
How to create biophilia in your home:
Use plaster or limewash paint to get soft, natural-feeling walls

Place plants everywhere

Paint with blues, greens, browns, terra cottas, and other nature-inspired colors

Feature nature iconography in your decor and artwork

Incorporate nature sounds through a crackling fireplace or trickling water feature

Prioritize indoor-outdoor living

Pro tip: Notice how the natural light in this home brings the outdoors *in*? That's what we're talking about. The mirror reflects an oversized window, which bounces enough light too illuminate even into the tucked-away walk-in shower area.

What are the Color Trends for 2023?
If 2022 initiated the shift away from all white and gray interiors, then 2023 solidifies it. The colors likely to define the new year are all about escapism; they're multifaceted, unique, and anything but boring.
Lavender with a hint of Grey
Pantone electrified the interior design world late last year by announcing Very Peri, a bubbly shade of lavender, as their Color of the Year — a far cry from the happy yellow and gray tones Pantone highlighted in 2021. Very Peri-esque trends are here to stay in 2023 and is gaining traction as one of the new year's most popular colors.
Blue-Green
Paint companies like PPG and Gidden are touting jewel-toned blue-greens as one of the biggest 2023 color trends. An easy way to incorporate biophilia into your home, the mix of blue and green is both natural and relaxing, reminiscent of pine forests and ocean depths.
Sunrise & Sunset Warmth
The prominence of white and gray color trends in years past left many homeowners wanting more. Now, they're getting it. Warm, sunshiney hues are popping up everywhere in style magazines. With popular paint hues ranging from rich yellows to pale pinks and rusty oranges, the many colors of sunshine are now infiltrating homes through more than just a window.

What Trends are Going Out of Style?
Now that you know what trends to lean into, let's talk about the ones to avoid while keeping in mind that your house is exactly that – your house. Your style, your flare, your life. We're just here to give you the deets.
Hardcore Minimalism
Though Scandinavian minimalism's rise to the interior design spotlight is likely to continue influencing interior design trends well into the future, this trend is taking a backseat in 2023. Minimalism is all about getting rid of extra stuff. But, as it turns out, people really like stuff! Homeowners are now embracing their material desires by displaying bespoke, antique finds, personal trinkets, and other character-creating elements in their decor.
Remodeling Design Inspiration & Cost Guide
If you haven't received enough inspiration for your next project by this point, don't you worry. We've got more – plenty more. Step inside these remodeling projects to see various styles and ideas in action.
While gathering inspiration is fun, at some point, you need to nail down a remodeling project if you're going to implement all the fantastic ideas you found. When that time comes, our Remodeling Cost Guide will give you all the information you need to get started.