Each year, design nerds, fashion enthusiasts, and artists alike wait with bated breath for the announcement of Pantone's Color of the Year, and it's officially here! In artful contrast to last year's serene Digital Lavender, Pantone is ready to turn up the heat with this year's pick. Ready to hear the big announcement and start brainstorming how you can incorporate this striking color into your 2023 remodeling project? So are we. While we haven't (yet) used Pantone's Color of the Year, we're familiar with 2023's projected color palette, so let's jump in!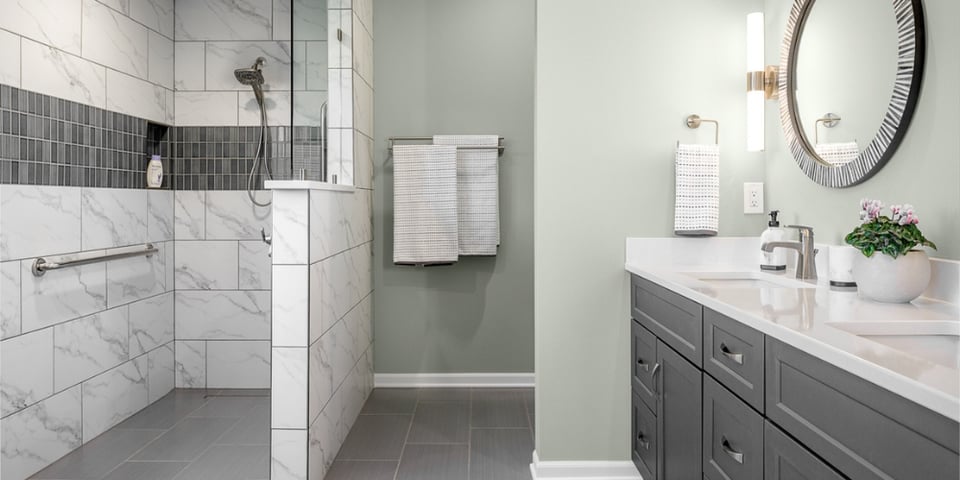 Drumroll Please...
The Decision is in! Viva Magenta is Pantone's 2023 color of the year! Though not entirely unexpected for a year where we're craving a jolt of intrigue and a dash of daring. Rich magenta hues have been a bold standby for many years, predating modern dyes and machinated processes. Vintage-inspired and forward-facing Viva Magenta provides the time warp we all need for good vibes in 2023.

How Can I Use Viva Magenta in My Home?
We understand the appeal of incorporating up-to-the-moment trends in your home remodeling project. Especially when a color or theme resonates with your style, it can be tempting to dial up the dose throughout your remodel. While Viva Magenta will likely look gorgeous in a newly-remodeled home for several years to come, it's a bold hue that isn't for every taste or space. We've included options and ideas for those who want to dabble and those who desire a deep drink of this luscious pink.
Viva Magenta for Moody Maximalism
If you're ready to choose Pantone's Viva Magenta to feature in your 2023 remodel, we've got some great ideas for you. Consider choosing Viva Magenta as the main color of your kitchen or bathroom cabinets to create a pop of saucy personality as your room's main backbone. Splash Viva Magenta on an accent wall or two to set a moody backdrop for your family's picture wall or curated decor. Magenta can stand up against other busy prints or elaborate decor pieces and creates a luxe and regal tone when nearby.
Viva Magenta for Accents and Pops
Decor items are an easy way to acknowledge a color trend without a large commitment. Add Magenta textile elements like curtains and throws to richen your room instantly. Try other decor items like bowls, planters, and vases to capitalize on this playful palette. If you're interested in splashing a bit of paint around, we suggest your front door, exterior accent trim, or display shelf. Try painting your bathroom mirror frame Viva Magenta to remind yourself you're a star every time you gaze into your own visage.
Wondering where we get our design authority? Check out Compelling Homes' project gallery for proof of our bona fides.
Best Colors to Pair with Viva Magenta
You can't just paint everything magenta and call your remodel 2023 chic. The success of your foray into the land of magenta for your Des Moines remodel depends entirely on the rest of your color and design choices. Pairing colors and textures can present design challenges. We're here to offer some insight into the best colors to pair with Viva Magenta so you can be sure to curate a polished look.
Neutrals to Make the Most of Magenta
Magenta pairs best with warmer neutrals. Warm taupes, grays, and off-whites are excellent supporting cast-mates if you desire to put magenta front and center or perfect places for a pop of magenta intrigue if the color palette for your renovation is mostly classic.
Bold Color Palettes that Include Magenta
We love rich teals, blues, and yellows alongside magenta for a feminine or Moroccan-inspired display of playful color. Pair other pinks or deep greens to evoke floral feelings. Next to glossy black or deep blues, magenta is a moody focal point.
Wood Tones That Look Best with Magenta
Magenta is one of those lucky hues that can elevate just about any wood tone. However, warmer undertones and bolder stains may be best if you're heavily featuring magenta. Dark wood, mahogany finishes, or antique finishes with a nuanced patina are great pairings for bold Viva Magenta.
Have your eye on a remodel and need more information about the price tag? Check out our remodeling cost guide here.
For the visual folks out there (guilty), here's a mood board of all the best Viva Magenta pairings:

Colors of the Year From Other Experts
Pantone isn't the only expert team identifying the colors of the moment. Here's a list of other hues industry taste-makers have crowned for 2023:
Behr: Blank Canvas

Benjamin Moore: Raspberry Blush

Better Homes and Gardens: Canyon Ridge

Dunn Edwards: Terra Rosa

Dutch Boy: Rustic Greige

Glidden: Vining Ivy

Sherwin Williams: Redend Point
Ready to Spice Up Your Des Moines Home?
We love watching design trends rise, fall, and become new again. Our team's keen eyes (and sometimes just downright obsession) for blending current trends with classic, timeless style equips us to realize your remodeling vision – whatever it is. Even if you aren't quite yet sure yourself!
If you're ready to jump in, reach out to our team today! Because at Compelling Homes, we never stop at good enough. We make it Compelling.