Did you spend more time at home in 2021 than in previous years? It's safe to say that's true for many of us. And all that time inside is making people realize how much their home environment can impact their mood, lives, and even health. That's why giving your home a new coat of paint or remodel is an excellent way to make you feel excited and energized for the new year.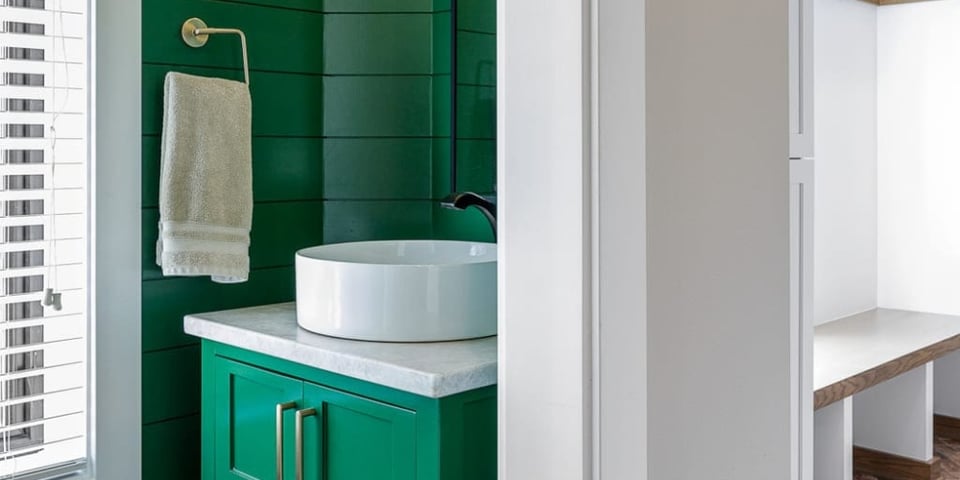 Of course, before you make any changes you'll need to pick out some paint. Luckily, the 2022 color forecast is here and we know exactly which hues will give you the boost you need for the new year.
Whether you're looking for restful paint colors for your living room or modern paint colors for your bathroom, keep reading to find the perfect hues for your 2022.
Disclaimer (because we like to keep it real): We are in no way affiliated or compensated by any of the products or companies listed below. We're just here to share facts to help you create the kitchen of your dreams!



Very Peri by Pantone
A vibrant hue inspired by the last year of our lives.
If you want to find the hottest colors of 2022, there's no better place to look than the Pantone Color Institute. Known for creating color standards and trend forecasts, each year the institute analyzes a combination of factors — including socio-economic conditions, technology, lifestyle changes, and industry influences — to name the Pantone Color of the Year.
In 2021, Pantone chose two colors of the year, a steely gray and cheery yellow, to represent hope and comfort — something many found themselves without during pandemic lockdowns. But, their choice for 2022 — Very Peri — is markedly different. The vibrant and inquisitive purple hue was chosen to commemorate the way technology, spurred by the pandemic, is revolutionizing our lives and our world.
The light periwinkle Pantone hue is the perfect pop of color to energize a neutral color palette. And, thanks to its combination of cool and warm undertones, it works wonderfully with blues, greens, or warm earth tones. Check out our blog to learn how to incorporate Very Peri into your home, or reference Pantone's Very Peri color palettes.
Gilded Linen by Valspar
A warm neutral that's perfect for creating comfort.
White, cream, beige, tan, gray, and other neutrals are enduringly popular paint choices amongst homeowners for many reasons. They provide an easy-to-match background and create a calm atmosphere — plus they're a key attribute of one of 2022's top design interior trends: minimalism.
But the neutrals that will be popular in 2022 are quite different from those that dominated 2021 interiors. Neutrals in the new year will be warm and welcoming, like Valspar's Gilded Linen, as opposed to the cool whites and grays of 2021. The change in undertone reflects a desire for naturalistic and comforting interior design after a year of pandemic chaos both inside and outside of our homes.
Gilded Linen, an organic off-white, is one of several warm neutrals featured in Valspar's 2022 Colors of the Year. And it's not the only warm neutral shade popping up in 2022 color palettes. Benjamin Moore's 2022 palette includes two warm whites and a sandy neutral. These neutrals are great choices for transitional spaces like hallways or doorways and are the perfect pick if you want to create a calm atmosphere in your home. Neutrals are also a classic choice for kitchen remodeling colors and you can modernize the look by adding a pop of color, like Very Peri!
October Mist by Benjamin Moore
A relaxed shade of green.
For so long now, the pandemic has separated us: from each other, from our places of work, from the outdoors and public spaces, and on. Going into 2022, designers are looking to create interiors that help their inhabitants feel connected. One way they're accomplishing this is by employing biophilic design, an industry concept that aims to increase your connection to nature.
Thanks to biophilic design, nature-inspired paint colors — and, in particular, relaxed shades of greens — are in vogue. One such color is Benjamin Moore's 2022 Color of the Year: October Mist. October Mist is a silvery shade of green, but feel free to experiment with other shades of green, such as Sherwin-Williams' moody Basil or PPG Paints' muted Olive Sprig, which are also on-trend.
These greens are a great way to freshen up your kitchen or living room, and they're likely to be some of the most popular exterior house colors for 2022. Whether you go for a playful or dark green, the hue will complement neutrals, like black and white, as well as cool blues and warm earth tones.
Aleutian by HGTV Home by Sherwin
Williams
Reminiscent of a clear sky and beach waves.
Like green, blue reminds us of nature: of a clear sky and beach waves. So, it shouldn't be a surprise that blue is going to be everywhere in 2022. In particular, designers are using calming blues like Sherwin Williams' 2022 Color of the Year Aleutian by HGTV Home. A gray-blue reminiscent of worn denim, Aleutian contains both cool and warm undertones which allows it to blend perfectly with other colors.
Similarly, Graham & Brown named Breathe, a stunning mid blue, as their 2022 Color of the Year. These soothing blues pair great with soft neutrals, darks, earth tones, and greens. And they're among the best kitchen and bathroom paint colors for 2022 if you want a space that feels natural and tranquil. Try mixing a mid blue with dark navy to add more drama, or brighten things up with a warm mauve accent.
Are you sick of looking at bland and damaged walls or out-of-style paint colors? Give yourself and your home a fresh start by remodeling in 2022! At Compelling Homes, we make remodeling easy with our simplified process, vast industry knowledge, and superior customer service.
Visit our services to get started, and remember... don't stop at "good enough" – make it Compelling.