Nestled in a tranquil neighborhood renowned for its architectural marvels, emerges a residence that tells a story of innovation, creativity, and collaboration. At the crossroads of classic elegance and contemporary flair, Compelling Homes embarked on a journey with a Des Moines homeowner whose vision was clear: to transform a once-tired space into a timeless sanctuary. Join us as we delve deep into this remarkable transformation, where each room sings its own song, but harmonizes in one voice, and every corner reveals a carefully curated detail.

A Neighborhood We Adore
There's a beautiful sense of community in the neighborhood where this project resides. Remarkably, we had just completed a project for their next-door neighbors, reinforcing our belief that word of mouth is one of the best forms of marketing. The charm of the neighborhood, coupled with our deep involvement in the area, made this project particularly special.
An Overdue Makeover
Upon initial inspection, the main floor of this house was evidently "tired." It wasn't necessarily at the brink of collapse, but spaces like the kitchen seemed weary, and the dining room's design felt outdated—too closed off, boxy, and lacking flair. Such a design contrasted sharply with the homeowners, who, though not overtly flamboyant, exuded a classic, timeless elegance that led to a deep and abiding design love-affair together. Our mission became clear: transform the home into a reflection of their personality—a space of constant beauty.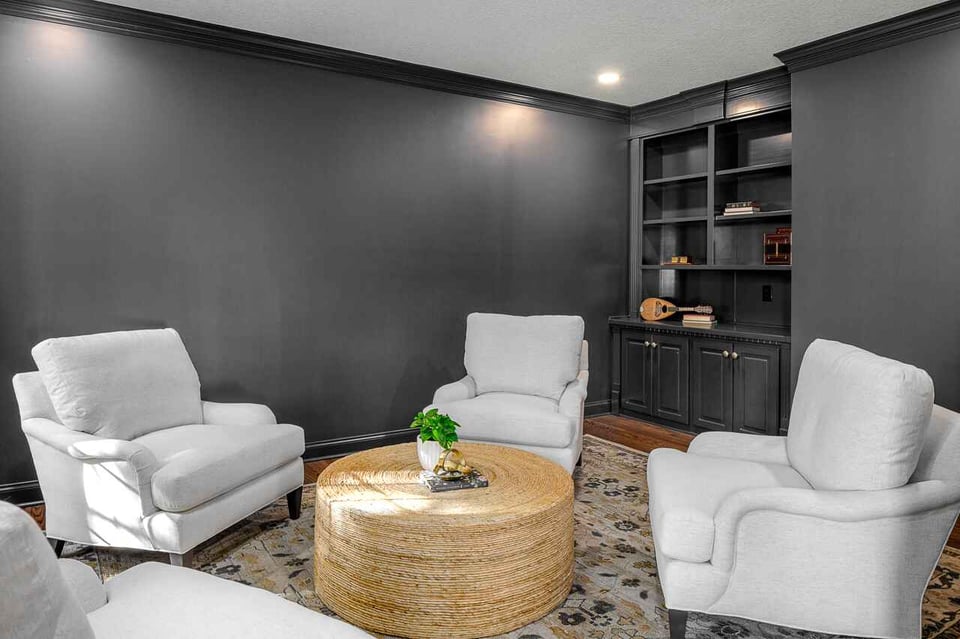 Black Living Room: A Statement in Elegance
Walking into this beautiful black living room, the initial perception is always one of awe. It's not just about painting everything black; it's about choosing the right shade and sheen. Their formal sitting room, or "music room" as they call it, boasts repurposed Golden Oak 1989 cabinetry revitalized with Conversion Varnish. Intriguingly, while the crown molding matches the wall's color, different sheens give depth and distinction to the space. Eggshell paint, which graces the walls, offers a finish that's both easy to touch up and clean, while the trim shines subtly in semi-gloss. The beauty of this room becomes evident under light, though it requires meticulous maintenance to keep it flawless.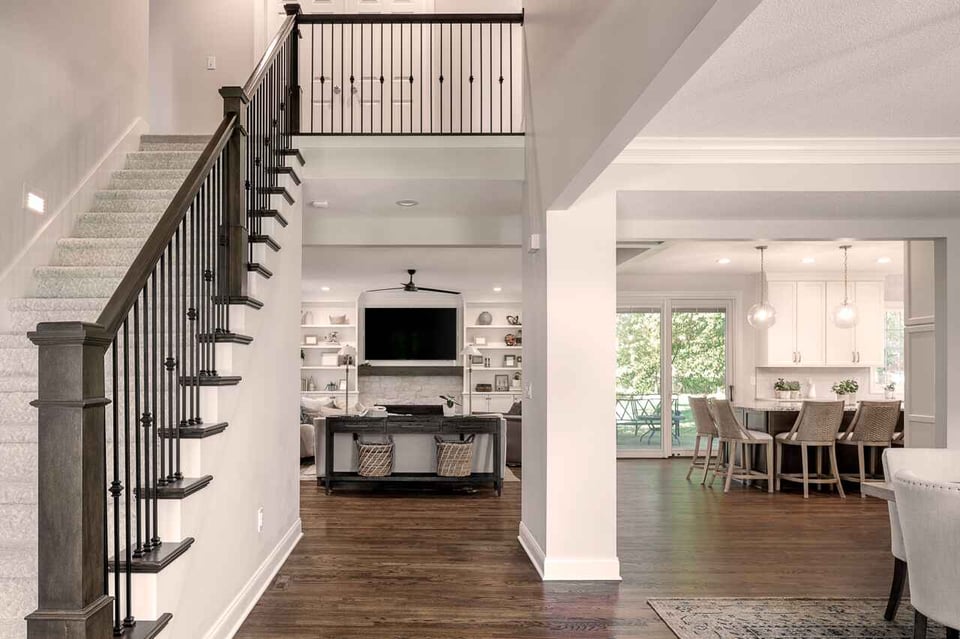 Staircase: A Fusion of Function & Fashion
Compelling Homes believes that staircases can and should serve dual purposes: functionality and aesthetic appeal. In this home, the objective was to create a staircase you'd want to gaze upon instead of through, hence the intricate knuckles nestled between the banisters. We adore this two-toned approach: a painted skirt paired with a stained tread. It's not merely a pathway to the second floor but a centerpiece of the main floor.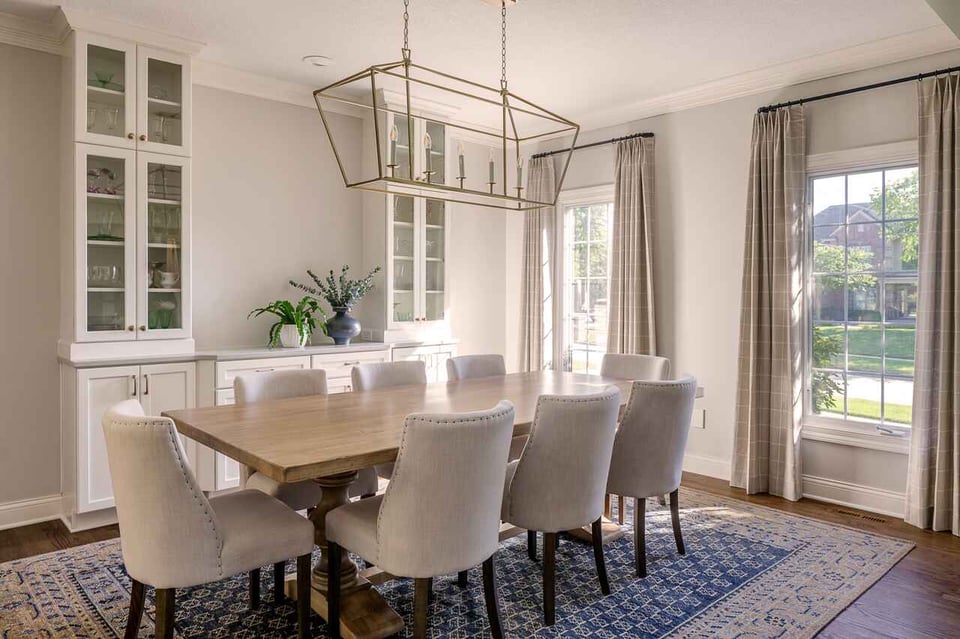 Formal Dining Room: Openness & Elegance
The formal dining room underwent a significant transformation. We wanted to enhance its connection with the main living space, maximizing the natural light flowing through its windows. We remedied the earlier design flaw of a restricting 5-foot entrance by introducing broader, open connections to the neighboring rooms. The built-in cabinetry on the wall, designed to accommodate large family meals, adds both utility and grandeur, especially with its glass fronts. The crowning touch? The stunning light fixture that illuminates meals below.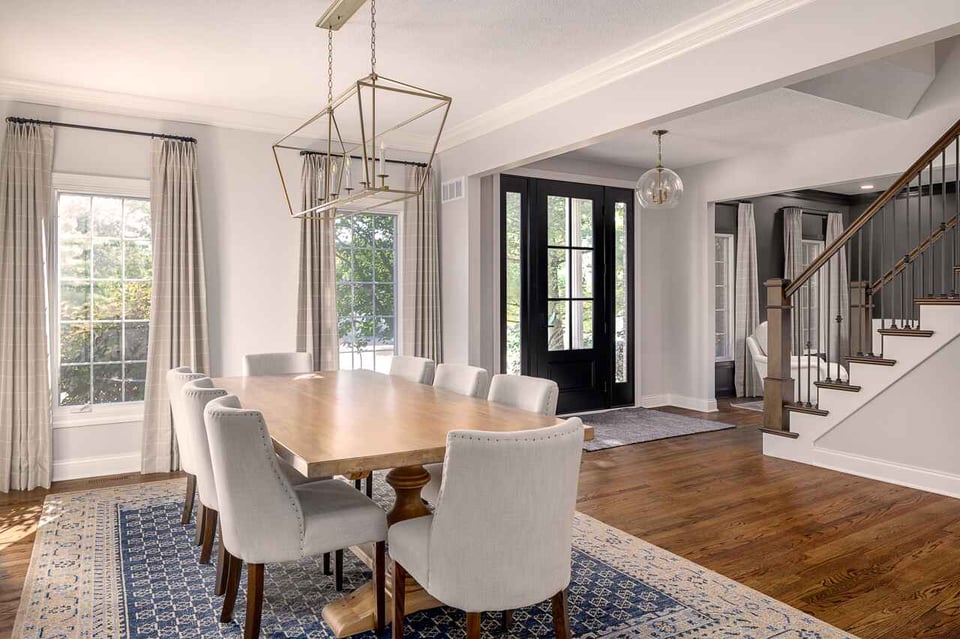 Entrance & Open Spaces
Looking from the dining area towards the entrance, one's eye is immediately drawn to the exquisite globe fixture hanging majestically above the front door. We removed a constraining wall, dramatically expanding the visual space and tied into the adjacent black music room with a stunning black front door. This newly open expanse offers a sense of breadth and luxury, a design so elegantly executed, it's a true chef's kiss.
From a certain viewpoint looking towards the TV, everything changed. Previously, walls obscured the dining room and kitchen. The complex engineering and design challenges involved in creating this openness ranged from moving mechanical systems to thorough planning for potential challenges hidden within the walls. It required intense coordination and expertise to pull off such a transformation.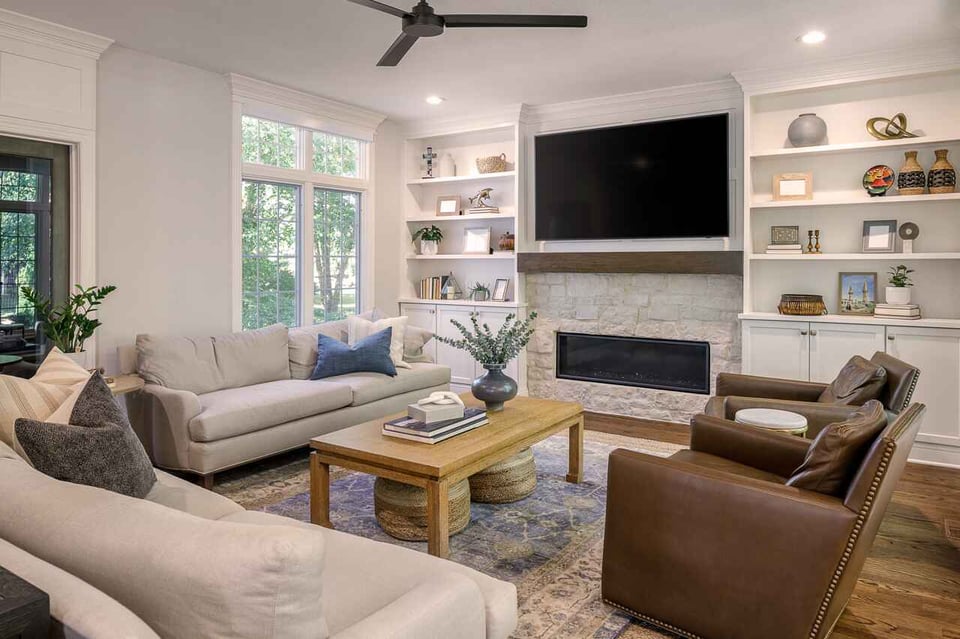 TV Area: Subtle Transitions
The TV area bears testament to intricate design choices. An erstwhile post was replaced by a mesmerizing candelabra. A redesigned fireplace, new stone, and mantel—coordinated with the ceiling, wall, and molding colors—display design symmetry, exuding calmness and warmth. We extending the fireplace stone to the ceiling, a choice that perfectly complements the room's design blend of antiquity and postmodernism.


Kitchen: A Baker's Dream
Elegance meets function in this airy kitchen, meticulously designed for the homeowner—a prodigious baker. With the cooktop positioned against the wall beneath the custom-made range hood, and drawers aplenty—including in the island—it exudes functionality and style. A fun design quirk: the oven's position was decided based on the owner's height, ensuring comfort during those long baking sessions. And while lights were notably off during photography, the room's design leverages natural light exquisitely.
Mudroom: The Epicenter of Organization
This mudroom didn't exist in the original design, but now serves as a multi-functional space. Previously a laundry room, its evolution epitomizes functional design. Our passionate belief in providing every person a designated space for their belongings inspired this room. We firmly hold that mudroom drop zones change lives. The mudroom, chock-full of built-ins to store it all, is illuminated with abundant lighting. This organization powerhouse also houses a workstation—perfect for managing the household's schedules, planning shopping lists, and other tasks. It's the perfect place to pin sports schedules and tuck that checkbook away for the three times you'll need it every year.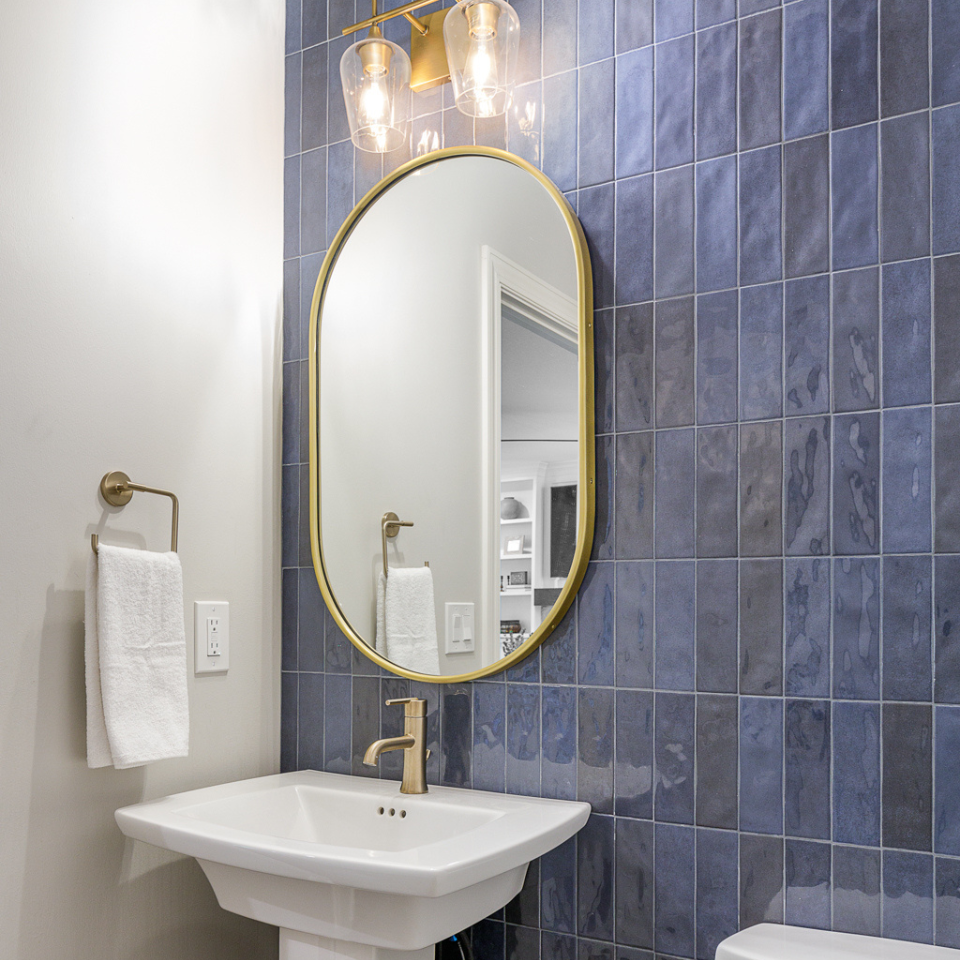 Bathrooms: A Blend of Risk & Reward
Out of the four bathrooms redesigned, the blue bathroom stands out for its audacious design. We love the vertical stacked blue subway tile most especially. Our fearless leader, Rusty, advocates for adding unique touches to powder rooms to entertain and engage guests, and this bathroom surely delivers. Although situated away from the main space for privacy, its design doesn't compromise on style or utility.
Even this unassuming ¾ bathroom is a fantastic example of the joy of a cohesive vision. You're clearly in the same home and you're clearly matching colors up for a united experience, no matter where you are in the home.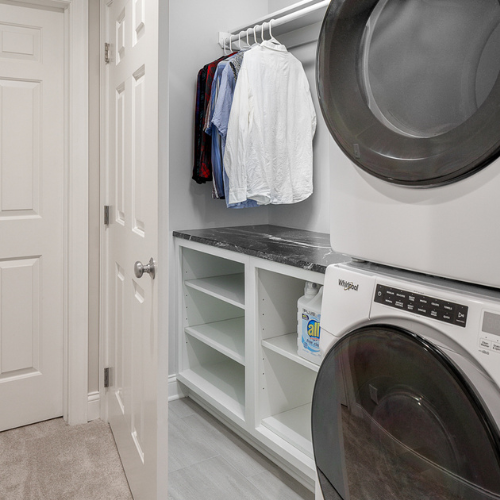 Laundry: Concealed Functionality
Now nestled on the 2nd floor with the bedrooms, this laundry area, with custom 7' wide doors, ample shelving, and a drying rack, is a testament to innovative use of space. The space was carved out by adjusting the dimensions of an adjacent bedroom closet, showing our dedication to maximizing every inch of the home.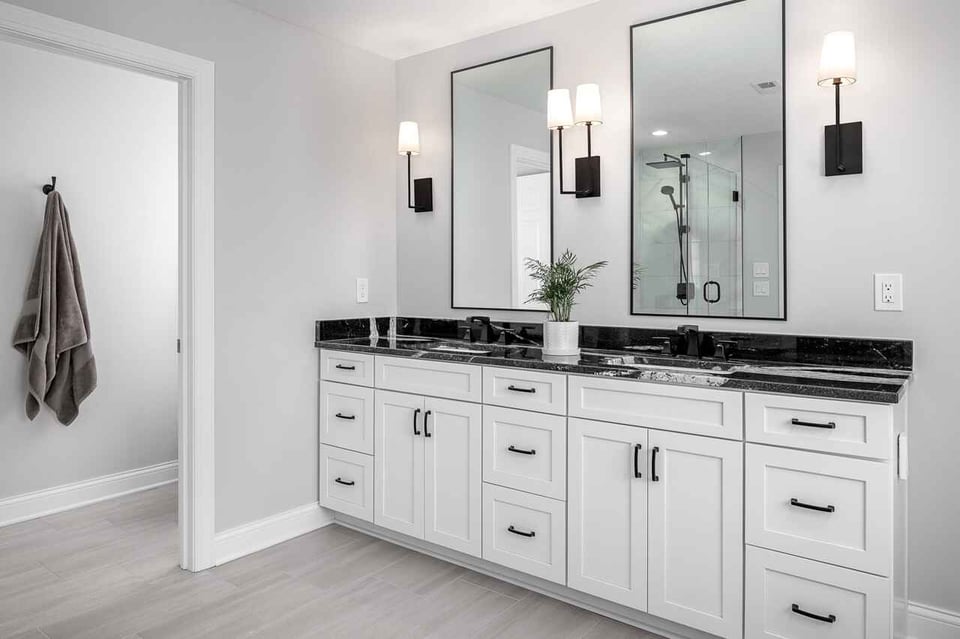 The Serene Primary Bathroom
In the primary bathroom, wall sconces replace traditional vanity lights. Most folks prefer light cast in front rather than from above. The calculated spacing between the vanity lights and mirrors, paired with ample drawer storage, speaks to a meticulous design approach. Note the ample vanity storage and bold black touches for a space that speaks for itself. The stand-up shower houses one of our favorite design elements: a showerhead mounted outside the tile, revealing its mechanics. It's an artistic blend of industrial and contemporary aesthetics that shows the love and care we poured into every element and decision.
Make Your Des Moines Remodel Compelling
In the realm of home transformations, it's rare to encounter a project where every design choice speaks volumes about the collaboration between a dedicated team and a passionate homeowner. This home isn't just a renovated space; it's a living testament to the magic that happens when vision, innovation, and expertise converge. As we step out of this architectural masterpiece, we're reminded of the limitless possibilities that await when one dares to reimagine and redefine the boundaries of design. After all, we never stop at good enough, we make every renovation–compelling.
In the heart of Des Moines, we at Compelling Homes don't merely renovate. We transform, innovate, and elevate. We make every project compelling. Ready for your dream renovation in Des Moines? Let's talk!