The love you have for your home should last a lifetime. The good news is: when your home is uniquely designed based on your habits and patterns instead of what's "hot", it can do just that. Step inside to see how our team transformed this out-of-style, trend-based home into a timeless oasis and see why this remodel won us the coveted
"2022 Pella People's Choice Award" during the Tour of Remodeled Homes.
Have you ever gone all-in on a decorating style? You pull together all the finishes, furniture, and decor you need to complete the look. If you're lucky, you get to enjoy it. For a moment, everything is perfect; then, inevitably, the moment passes.
It's Newton's Third Law of Interior Design: what goes into style must go out. That's what happened to the owners of this former Tuscan-style home. They dedicated their entire house to the Tuscan look, which they adored at the time. However, they soon fell out of love as the trend plummeted in popularity. They realized Tuscan wasn't the end-all-be-all; their tastes had changed, but their home hadn't changed alongside them. Now, they were stuck living in a house that felt like someone else's.
When they decided to remodel with Compelling Homes, they didn't want to replace one fading trend with another. So, they charged us with creating a classic design — one so timeless they'd love it now and 20 years from now.
Since the hallmarks of Tuscan design were everywhere, the homeowners gave us the go-ahead to remodel everything on the first floor. If we hadn't, the areas that remained untouched would have stuck out like a sore thumb! And this is just phase one of the project. During phase two, we tackle the upstairs – this is now ready to be revealed! If you've been here before, scroll to the bottom for the big reveal.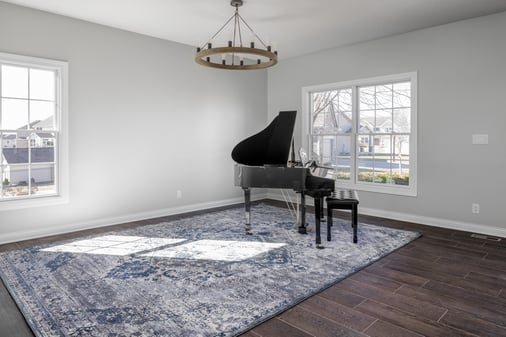 For now, let's focus on Phase I.
The main features include:
Timeless design elements

Large kitchen with super-sized appliances

Custom shelving

Pendant lighting throughout

Improved entertainment capacity




Abandoning Trends for Timelessness

When we say we designed with the classics in mind, we're not talking about Beethoven or Bach (although the baby grand in the piano room might suggest otherwise). Our inspiration came from design elements used in humankind's creations for centuries. Think stone castles and bridges from the middle ages rather than architecture from the 1900s.

We centered on London, England, as our hub for architectural inspiration, picking natural stone, white hues, french doors, wainscotting, curves, keystones, and other classic elements to embed in our design. We paired these features with calming colors common on the United States East Coast, like blue, white, and brown. Together, the confluence of these time-hallowed elements creates a look that never truly goes out of style.

Besides timelessness, these homeowners had one other major request. They also wanted their home to feel like a sanctuary, safe and welcoming. Luckily for us, those two asks go hand-in-hand. Timeless design elements exude a sturdy sense of security. After all, if they have lasted for centuries already, they may last for a few more. As we journey through the home, you'll see that the feeling of safety is palpable. Everything from the calming colors to classic design choices says, "Nothing is going to happen to you here. You're safe."
Design 101: The Devil is in the Details

Timeless design isn't loud. It doesn't scream, "Look at me!" like the latest trends. Rather, classic designs constitute quiet, self-assured confidence. It doesn't need to be loud when every last detail is thoughtfully chosen and perfectly placed.

That's how we approached this project. At first glance, the home might seem simple. A paired back color palette creates a universally appealing yet understated canvas. But as you look closer, you'll see carefully planned details layered on top of one another. Together, they combine in glorious harmony, adding subtle distinction and elegance that makes this home stand out against any other on the block.

When you enter through the front door, the first thing you see is the staircase. It might look simple; however, constructing it was anything but. We salvaged the left side and completely redid the right, adding an intricately detailed baluster and decorative posts. These details, though small, have a significant impact.

The multi-tiered baluster echos the wainscotting in the next room, a home office. A shock of deep blue energizes the space, while soft carpeting keeps things relaxed.

Across the hall, in the piano room, the solid porcelain tile floor grounds the design. The light fixture above adds levity. It looks like something that would hang high above King Arthur's round table, casting light flickering off the swords and shields of England's legendary knights. It contrasts against the sleek, modern piano, creating an ethereal timelessness that makes sense despite opposing themes.
Step into the kitchen, and your jaw might drop. Though no one features stands out above the rest, together, they create a stunning impact. Traditional white shaker cabinets (invented in the 18th century) set the stage; the marble mosaic backsplash plays a supporting role to the beveled island, the room's center point. Large glass pendant lights hang overhead, adding sophistication. Meanwhile, sturdy copper-colored stools bring the design down to earth and provide seating for five.

Take a look at the range hood. You'll notice a raised line running down the center. That's called a keystone, an architectural feature commonly used to construct arches and bridges. A keystone is the central point of an arc and is crucial to its structural integrity. First used by the Romans, they've been utilized in architecture ever since. We added a keystone detail in almost every room, harkening back to those classic designs. There's one above the entryway to the kitchen, another above the sink, and others scattered about (which we'll point out as we go).
Functionality is Focal

Functionality is just as crucial to timeless design as sophisticated details. A home that you'll love for years must fit your needs. So, as much as we had fun adding in the details, our main priority was creating a home that accommodates the lifestyle these homeowners want to live.
The homeowners told us they wanted a kitchen capable of hosting large dinner parties. They needed extra seating, enhanced cooking abilities, and room for 12 bottles of red wine to chill at the perfect temperature. We needed massive appliances to make that happen. We started with a beautiful stainless steel stove with double ovens and an enormous range for extra cooking capacity. On the other wall, a 48-inch column refrigerator, freezer, and 24-inch wine cooler combine for six feet of refrigeration.
Fitting appliances that large into the space took some critical thinking. First, we needed to make room for the pieces to fit in a way that wouldn't completely overwhelm the space. To do that, we shortened the doorway into the kitchen, instead allocating the extra space for the refrigerator wall. Appliances of this size also take an enormous amount of energy — about four times that of their standard counterparts. To accommodate, we had to dig a trench beneath the house from the kitchen directly to the electrical panel. It was a hard, dirty job, but we got it done — and the result is a *chef kiss* gorgeous, functional kitchen. Totally worth it!
While we're on the subject of functionality, we can't skip over storage. You can never have too much kitchen storage — even better if you can easily hide it away with, say, a chic sliding barndoor like in this revamped pantry.
A second doorway leads to the mudroom and laundry room, where we brought back the deep blue walls featured in the office. The coat hangers and storage cubbies are great for accommodating guests.
And while a utility-based room like this might feel merely functional, with attention to detail, we made this room just as beautiful as the rest of the home. Everything from the wainscotting to the inlay on the door adds pizazz to an otherwise utilitarian space.
We also chose to paint the door a different color than the surrounding trim (usually, the door and the trim are the same color); though very basic, this detail makes a huge impact, tying in the color of the walls to make the doorway pop.
Across from the mudroom is a powder room where guests can tend to their full bellies and wine-flushed faces. We included wainscotting again, automatically elevating the space, shaker cabinets on the vanity, and dark hardware that adds visual depth. The traditional farmhouse sink is another timeless design feature; they were first used in Ireland and Britain in the 17th century.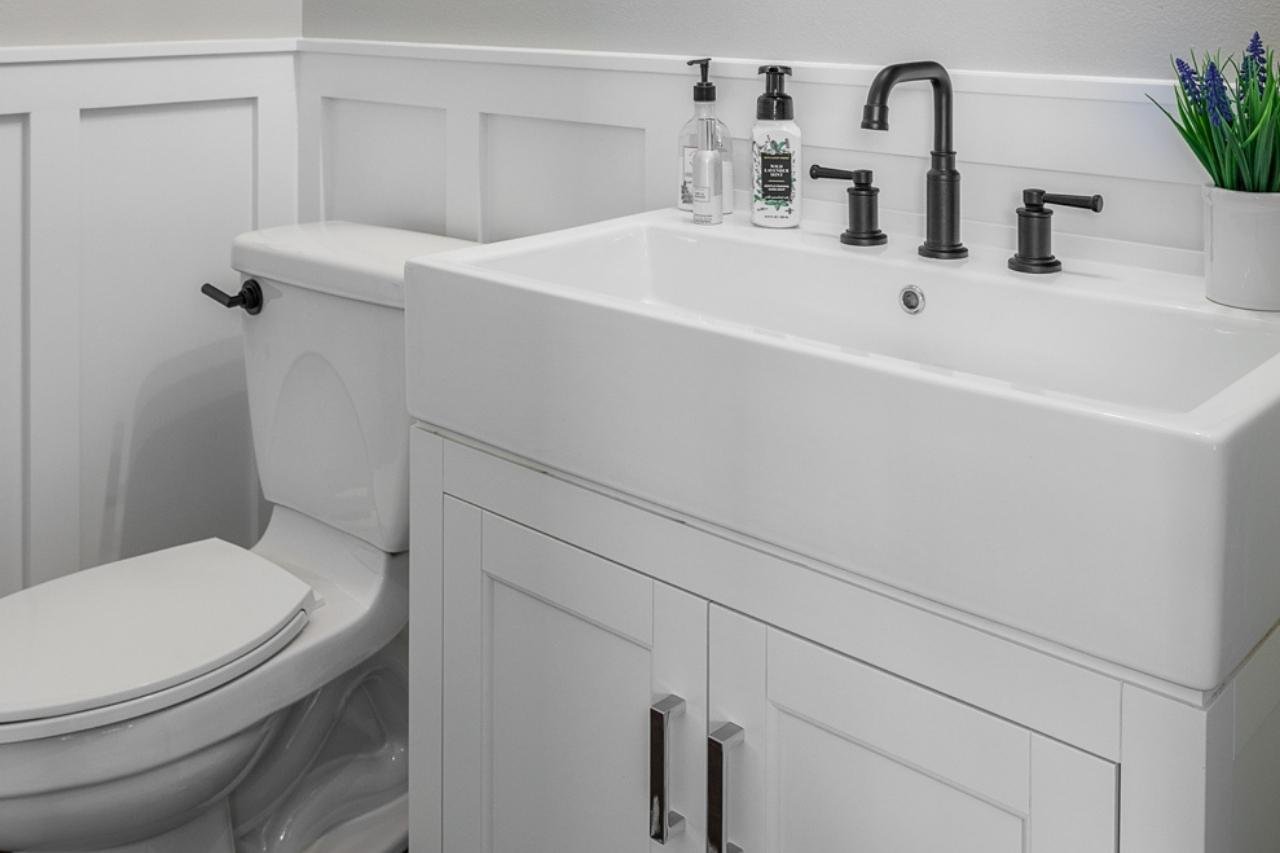 Balance Equals Beauty

The fireplace absolutely steals the show in this living room. The stone is leathered granite, showing a subtle dappled texture reminiscent of the irregularities that make old stone buildings so charming and unique. Visually, the granite is the heaviest piece in the room. When you have something that beautiful and big, you must know how to balance it. In this case, we went with a thick mantle, which echos the shelving around it. And peep the keystone above the mantle! It's a great way to draw the eye towards that gorgeous fireplace.
Design 101 Tip: Did you notice that the stone on the fireplace matches the stone used for the kitchen island? It's truly all in the details, folks. The little things that you may gloss over at first, but really give the space a certain 'je ne sais quoi'.
But our balancing act doesn't stop there. The windows above the shelving were already present when we began the remodel; ensuring they felt correctly sized in relation to the custom shelving we installed was the challenge. We went back and forth, adjusting the measurements until we found a height that complemented the windows and the mantle. The homeowners were highly involved in this part of the process, and the design is better for it!
On a larger scale, we needed to balance the visual elements of this wide-open floor plan. With the kitchen, dining room, and living room all bleeding into one another, we had to find ways to create separation between the spaces while maintaining cohesion. We accomplished this through the lighting.
A prominent globe-like lighting fixture marks the dining room table. We aligned it with the three pendant lights hanging in the kitchen. The visual similarities and alignment of the two make the fixtures feel like a logical progression. Although the living room only features recessed lighting, the raised ceiling helps mark the space. We also balanced light walls with dark fixtures and pops of color; cool, solid tile floors with soft carpeting; and high-end materials with comfortable living.
Drumroll Please...Phase II is Here!
If you're reading this for the first time, keep reading! If you've been following along and waiting for this addition, you're in luck. We promised a walk-through of Phase II upon completion, and we always deliver on our promises.
We now have a cohesive project spotlight to match the depth and breadth of this stunning remodel. When every detail is finished for continuity as well as polish, the resulting remodel is one for the record books.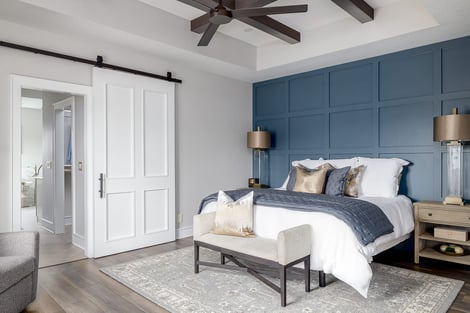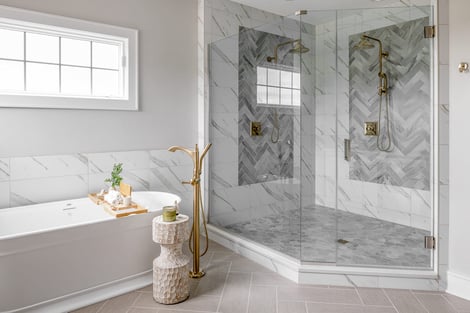 As Below, so Above
The subtle color and style repetitions from the main living space below are echoed in this intimate primary suite makeover. One huge advantage of a comprehensive remodel is the ability to tie your new spaces together. Part II of our compelling remodel delivers all the luxury and detail of Part I, with a focus on spa-like serenity to support superior daily routines.
Head upstairs to start the second part of your tour. Welcome to the owners' suite bedroom. This beautiful blue wainscoting is a bold and classic statement and echoes the texture of the chic tray ceiling and solid and sturdy ceiling beams that draw the eye up. A sleek tri-blade ceiling fan circulates the air and creates a soft breeze. Ample outlets ensure that the tech for every aspect of the morning routine is within arm's reach.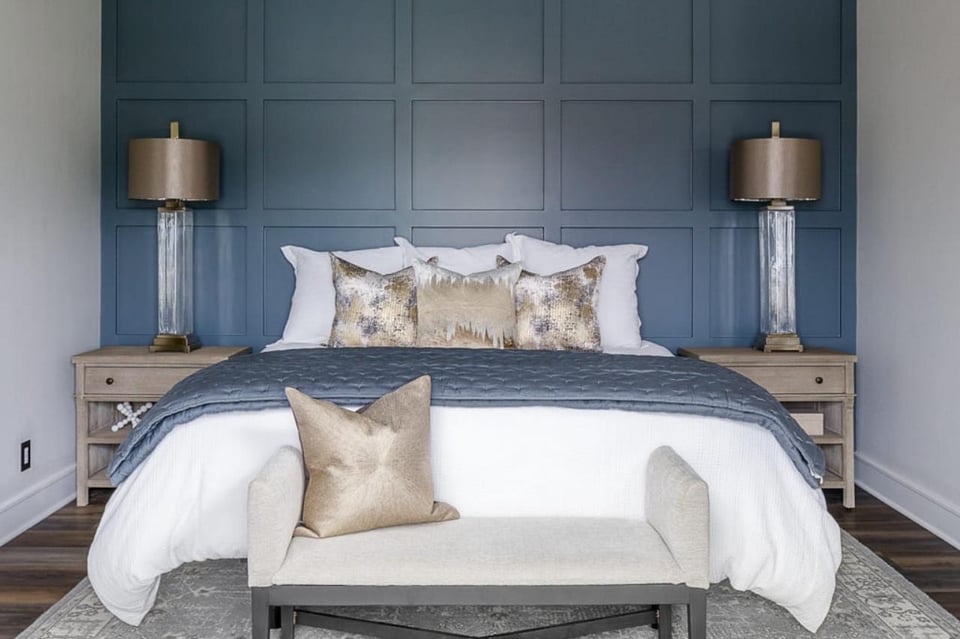 An Airy and Intimate Oasis
This airy space features chic white curtains over classic mullioned windows for an open and bright sitting space for relaxing, reading, and intimate conversation. A wall-mounted TV makes it easy to fall asleep to comforting sitcoms or stay entertained when under the weather.
Step through the upstairs sliding barn door. Just like its sister in the pantry below, this door to the primary suite closet hides custom cabinetry and storage for days in the drool-worthy walk-in closet to the right. Every aspect of this clean white walk-in closet is completely custom, meaning the storage solutions are stacked for complete personal organization and ultimate success. We've spared no luxury. The closet tiles not only feature the same herringbone tile as the bathroom, but also the luxe heated floor system. Why be cold at any step of the routine?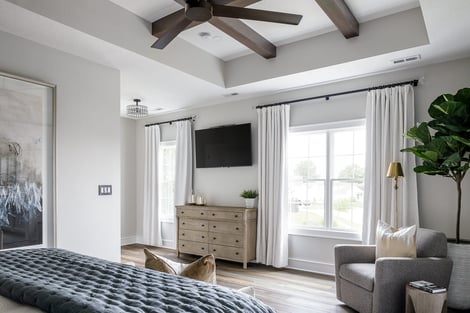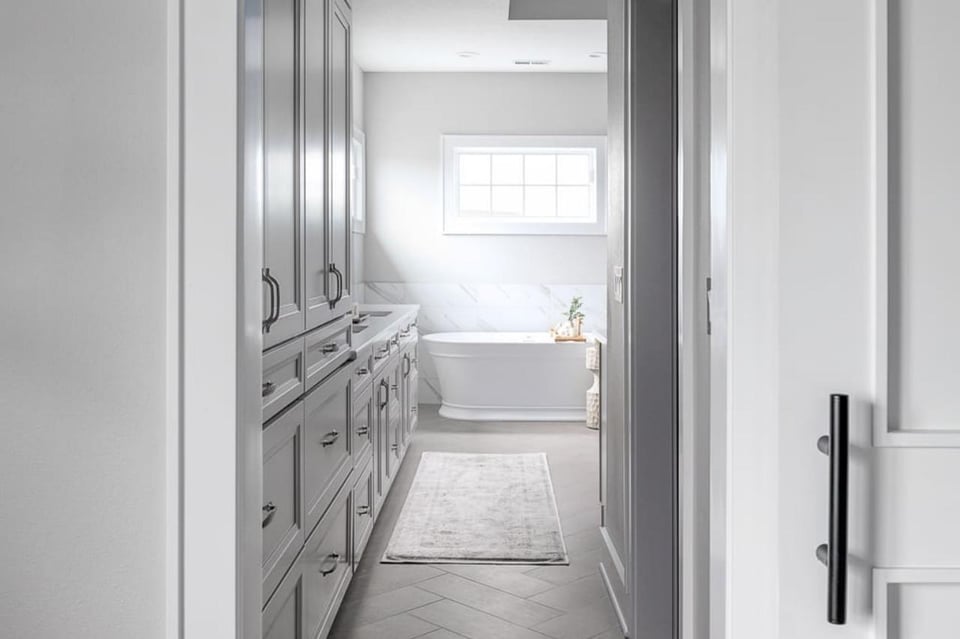 Detailed Design Done to Divine Depths
Head past a bank of fantastic and expansive floor-to-ceiling custom cabinets to this luxury bathroom delight. Clerestory windows maximize natural light, without compromising privacy. This sun-soaked and pristine bathroom features a double frameless glass walk-in shower. Note the dual keystones paired with each shower head, featuring stonework that echoes the herringbone pattern in the main flooring. Large format rectangular granite/quartz tiles nestle the keystone into the rest of the shower wall and continue around the bottom half of the bathroom wall to provide continuity, water resistance, and a luxe vibe.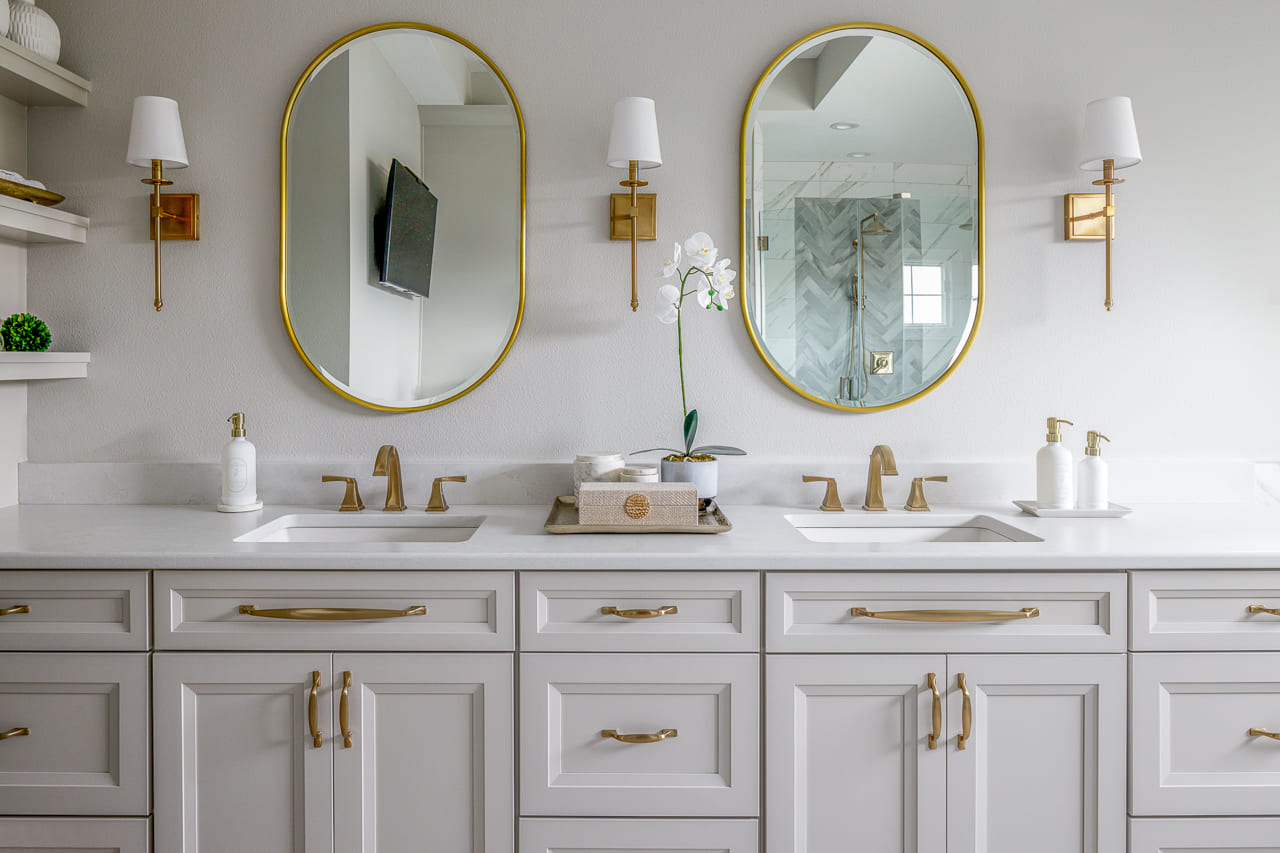 The small hexagonal floor tiles preserve the color palette while introducing a unique shape to a room that otherwise relies on rectangles. Ample brass fixtures and plumbing features provide a classic and stately polish. The round and elegant free-standing soaker tub features a floor-mounted filler. These poignant polishes elevate construction into art and achieve top marks in both form and function.
And speaking of *ahem* function, we have to talk about this toilet. Once you use a toilet this feature-laden, you'll understand its necessity in a high-end bathroom. Featuring a bidet, heated seat, sanitizing, self-cleaning, powered seat opening, and touch screen operation creates a truly joyful experience.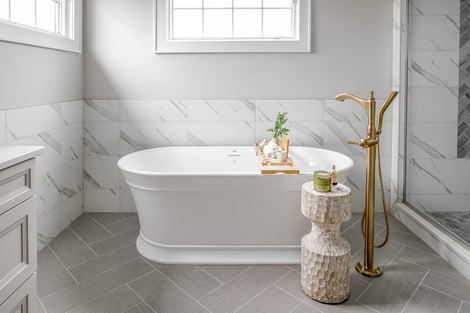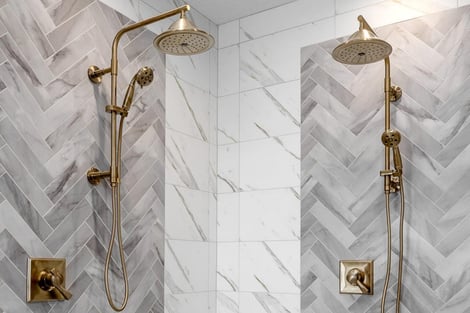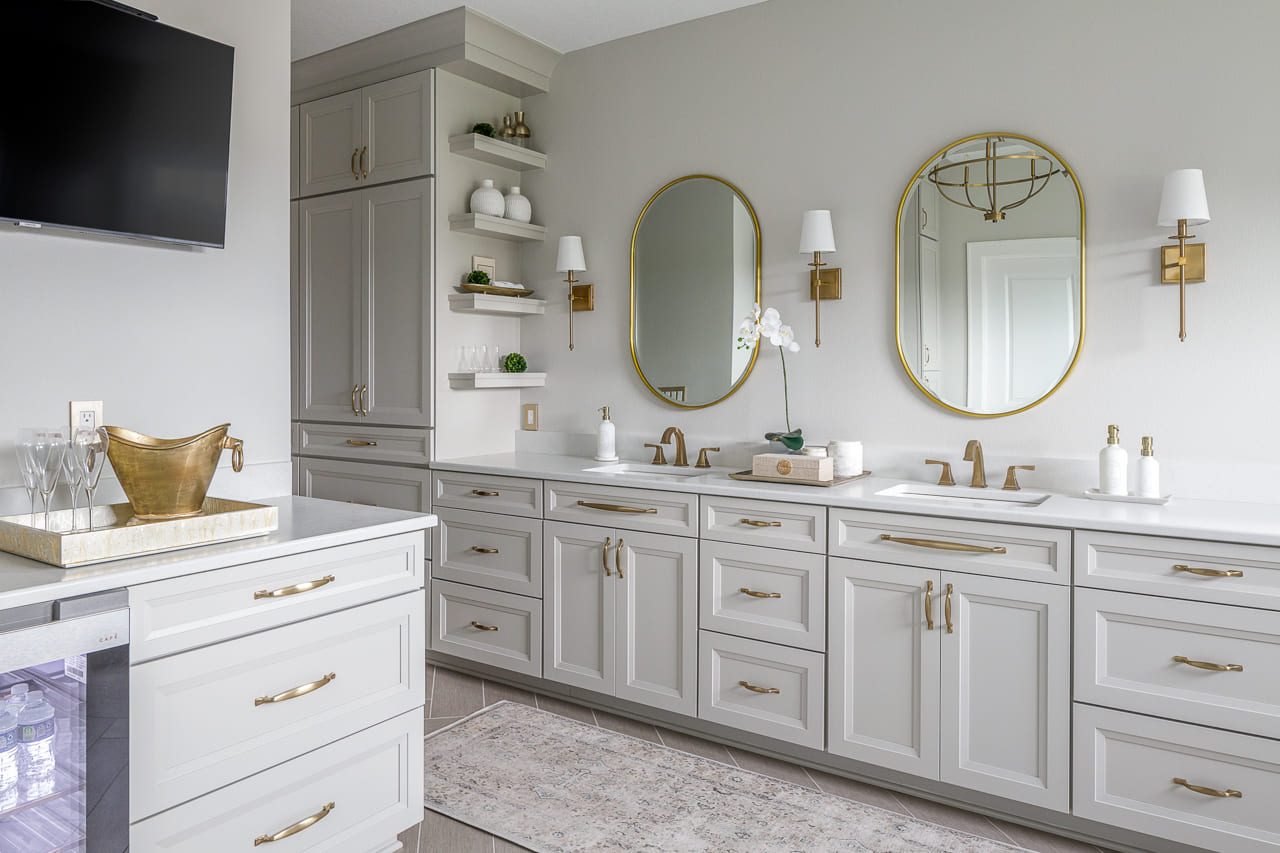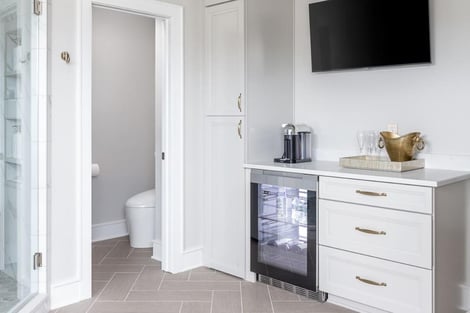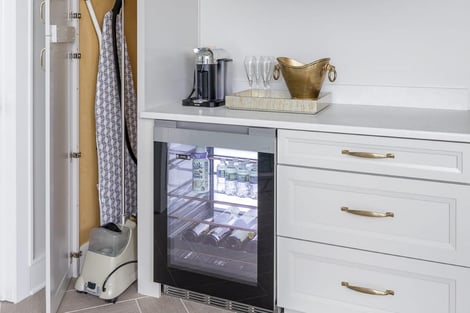 More Spa-Like Than the Local Salon
Head across the comfortable heated floor, while admiring the large rectangular herringbone tiles and enjoy our decadent double vanity and custom cabinets. Opposite the tub, you'll find a glass door mini fridge to house temperature-sensitive skin-care products, high-end hydration options, and mimosa fixings to ensure no prep or wind-down strays into boring territory. Further augment a soak with a favorite movie on the TV above, or keep pace with days' events when morning minutes matter.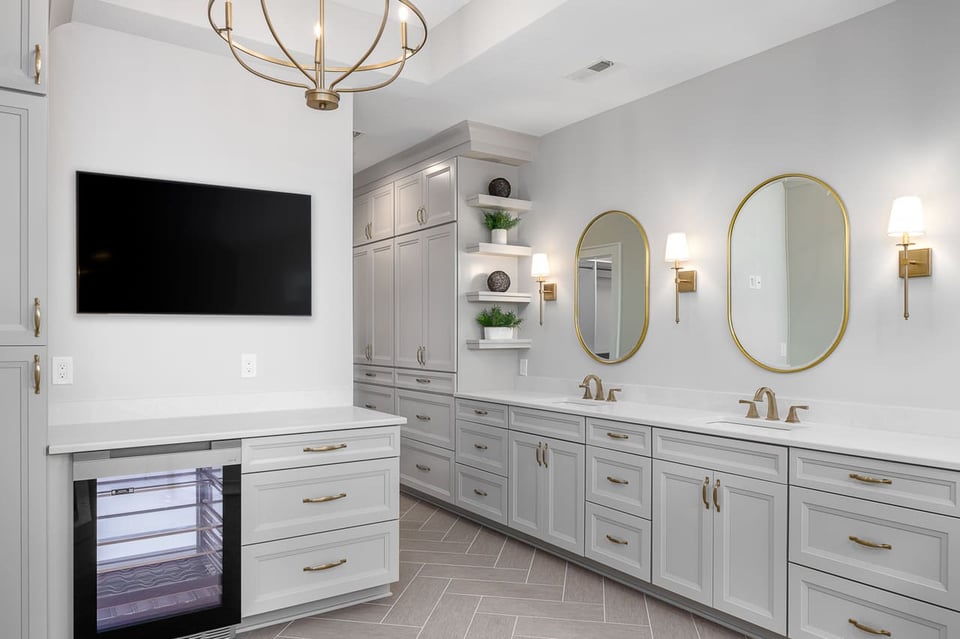 Award-Winning Features
It's inside this gorgeous bathroom that you'll find the jewel that won us the coveted Tour of Remodeled Homes' "I Wish I Would Have Thought of That Award 2022." Other remodelers in Des Moines had to give it up for our Wolf warming drawer – what appears to be a regular cabinet drawer is hardly so. It's a luxurious towel and robe warmer because when we say spa-like, we mean it.
These dear clients put as much effort into their relaxation as they do every other aspect of daily achievement, and we were thrilled to facilitate the realization of their new dreams.
The end result is a home our clients fell head over heels for, and they aren't likely to fall out of love anytime soon. Of course, the real test will come with time. We'll check back in a few years to see if they still love the design — we're pretty sure they will!
Because at Compelling Homes, we don't do "good enough." We make every home we work on compelling!