This walk-out basement remodel project is the story of an amazing collaboration between homeowners with a vision, and a design-build team on a mission to bring it to life. Warning: if you're above age 21, continued reading may result in either an urge to remodel your basement, or pour a glass of wine – or both.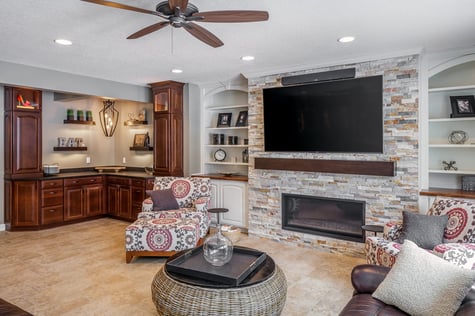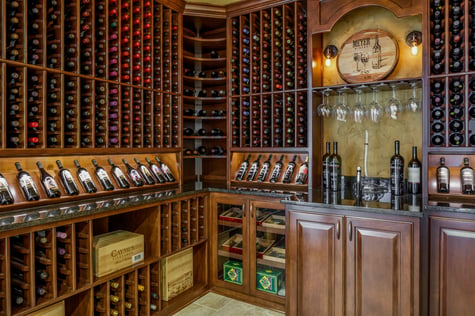 These homeowners have a very refined palette – both for design, and most importantly, for fine wine! Their love for this fermented grape beverage paired with their love for hosting and entertaining created not only a want, but a need for what turned out to be an amazing remodel project in their walk-out basement.
Features included: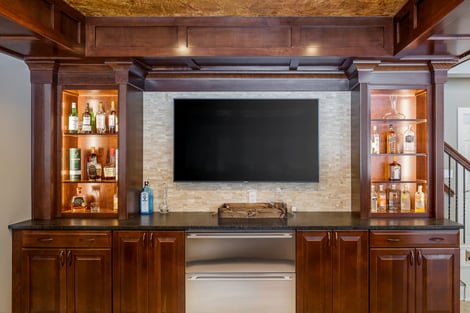 Custom walk-behind bar
with hand-laid stone surround

Custom-made buffet area

16+ lighting zones

Walk-in wine cellar
with humidor!


Radiant flooring

Dining area & l

iving area

Half bath
"Houston, We Have a (Wine) Problem"
One of the coolest parts of our job lies within the individual and unique challenges presented to us by our clients. We love hearing, and really listening to their wants, needs, and way of life; their vision for the space and the positive impacts a remodel will have on their day-to-day lives.
The challenge for this particular project was presented to us as a "wine problem". What we mean by wine problem is the sommelier lifestyle and devotion to learning and acquiring fine wines that these homeowners possess was taking over their previous basement. We had wine on the pool table, wine on the fridge, and wine on the countertops.
Their previous basement did feature a wine fridge and L-shaped walk-behind bar, but the fridge was quickly filled, and the bar was not laid out in a way that the homeowners felt was optimized for comfortable gathering and conversation.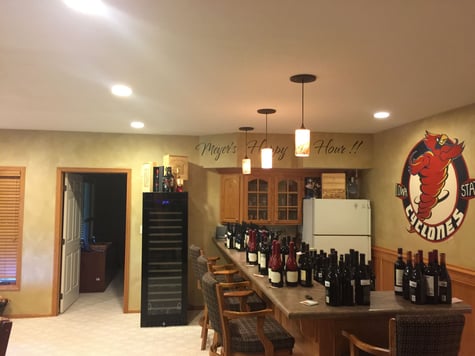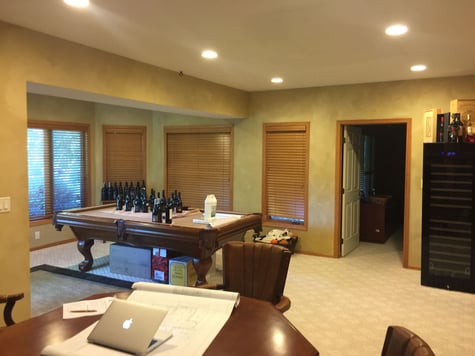 Enter: the most beautiful, hand-crafted custom walk-behind bar we've probably ever seen (check out all of that maple)! We've shown you walk-up bars in other project spotlights, and boasted about the perks in functionality that walk-up vs. walk-behind bars provide based on lifestyle needs and wants.
For this space, creating a walk-behind was a no-brainer! Since the focus for this entire project was on entertaining, crafting a space that encouraged and enhanced the experience of their guests was key.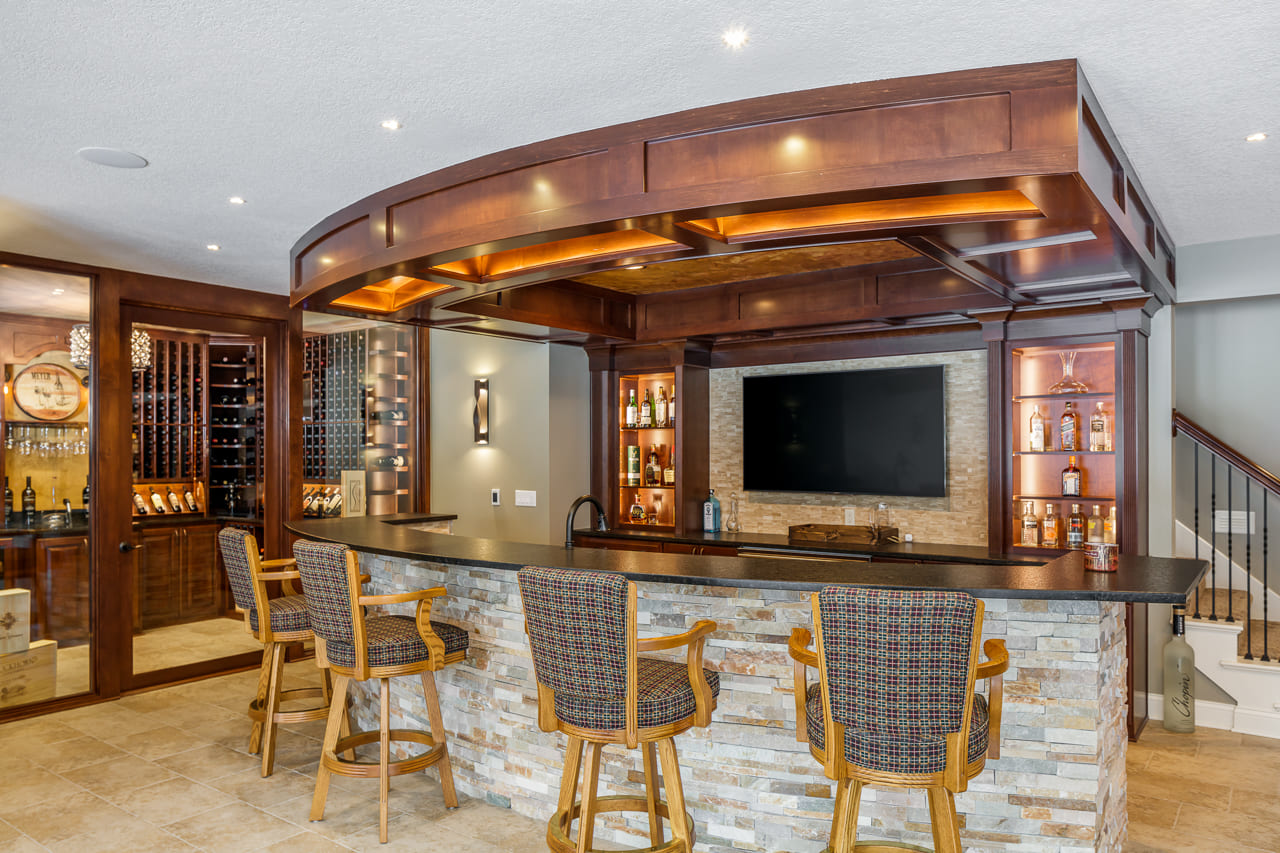 Think about it: when you're at a public bar, the bar area is usually a straight line. If you belly up with a party of three or four people, conversation among the group can be difficult simply due to the layout of the seats. If person one and person three want to have a conversation, person two is in the crossfire. If person one and person four want to have a chat, well, best of luck.
These homeowners helped provide our team with this exact scenario, and we were all able to find a solution in this curved bar. That way, persons one, two, three, and four can all comfortably enjoy a discussion without feeling like they have to lean forward or backward for the others to participate. Genius!
A really interesting and intricate feature of this entire space is the lighting zones – approximately 16 of them.
Sometimes you walk into a room, turn the lights on, and call it a day. This wasn't going to work for these homeowners, who have an amazing eye for detail. They wanted to be able to set the tone in each area within this basement.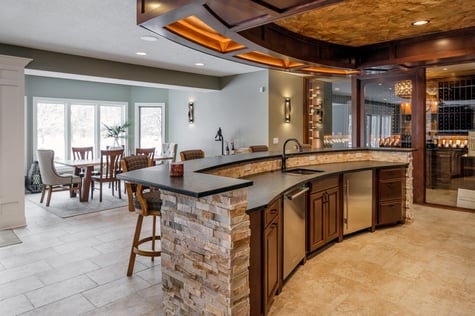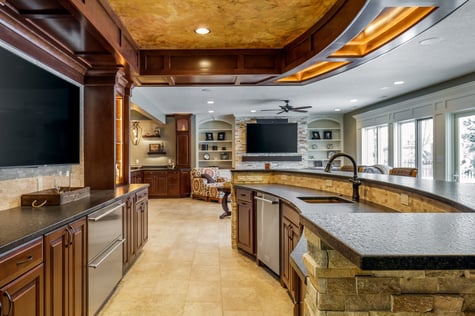 Check out the photos above. You'll notice inside the bulkhead is illuminated – this was achieved by setting light inside the wooded areas to shoot up, instead of having pesky pendant lights hanging in the bar guest's faces. Yet another great design hack to invite better conversation and a clearer view of the TV set against a beautiful stone wall.
Now that we're talking about stone, let's spend a minute on the bar itself! When was the last time you saw a stone wall in a curve? Okay, so you may have seen it before, but isn't it beautiful!? To achieve this, every single piece of that stone had to be taken apart, shaped, and put back together one-by-one to join together along the curvature of the bar.
Where There's a Will...
If you've been here for a while, you'll know that we love explaining the how's and the why's. There is so much more that goes into each remodeling project than just "it used to look like that and now it looks like this." Every project is unique, special, and requires creative and critical thinking to get from point A to point B. For this project, we'd like to talk about that bulkhead.
When we step into beautiful spaces such as this basement, we're usually so pleased with the beauty and flow of the space that we seldom stop to think, "wait, how did this all come together?' For the maple bulkhead, this piece was built entirely on the floor, inside the basement, then lifted with mechanical jacks and pulleys, where it was then anchored to the ceiling in its final resting place. It's a minute little side-story, but it's details like this that prove anything can be done;
Where there's a will, there's a contractor who won't rest until it's done! (As they say... or at least as they should say).
Toto, I've a Feeling We're Not in Iowa Anymore...
We're here to squash the idea that you can't have it all. You certainly can, and remodeling your home to include all of those things is the answer! Our homes – especially this last year – have proven to be so integral to our happiness and well-being. You're seeing more home offices being created, larger kitchens to accommodate all of the meal prep we've been doing, and more.
These homeowners had a different need: wine is not just a hobby for them – it's a science and an art form. Each wine has a different taste, and pairs well with different foods. To create a space that they can share their passion for both wine and food was the goal, and the result has us feeling like we're no longer in Iowa, but maybe Napa Valley or even Tuscany, Bordeaux, and beyond!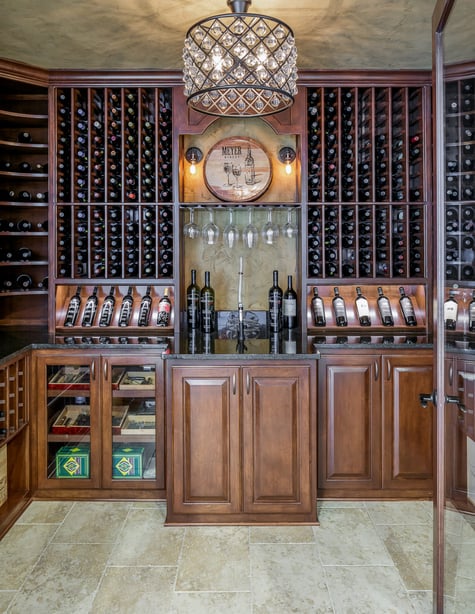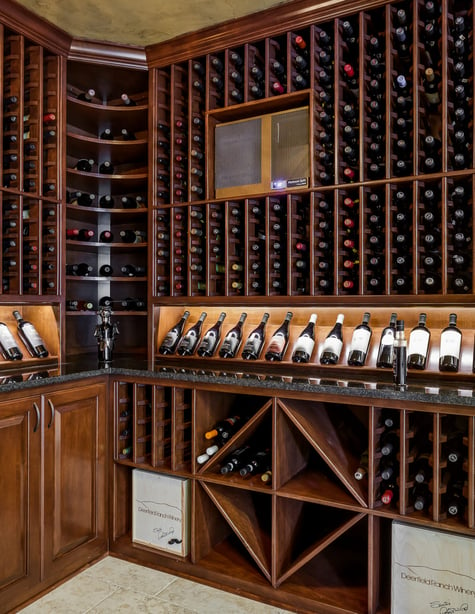 To safely store all of their beloved bottles, these homeowners went with an all-out, in-home wine cellar! Using the same maple cabinetry as the bar, we created custom units to hold bottles, glasses, and even a humidor! If you're enjoying a get-together in this home and have a craving for any type of wine, from A-Z, you'll find it here in this climate-controlled room.
The entirety of this basement is equipped with radiant flooring throughout, but not here. This is a testament to the keen eye for detail the homeowners have, and their dedication and awareness to what wine needs to stay safe (and stay tasting great). The below photo is proudly shown at the top of this spotlight piece, but it seriously deserves a full-width spotlight, so here goes: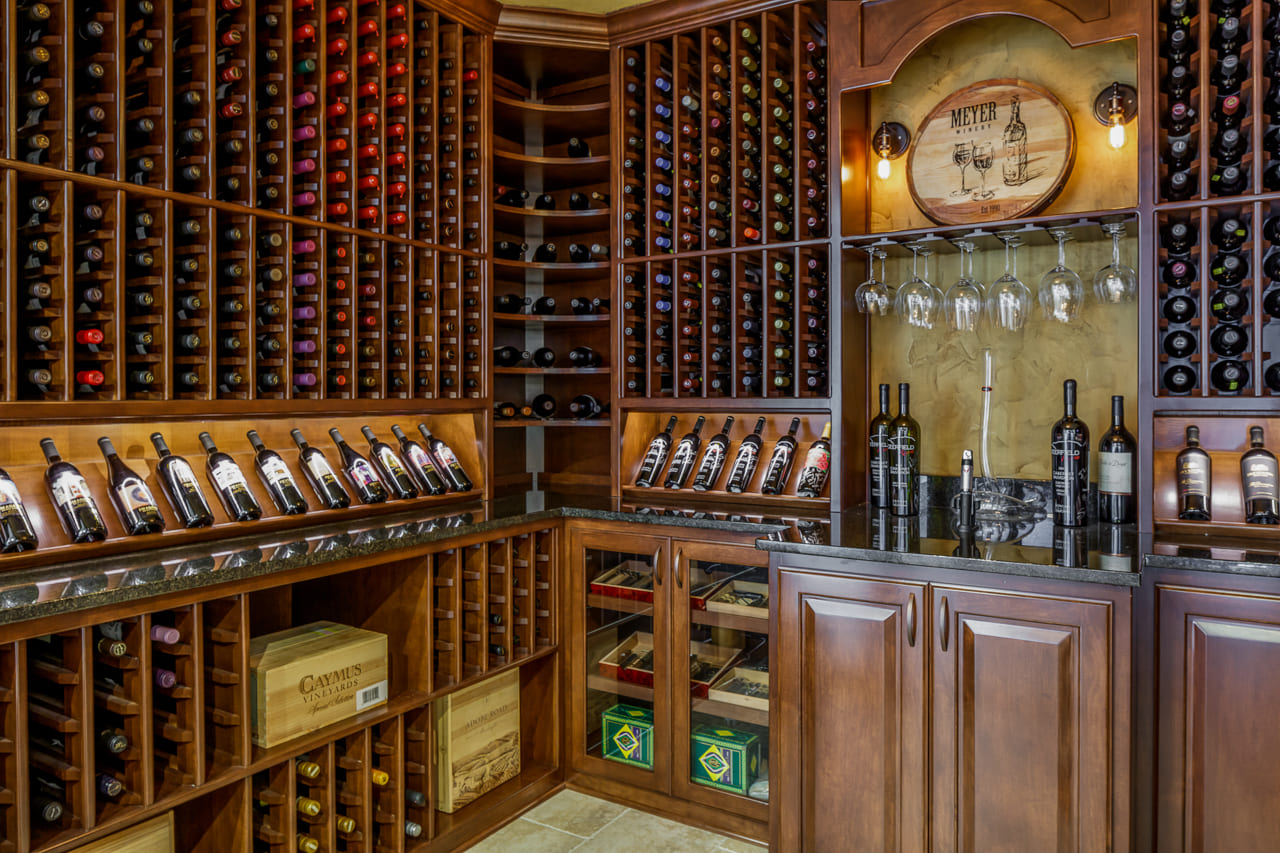 Now Pouring: Entertainment
The love these homeowners have for gathering and connecting with their friends and loved ones doesn't just stop at their love for wine – it continues onto their understanding of entertaining guests.
There's more to a great dinner party than just the wine (believe it or not), and they were consciously aware of that from beginning to end – thus, the creation of this one-of-a-kind custom buffet area, with plenty of room for storing plates, cutlery, and cookware. This gorgeous maple buffet has it all, including spacious countertops for displaying edible goods – and it looks amazing.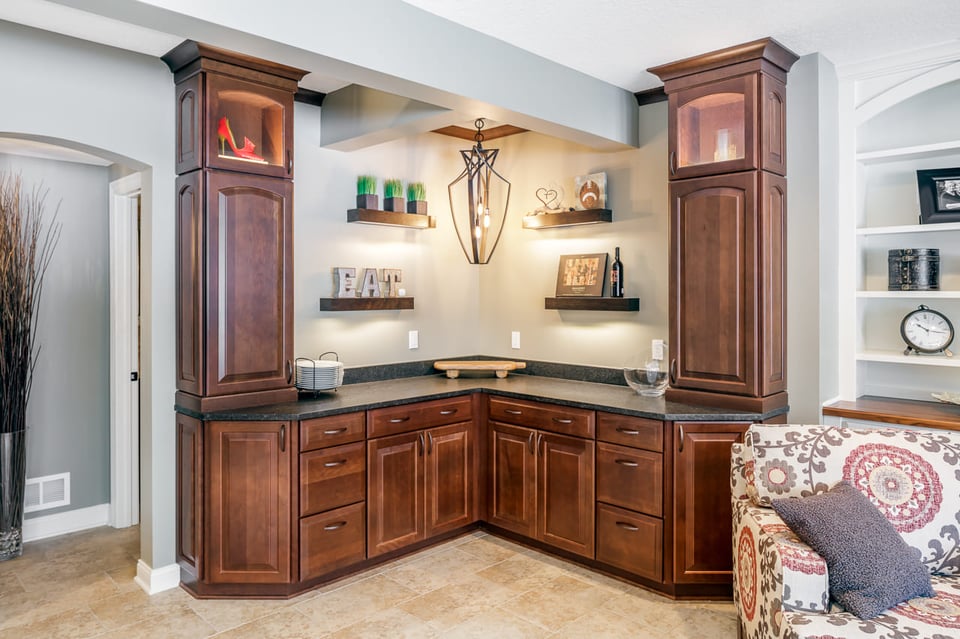 The rest of this walk-out basement remodel does not disappoint. It's hard to beat the grandeur of both the walk-behind bar and walk-in wine cellar, but the spacious, comfortable, and bright living and dining areas can hold their own!
The living area boasts a beautiful stone TV wall, crafted from the same stone used in the bar surround – another testament to the fine-tuned detail and symmetry of materials throughout this space. A built-in fireplace was installed to replace the previous, bulkier fireplace for those chilly evenings, and custom built-ins surrounding the TV offer another place for the homeowners to place their treasured trinkets.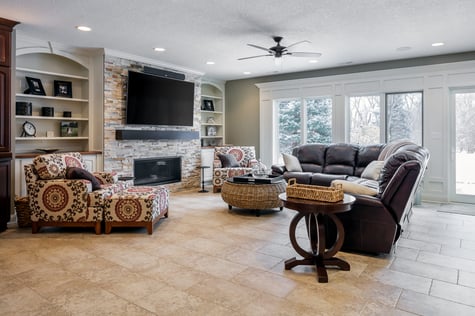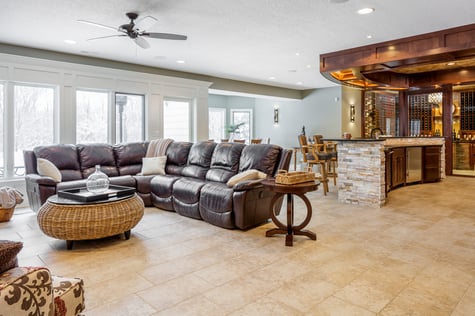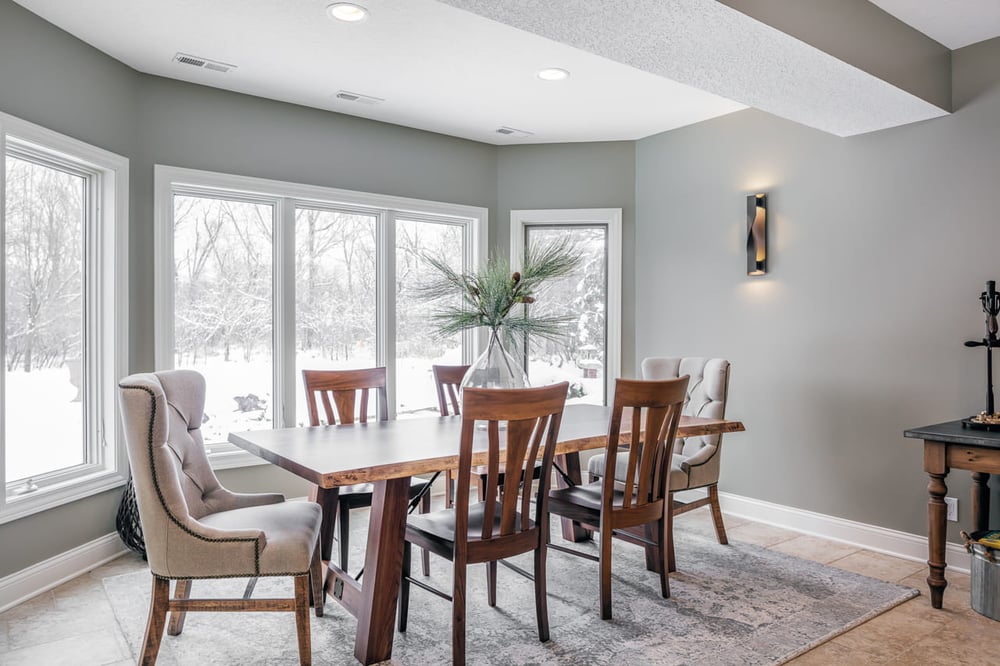 A unique and wonderful feature of walk-out basements is the ability to bring in natural light, something that we usually don't get to see in traditional basements! This space has so much light shining through that you'd find yourself second-guessing whether you were even in a basement, and we think it just adds to the all-around beauty of the space.
The dining area, spaciously located in a bump-out behind the bar area, can seat six comfortably while overlooking the backyard from oversized windows. Dinner and a view!
Details That Will Age Like a Fine Wine
These homeowners had a vision – they knew what they liked, what they didn't, and they knew what look they were going for. Their keen eye for detail and input along the way made our jobs easy and enjoyable.
Some details we'd be remiss to wrap up this spotlight without showcasing can be found in the half bath. A bathroom did exist in this basement pre-remodel, but we tore that out and installed a new one, because that's what we do! Just because something always has been, doesn't necessarily mean it should remain as such, and we're here to make the space work for you.
Adding a bathroom to your basement remodel is always a great choice, especially when the basement includes a bar (and a wine cellar, in this case) to make for a more comfortable experience.
The elegance radiating from this bathroom is wonderful – from the stone backsplash on the mirror wall, to the travertine countertop, tile, and vessel sink. This bathroom also features several separate lighting zones, and radiant flooring.
The custom buffet area that you saw above features floating shelves, which creates a space to show off sentimental items while at the same time keeping the buffet countertops clear for more food, which is always encouraged!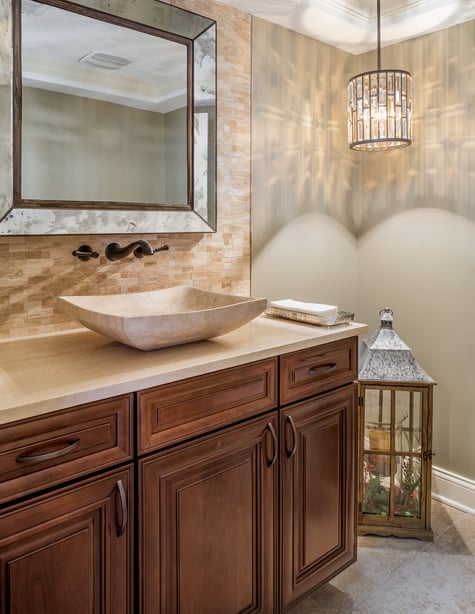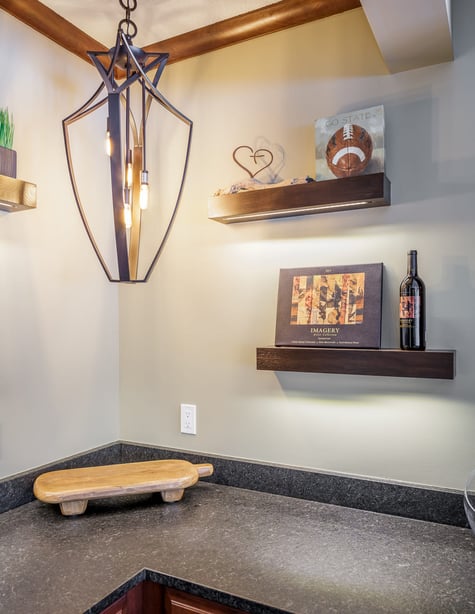 These homeowners had a lot of input for us with this project, which is always welcomed! We love putting our heads together with clients to come up with spaces that will help them live their best lives, and who better to help figure that out than the occupants of the spaces themselves?
Your home, and every room inside it, should not only optimize the way you use each space, but bring a smile to your face. Rhyme not intended, we're just good like that. If you have spaces in your home that you feel just aren't quite cutting it anymore, let's talk!
Compelling Homes has a team of some of the most trusted remodeling contractors in Des Moines. When you're ready to remodel, don't stop at "good enough" – make it Compelling!
Be sure to browse our project gallery to inspire your next remodeling project.