Short, cold days can make winter a bummer, but Compelling Homes specializes in creating interiors that help you stay energized, refreshed, and comfortable all season long. Add in some festive holiday decorations and your home should have you feeling downright cheery!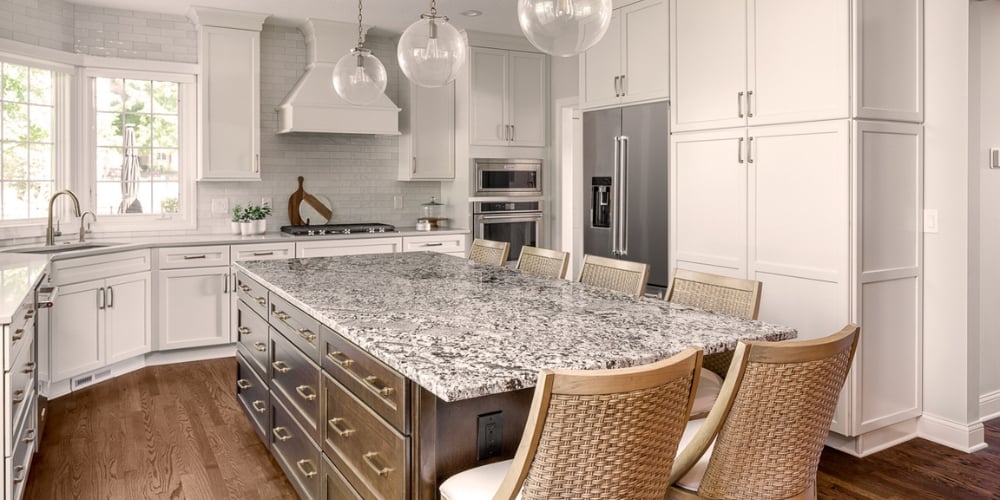 This year, spruce up your holiday decor by channeling your inner interior designer. Start by identifying your personal aesthetic, then learn to use the seven elements of interior design, and get holiday decorating tips along the way. By the time you're done, your home will look like a personalized Pottery Barn catalog!
Figure Out Your Style
Your home should feel like your home. That may seem obvious, but with a cornucopia of interior design advice out there, it's easy to get caught up in trying to attain a Pinterest-perfect look. Step back and spend some time contemplating your personal style before you start making changes to your home.
Start by asking yourself how you want your space to feel. In Time Magazine, San Francisco-based top Interior Designer Grant Gibson, recommends drawing inspiration from your closet. If your closet is filled with tailored suits and expensive sweaters you may have a formal style, but a closet bursting with colorful skirts and playful blouses is indicative of a more humorous aesthetic. You can take more inspiration from the styles of your favorite destinations, restaurants, and hotels — or even from our project spotlights!
Once you've got a good idea of your style, put it into words. Choose five to 10 adjectives that describe your style and write them down. Reference your list next time you invest in decor to make sure the purchase fits your home. If you need more help identifying your style, find out what your design aesthetic is.
Match Your Style & Lifestyle
Once you know your style, make sure your holiday decorations match it. A holiday-themed family heirloom might not fit well if you have a clean, contemporary style. Instead, you could match your aesthetic by putting modern holiday decor up in the majority of your house. That doesn't, however, mean that all your decor has to match perfectly. You can mix and match different aesthetics to make your own unique combination — just don't go overboard! Try placing decor that matches your style best near focal points like your fireplace mantel, walls, and dining table; then display your other styles of decor in less obvious spots, like a buffet or guest bathroom.
Another way to integrate holiday decor is to make it useful or enjoyable for you in your everyday life. If you love hosting holiday parties, for example, set up a highly decorated drink cart, table, or bar. You could also buy holiday-themed frames and put up a wall display of your favorite pictures. Again, use decor to make your home feel like you!
The Seven Elements of Interior Design
It's always a good idea to start with the basics when you're learning something new. And when it comes to interior design basics, the seven elements of interior design set the foundation for how the craft is understood, executed, and critiqued. So, here's a quick crash course: the seven elements of interior design for beginners. Get ready to take notes!
1. Space
Space has to do with the physical distance between the furniture and objects in your room. It also deals with how much room things take up. Too little space and a room can feel cramped; too much and it feels empty. Interior designers often utilize space in open-concept floor plans to make a home feel larger and more open. In interior design, you can optimize for space by balancing areas of furniture and decor — known as positive spaces — with empty spaces — or negative spaces. Additionally, make sure you design your spaces to match your lifestyle and provide the functionality you need.
Holiday Decorating Tip: To use space in your holiday decorating, spread your decor evenly throughout the entire home. You can also balance the heavily-decorated areas of a room by placing them across from or diagonal to more empty areas. This will help your decor blend naturally into your home, giving a sense of balance and harmony.
2. Line
Both vertical and horizontal lines attract the human eye and stick out in your designs. Tables and shelves draw horizontal lines that make the space feel wider and lend stability; meanwhile, windows, pillars, and fireplaces make vertical lines that make the room feel taller and pull attention up. Other lines, such as curves, diagonals, and zigzags are visually interesting and create energy. Think about how you want your room to feel and ask whether the lines drawn by your surroundings add or take away from that feeling.
Holiday Tip: Use your stockings, paper snowflakes, candy canes, or other types of decor to draw curved, diagonal, or zigzagging designs on your walls.
3. Form
Form is the shape of your space. It's the shape of your furniture, artwork, decor — even your empty space — and the other elements within the room. Geometric shapes, made up of straight lines and perfect angles, add a bold and modern look. Natural shapes are imperfect and organic, like the lines created by gently curving wood, and bring a softness to your home. Abstract shapes are similar to natural shapes, though they evoke a more ethereal air.
Holiday Tip: Bring the outdoors in and create a calm, cozy vibe by decorating with woods, fake branches, trees, house plants, fake furs, pine cones, trays of fruit and nuts, flowers, and other naturalistic forms.
4. Light
We've all heard of mood lighting, right? Good — that's the perfect illustration of how light impacts design. Picture a kitchen, for example. First, picture it with no windows and overhead artificial lights. Not pretty, is it? Now imagine the same kitchen with three open windows as light pours in. Ah, that's much better! In general, natural light from the sun is a great primary light source because it's free, variable, and usually has a soft, beautiful quality. In addition to natural, you should also have task lighting for chopping vegetables in your kitchen or working in your office. You can also add accent lighting, like a chandelier or piece of art, which acts as a focal point.
Holiday Tip: In many places, like here in Polk County, Iowa, the holiday season is accompanied by shorter days and longer nights. To prepare for the coming darkness:
Invest in your lighting by buying or rearranging lamps and accent lights to create mood lighting.
Hang holiday lights in entryways over doors or as garlands to add more ambient light.
Dim overhead lights for a relaxing atmosphere.
Add a touch of warmth with real or electric candles and twinkling lights.
5. Color
Color is an element of design because it creates a mood. A bright, bold paint job will make your home office feel energized while muted tones will make your bedroom feel calming. Keep that principle in mind when utilizing color. It's also a good idea to make a color palette so your space feels coordinated.
The 60-30-10 color rule, another interior design basic, says 60% of your color palette should be one main color, 30% should be used for a contrasting secondary color, and 10% should be used as an accent color. Your main color should be used on walls and large furniture. Slightly smaller items like drapes, blankets, and accent chairs are good placements for your secondary color. And accent colors belong on decor or accessories. Create your own color palette using a generator like ColorSnap by Sherwin Williams, Canva, or find your own online.
Holiday Tip: Incorporate the colors associated with your holiday into the decor. Use red and green for Christmas; blue, white, and silver for Hanukkah; and so on and so forth. If you want a wintery look to match the outside, use luxurious whites and browns accented with green.
6. Texture
In design, texture means the materials that make up a room. Textures can include hardwood floors, furry rugs, carpets, pillows, fuzzy blankets, a prickly tree, and more. You can generate visual interest by mixing different textures. Plus, different textures can make you feel different ways. Burlap feels homey and rustic, silk feels luxurious, and fur feels warm.
Holiday Tip: Add a blanket to a leather couch, a rug to a hardwood floor, or faux fur covering to a table to contrast texture in your designs and add warmth.
7. Pattern
Patterns draw lines and shapes, drawing interest wherever they're placed. They are often utilized in artwork, wallpaper, rugs, and other furnishings. You can use patterns to attract attention and make a statement, but be sure not to overdo it — it's best to stick with only one or two patterns in a design.
Holiday Tip: Evoke the season with holiday-themed patterns made of snowflakes, lights, presents, plaid, etc. You can show off these patterns on pillows and blankets, inside picture frames, as wall art, on a table covering, or anything else you can think of!
To see some examples of how the seven elements of design are used in real life check out our blogs on timeless kitchen and basement designs.

Once you've implemented the elements of design and finished decorating for the holidays, your home should feel refreshed, comfortable, and welcoming — everything you want for the season! But, if you're still feeling unsatisfied, you may be ready for a remodel. You can learn about the design-build remodeling process at Compelling Homes' blog where we cover everything from the kitchen to whole home remodeling, cost guides, commonly asked questions, and so much more!