It's time to ditch the awkward first-floor layout, reimagine your kitchen, or create safe and accessible bathrooms. You're committed to remodeling, but you're not sure what steps to take next. If you love a good renovation show, you've likely heard a variety of conflicting advice about completing the home remodel you have in mind. We're here to help you sort the truth from the trash to help you make informed decisions as you plan for your dream home transformation.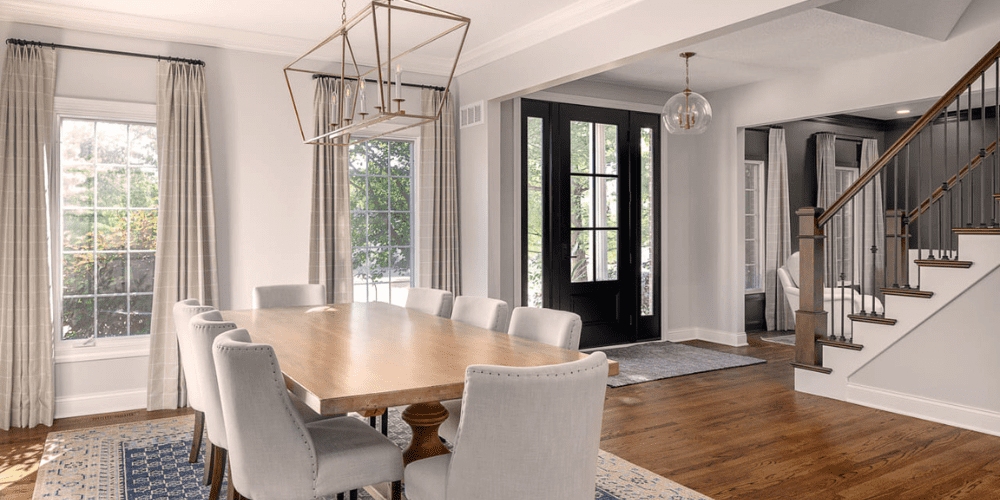 As seasoned and experienced remodelers, we are called in to correct remodels-gone-awry more often than we'd like. We've seen the good, the bad, and the well-intentioned, and we're happy to share our insight so that you don't fall prey to the most popular myths about remodeling when it's time to refresh your space. Here are some of the most common myths we hear that lead to disappointment or, worse: a project that turns your dream space into a living nightmare. Let's dive in.
Remodeling Always Translates to ROI
Some homeowners expect to see their entire remodeling investment returned at resale. In truth, little-to-no remodeling projects will immediately increase the value of your home. Similarly, the percentage of your remodeling investment you'll see when selling your home depends on the type of remodeling, your design choices, and the market you are selling.
Lucky for you, our very own Rusty Green is passionate about educating folks about the Big Secret to ROI. Spoiler alert: it's time. We highly suggest digging into this "Does ROI Matter? A Deep Dive" before moving on.
You Will Save Money with a DIY Remodel
Some homeowners attempt their own remodeling projects with a pleasant enough outcome, but some are disappointed with disastrous results, causing homeowners to call in the "big guns" to create the space they initially envisioned, wasting your initial time and money spent on your DIY project.
Things like demolition, electrical and plumbing work, sealing, and waterproofing takes serious expertise and we highly advise against attempting to DIY anything that involves these topics – not to sway you into working with us – but because we care. Mistakes in more serious home renovations can cause safety hazards that could end up in a worst-case scenario, and we never want any homeowner to experience that.
Budget Materials Are Best
We understand (and believe) that everyone deserves a home they love. We absolutely see the appeal of trimming your budget in certain areas in an attempt to make it go further in others, however, trust us: quality materials really are best for a remodeling project.
Materials on the lower end of the price bracket are often thinner, less durable, and more prone to wear and tear over time. It's the equivalent of buying multiple pairs of cheap shoes over the course of a year instead of buying a slightly more expensive pair of shoes – once – and they last you 3 years. When selecting low-end materials, you run the risk of showing more wear and tear and noticing damage sooner than you would with a higher-quality material, thus being left with a space that you feel as though you want to remodel again too soon after you just spent your hard-earned money.
If you're currently working on your home remodeling budget, you're in luck! We've created a free and downloadable cost guide to get you started.
Remodeling is Easy
Not to toot our own horn, but we will be the first to tell you that remodeling isn't easy. It's our passion, but it isn't "easy". A remodeling project is a labor of love from both a homeowner and a contractor, and approaching it like one saves heartache and frustration.
Construction projects require flexibility, problem-solving, construction skill, and serious time investment. While we wholeheartedly believe that remodeling projects are worth it, understanding the commitment and doing your due diligence in researching area contractors will save you time and money down the road.
You Should Bid Out Your Project
Bidding out the elements of your project positions you, the homeowner, as the project manager. This places you with a hyper-serious responsibility of coordinating schedules, vetting tradespeople, and performing quality control. Soliciting a wide range of bids can be confusing, stressful, and time-consuming, especially if this is your first home remodeling project.
As design-build remodelers, Compelling Homes assumes control of the project details, handling the design, construction schedule, and tradespeople so that you can supervise from the front row without taking on another full-time job.
Trendy is Best
Correction: timeless remodels stay relevant longer. We understand the appeal of incorporating your favorite trends, and we encourage you to include your dream elements - no matter what era they're from - but we hope you'll balance these features with classic features in the same space.
Designing your dream space can be overwhelming, and attempting to save all of your inspiration on Pinterest (though super fun) can be overwhelming! That's where the help of expert design-builders comes in.
Compelling Homes believes that each home should be a reflection of those living inside of it; a space that matches your energy, your passions, your routines. We have the capability to transform your space into a space that works for you – not the other way around.
Our expert design team can offer insight and suggestions to elevate your space into a look you love that will stand the test of time.
White is the Right Call
Common myth often suggests that you should paint your spaces neutral colors (white, grey, etc.) if you expect to resell or create a universally pleasing space, but for some insider info, we have been painting fewer and fewer completely white rooms over the last few years!
2023 is set to continue this trend, venturing further into warm blushes, eccentric neutrals, and rosy hues. Instead of the Instagram-esque all-white kitchen, consider incorporating an accent wall or employing a bold color at varying degrees of saturation, or embracing warmer neutrals such as tan and taupe to create a classic space with character.
Compelling Homes is Here to Ensure None of This Happens to You
We're invested in your remodeling experience from the moment we connect and collaborate to create a one-of-a-kind dream space to replace your outdated or dysfunctional kitchen, bathroom, main floor scramble or any other space in your home.
We love creating spaces that wrap you in the feeling you imagine for many years to come. Because at Compelling Homes, we never stop at good enough; we make it compelling.